I wonder if my body ever gets jealous of my face?
I mean… I spend a fortune on trying to make my face look good, and if you discount x amount of moolah that I've spent on dieting over the years… my body is like the poor relation.  The hand-me-down kid.  At least it has my hair to keep it company, I neglect that too.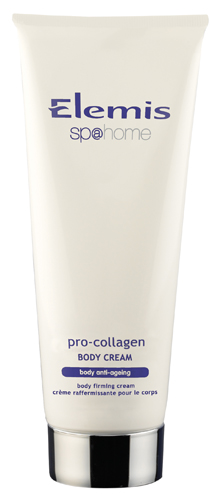 I haven't gone mental… (in case you're wondering).
You see, British brand, Elemis have just released a body version of their incredibly covetable Pro Collagen Marine cream.  It's specifically designed to target anti-ageing and combat the loss of elasticity allover our *cough* vital areas.
It contains mystical-sounding ingredients such as Castanha Oil, Laminaria Brown Seaweed, Babassu Oil, Bilberry Oil and that ever-intriguing marine extract Padina Pavonica.  It even promises to help breakdown fatty deposits.
AND…
Let's face it, once we hit 30, everything starts to head South faster than a pair of migrating blue tits.  Yeah, you totally saw what I did there.
But back to my original point.  I love Elemis' original Pro Collagen Marine formula and it's one of my very few top-end luxuries (the other being perfume I can ill-afford) and I'd slather it all over my body if I could afford to (oh hello cheaper body version!)…
BUT…
I'm just too lazy you know.
Do you guys make use of the wonderful technologies in your face creams and put them to use on your bodies?  Am I a bit weird for blatantly and completely ignoring what is (in fairness), the largest proportion of skin on my body in favour of this much smaller *circles face* bit right here?
Perhaps it's more of an upkeep thing?  If I had the body of a goddess… I'd be more willing to put the effort in to keep it that way?  Hell, to get the bits below my neck reach any kind of level worthy of a bikini, I'd need about £20k in surgery and KFC/McDonalds/KrispyKreme wiped off the face of the Earth.  Minimum.
Which leads me to something that's going to keep me awake tonight.  Do really, really ugly people not bother with face cream?
Elemis Pro-Collagen Body Cream is priced at £49.00 for 200ml and available on counter and online from www.timetospa.co.uk