Another supermarket, another vintage-inspired bodycare range… all I can say is, these must sell really well!  Sainsbury's have Dirty Works, Asda have Ella & Rose and now Tesco have jumped on-board with the new Along Came Betty!
These ranges all look a bit samey (I guess that's the point) but I can totally see the appeal for those who can't afford to fill their S&G addictions and I bet Grandmas are forever picking them up for younger, female members of the family!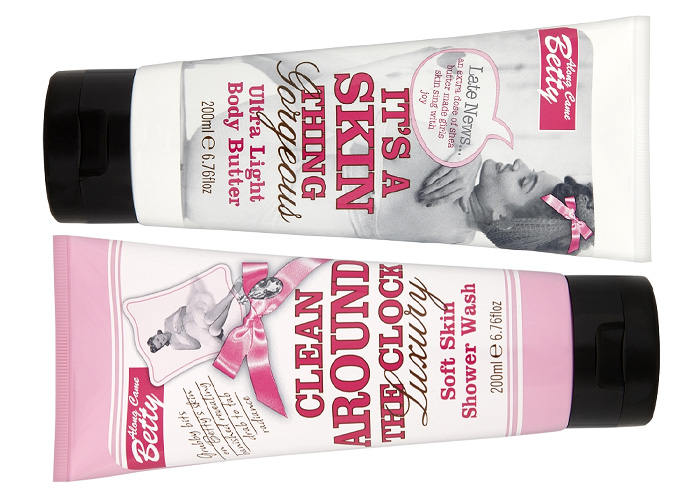 The lineup features a range of body and skincare products inspired by 1950s screen stars and beauty icons. It includes:
~ So Much Bubble Skin Softening Bath Soak (£3.99)
~ To the Skin and Beyond Ultra Rich Body Butter (£4.00)
~ Hey Sugar Sugar Easily Spreadable Body Scrub (£5.99)
~ Clean Around the Clock Soft Skin Shower Wash (£2.99)
~ It's a Skin Thing Ultra Light Body Butter (£3.99)
~ Say you Scrub me Scrubby Skin Polish (£3.99)
~ The Big Scrub Mitt (£2.00)
Along Came Betty will be selling at 1/3 off from 16.11 to 06.12 and also available on 3for2 from 7.12 to 03.01 January making it ideal for stocking stuffers and hamper builders alike!