My hair is prone to breakage, and thanks to my PCOS – there isn't as much of it as I would like which means that I have to be very careful when detangling my hair not to end up with more on the brush than on my head.  I currently use my Tangle Teezer on wet hair and my Mason Pearson on dry hair.
I attended the launch of a new product from internationally acclaimed hairdresser Michel Mercier, a new detangling hair brush available in three varieties, each suited to a different hair type.  To choose the right brush for your hair, you simply need to check which colour you're picking up:  Pink = Fine Hair, Green = Normal Hair, Blue = Thick or Afro Hair.  The difference between the three varieties lies in the flexibility of the bristles used.  The coarser the hair type, the more rigid the bristles need to be in order to combat the tangles.
The brush is made up of a patented system which involves placing 428 bristles (who wants to count 'em?) positioned at different heights across the surface with a unique geometric distribution which helps to disperse the pressure placed on hair during brushing.
But does it work, and is it better than the Tangle Teezer?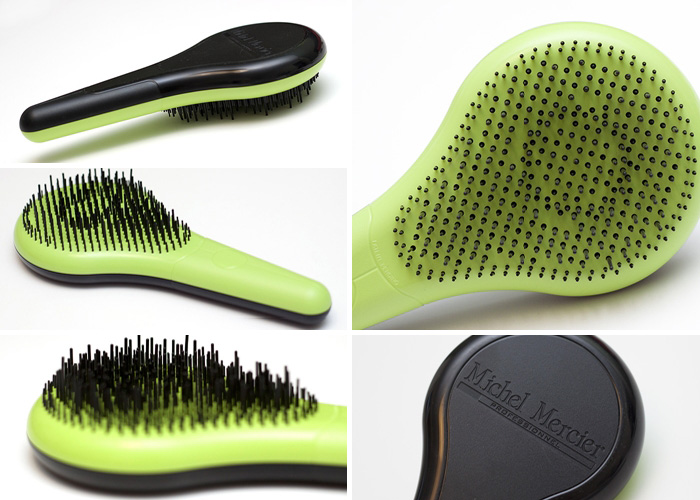 Michel Mercier Detangling Brush*
I found that it works very well for detangling my hair, especially when my hair was dry but the efficiency came at a cost.  The Mercier Brush gave me more discomfort during use than the Tangle Teezer.  However, it really couldn't be faulted for it's rapid detangling properties… I often find that the Tangle Teezer misses tangles on the underside of my hair thanks to its very flexible bristles – the Mercier's bristles are stronger, I think this will prove very popular for those with thick hair.
Sadly, I experienced more breakage with this one than my Tangle Teezer, probably just because it was more effective and gave me more discomfort but I'd rather have to section my hair to detangle than lose it on the brush.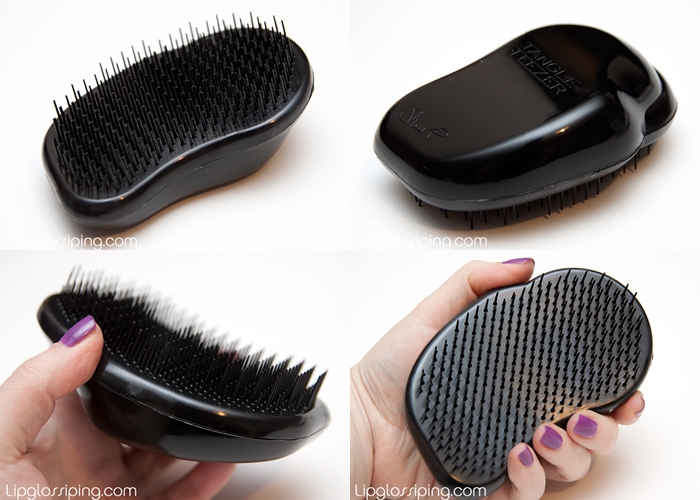 Tangle Teezer
I was also hoping for better things from the Michel Mercier design.  The Tangle Teezer is notorious for flying out of unsuspecting hands thanks to the rubbish grip it offers.  At first glance, you'd think that the Michel Mercier solves this with the inclusion of a chunky handle but sadly, the handle has quite a strong taper which means that it doesn't feel as secure as I would have liked.
Overall it's a real mixed bag.  If my hair were stronger and thicker, I'd probably prefer it to my Tangle Teezer but as things stand, it's back to my Tangle Teezer/Mason Pearson combination for the time being.
The Michel Mercier Detangling Brush is priced at £14.95, and available from www.michelmercier.co.uk and selected salons
* press sample
.