Between my daughter and I, we own almost 3ft of hair.  Not including the stuff on my top lip, which would take us into double figures… just the hair on our heads.  Mine is grey dark and fine in texture with a tendency toward dryness and some breakage at the ends.  Hers is blonde with an average texture that is neither especially fine, nor magnificently thick.  Her hair sheds like a mo'fo though and she seems to replace it twice as quickly.
Every morning when I brush her hair for school, we have a little chat about the "Tangle Fairy".  A mischievous sprite who visits her nightly to play havoc and dance a jig in her locks.  To be fair to Leila, she's a tough cookie and not a total squinny when it's time to get the brush out… but just like every kid, she has her moments during a detangling session.
The worst of these is after a hair wash, I don't condition her hair in the bath because regular conditioners weigh her hair down too much, instead we use the Boots Coconut & Almond Leave In Conditioner because we both love the smell and it saves the palava of an extra rinse at bath-time.  As much as it leaves her hair soft and deliciously-scented, it doesn't do much in the way of detangling.  Usually, I can get away with it if I've remembered to brush her hair before the hair wash… but when I forget to detangle, I have a fight on my hands!
Enter, The Wet Brush.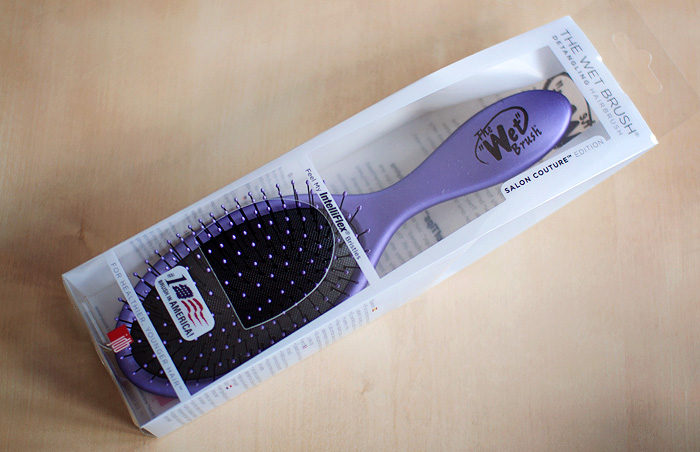 Taking the world by storm, this is a hairbrush that has been designed with detangling in mind.
I'm no stranger to detangling brushes… infact, I've done a vs. comparison of the Tangle Teezer and the Michel Mercier on my blog before, where neither proved to be total solutions to the detangling problem.
So how does The Wet Brush fare?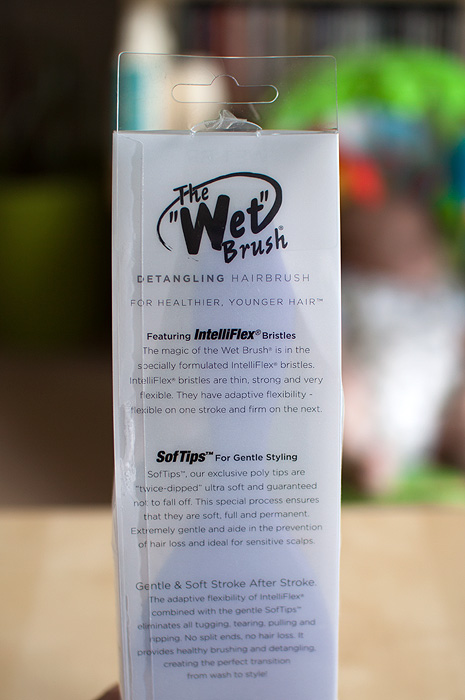 Really well actually.
The rubber-coated body and well-designed handle ensures that, unlike the other leading detangler on the market, this one won't fly out of your hands mid-brush.  It's built like a "proper" brush, feeling more substantial and to be honest, as though it's been finished to a higher standard.
The flexible plastic bristles reach through the hair to the root while the ball-tips on the end are a little gentler on the scalp.  It's lightweight but feels substantial in the hand, a good combination that ensures that a). I don't break a toe if I do drop it in the shower and b). Leila can use it on herself with confidence, without getting arm-ache.
Basically, if you've read my comparison review that I linked to earlier, you'll see that The Wet Brush combines all the things I liked about both the Tangle Teezer and the Michel Mercier.  Into one brush.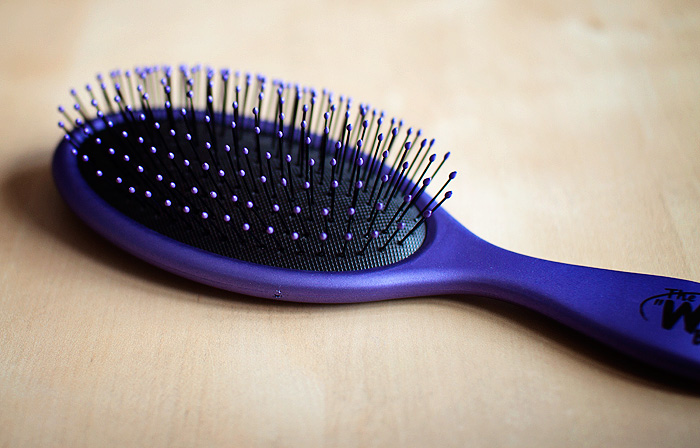 I'm struggling to fault it… and although it doesn't completely eliminate all tugging during a detangling session, it makes the experience far less traumatic.  You'll also be pleased to discover that it's less costly than the other detanglers on the market.
Don't just take my word for it though, here's a quick Instagram video of me trying out the brush on Leila for the first time.
So is it perfect?  Well… it's definitely more than halfway there… the only thing I would say is that you have to be mindful of storage.  I chucked this into Leila's "hair box" along with all her other bits and bobs and the next day, some of the bristles were bent because a can of dry shampoo had been pressed into the side of the brush.  To be fair though, they went back into shape with a little coaxing and I've just been more careful since.
Perhaps this isn't one for throwing into your handbag… but then again, it wasn't meant to be!
The Wet Brush is available in two different styles and a variety of colours, priced from £11.99 and available to buy online at www.cultbeauty.co.uk
* press sample
if you liked this post, please don't forget to check out my subscriber options, here