If I can dodge doing the weekly shop for just a little while longer, I'll be going to the gym this lunchtime which means that without a full face of makeup, I can give my parched skin a richer dose of moisture.  Tomorrow, I'm out and about all day, so I'll need to concentrate on preventing my lips from chapping and priming my skin to grip my makeup from dawn to dusk.  Skincare is a variable we all struggle to set in stone, making it both a nightmare to 'get right' and a joy to 'solve'.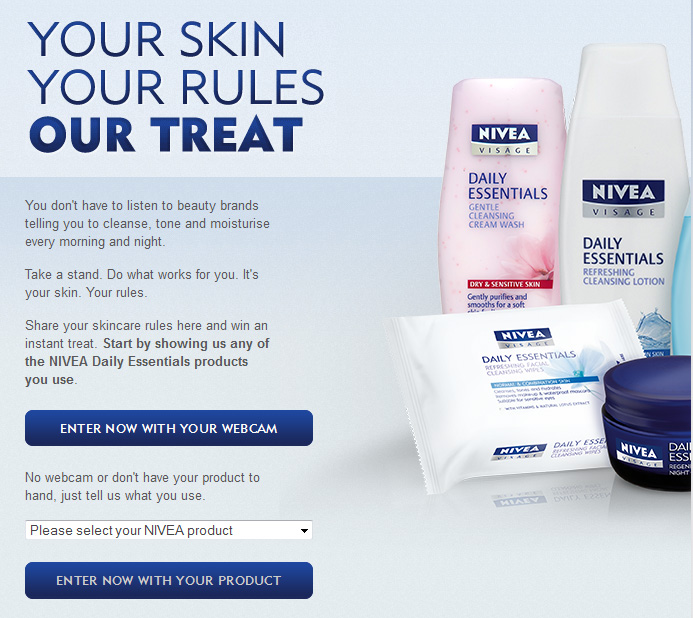 Nivea have launched a new web tool called Your Skin, Your Rules which celebrates the diversity in our daily routines and dances on the grave of the traditional three-step "cleanse, tone, moisturise" routine.  Like the capsule wardrobe from which you pick and choose those classic pieces to create the perfect outfit for any occasion, Nivea believe you can mix-and-match a few essential products to customise your skincare routine to suit your ever-changing needs.  And let's face it, some of our needs are more glamourous than others…
This week, my idea of glamour has involved trying on sale dresses that I'd like to wear to all the parties that I'm too grumpy to attend, but if you're craving something a little more exciting than this, the Your Skin, Your Rules web tool has a treat hidden up it's sequined party sleeve.
Purchase a Nivea Daily Essentials product and get ready to glamourise your daily routine by logging on to www.nivea.co.uk/YourRules.  Input the barcode or take a webcam picture of your Nivea Daily Essentials product to claim either a free online yoga class, dance lesson or makeover and photo shoot – simply tell Nivea about your skincare routine and receive your instant reward!
As it's January and we're squarely in central-heating mode – my skin is demanding a completely different routine to the one I created for it in the Summer and I'm still playing catch-up as I work to establish a new set of rules to maintain the balance.  What is your routine currently dictating and are you being affected by the weather conditions too?  Also, just for fun – which treat would you choose: yoga, dance or makeover and photo shoot?  Are you a salsa kinda girl?!  I'll be honest, I like salsa… but only on my nachos.
Don't forget to log on to www.nivea.co.uk/YourRules to check out the available treats!
* sponsored content