When I opened the fridge last Friday, I was greeted by a tired-looking cauliflower and whilst I adore a regular Aloo Gobi, I fancied something a little bit different.  I thought I'd take some of my favourite spices from the delicious middle-eastern makloubeh and make them fit around the ingredients I had to hand.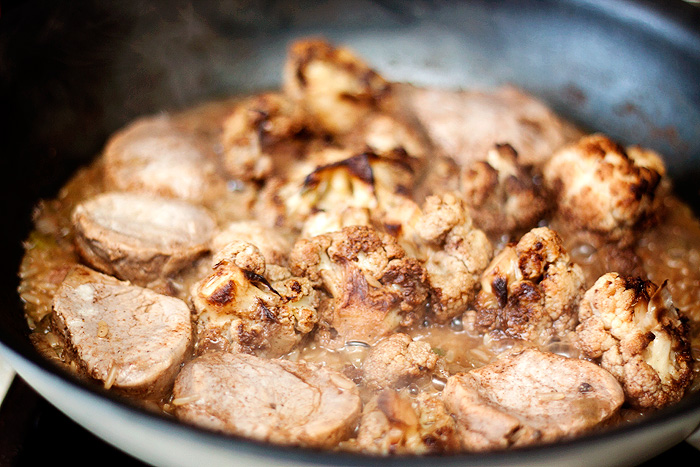 Because I'm following the Weight Watchers plan (still doing the same uber-veggie thing but calculating it all Pro Points stylee), I couldn't seriously deep-fry the cauliflower whilst keeping a straight face, so I sprayed the florets with some 1cal cooking oil and roasted them in the oven until they began to turn black on the tips, about 35-40 minutes on full whack.
I fried off some onion (more spray) and added the roasted florets which were still a little firm.  As the oil became absorbed, I added a few Tbsp of water to prevent things from sticking and loosely covered the pan with a lid.  It was time to get the spice mix ready!  Once prepared, tip the spice-mix into the pan and stir well to coat all the ingredients.  Add the brown rice and half a cup of water, re-cover.
You'll need to check the water levels regularly, so just keep a mugful of water to hand and add more as the rice needs it.  Cook until the rice is al-dente.
Arrange the pork fillet around the edge of the pan and re-cover.  After 6 minutes, turn the pork… and allow to cook covered for around 8 minutes.  If the rice is still too firm, you can simmer on a low heat for a little longer, just add more water as you require.  Remove the lid for the final 3/4 minutes of cooking to allow any excess water to reduce.  Before serving, stir a little room-temperature soured cream into what should be an almost-dry mixture.
Ingredients (serves 2)
1 cauliflower, floretted and lightly salted
4/6 pork fillet medallions (you can substitute other cuts/meats – lamb would be delicious)
90g brown rice
1 large onion
60ml soured cream (I used light)
1kcal cooking spray
water
1tsp allspice (not mixed spice!)
1/4 tsp ginger
1/4 tsp cinnammon
1/4tsp nutmeg
1/4tsp ground cumin
1/4 tsp black pepper
1/4 tsp ground clove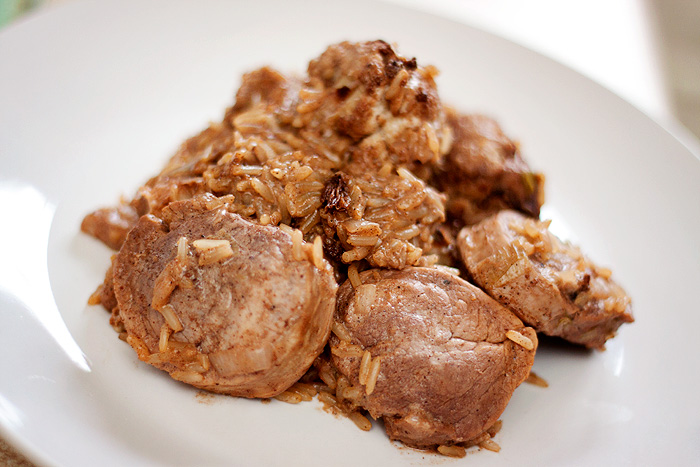 Honestly, I never want to eat cauliflower boiled again.  And incase you're on WW too – that's 9 Pro Points.
What lovely things have you been cooking recently?