If you're sworn off the chocolates this year, how about some LUSH goodies instead?  The high-street heroes have released some Easter treats to ensure that even the strongest of wills are unable to resist the lure of some serious bathtime frivolities.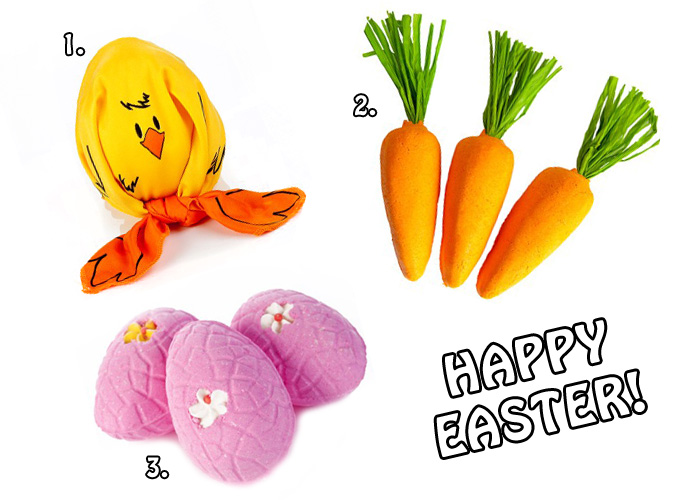 1. What came first, the chick(en) or the egg?  Well… it depends on what you choose to wrap inside this ridiculously cute Chick Knot Wrap!  Let's face it, whatever you buy to hide inside, this chick is gonna steal the show – especially when the recipient finds out that the wrap is made from old plastic bottles!  Don't forget to recycle it yourself, it would make an super-cute bag scarf.
2. Ahh, my favourite – ignore the strange looks and raised eyebrows you'll get carrying a carrot into the bathroom and get that hot tap running.  Wave The Carrot about under the running water and watch as the bath fills up with (non-carrot scented) bubbles.  Leave our favourite orange veggie on the side of the bath to dry out and it'll be ready to go again, and again, and again!  Reusable bubble bars?  LUSH!
3. Finally, you may be sworn off chocolate but no-one would begrudge you a few sweeties.  Especially when they're of the bathing variety.  Fluffy Egg is a candy-mania(cs) dream, scented to smell just like marshmallow, candyfloss and all that teeth-achingly good stuff.  Stick two fingers up at the diet and sit in your Fluffy Egg filled bath this Sunday, eating your Easter Eggs.  Sick.

Fancy winning one of these Easter goodies?




I have a bunch of Carrots (geddit?!) to give away this weekend.  If you want to chance your hand at being one of TEN bathing belles to win a LUSH reusable bubble bar, leave a comment below and answer the following questions.
1. What's your favourite bath-time ritual?
2. How many Easter Eggs have you hidden away and which one are you gonna break open first?
T&C
1. Entry open to UK residents only.
2. I will choose 10 winners at random.
3. Lipglossiping.com is the sole promoter of this competition.
4. Competition closes on Monday 9th April 2012 at 23.59 BST.
5. Winners list will be published on-site on Tuesday 10th April.