This is a tiny haul, it was larger but MsCuppyCakes was out of stock on a few items of my order.  How much do I hate it when e-tailers send half an order without giving me the option to adjust/add to my original order in lieu of the out of stock stuff.  I mean, I'm already paying the international shipping, so gimme the god damn option to choose alternative products or simply re-order from fresh if their online merchant service doesn't allow exchanges.  *and breathe…*
Other than that, I was pleased with the service.  I received my items fairly quickly (within 14 days) and everything arrive in one piece and well packaged.  The value of my order was stated correctly on the customs form and not overinsured (important to avoid unecessary import duty).  I would order again, although I would definitely double check stock levels with a quick email and go to NonPareilBoutique instead if they were unsatisfactory.
Overall, 3/5… definite room for improvement with regards to stock updates and communication.
Anyway, here's some of the infamous round lipsticks I selected: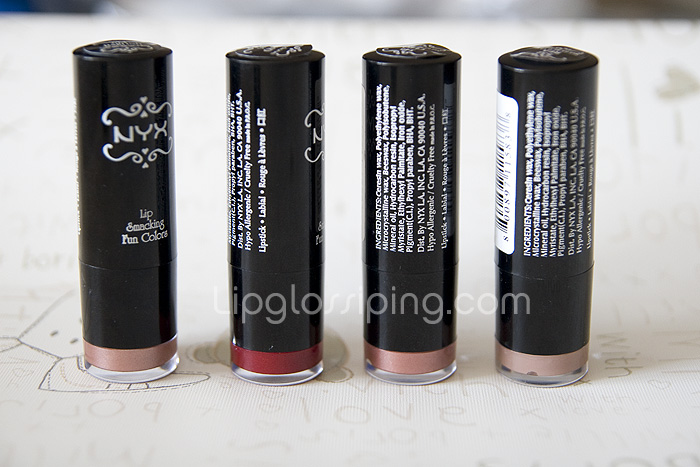 From L -> R: Darling, Chaos, Ceto and Rea
and the swatches…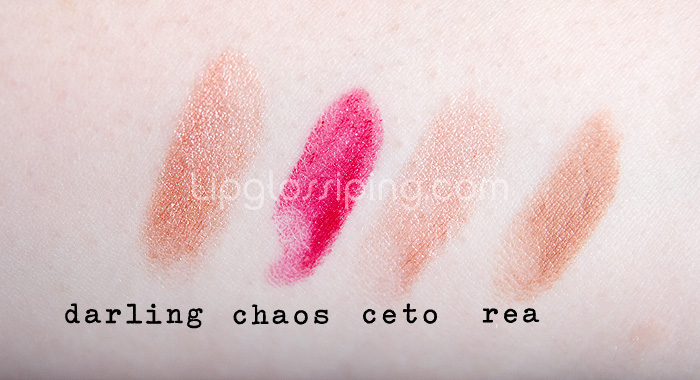 Darling and Ceto are a little too simillar for it to be worth owning them both.  Out of the 2, I prefer the slightly less sheer Darling.  Rea is a nice medium matte nude which isn't at all drying on the lips like some mattes.
Chaos… beautiful in the tube, I'm really not sure whether I can pull this colour off or not… what do you think?  Yay or Nay?  Be honest now, or I'll come round your house and pee in your cornflake box.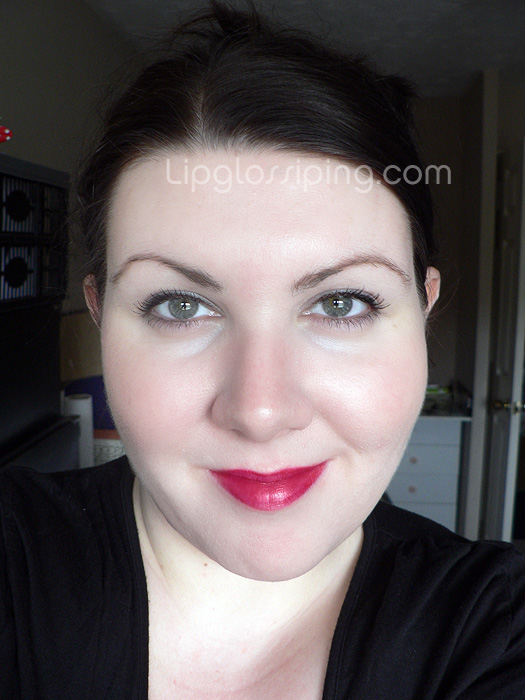 I also bought some of the NYX Loose Pearl Eyeshadows and Nail Polishes, although none of the polishes turned up *sigh*.  First impressions of the Loose Pearl Eyeshadows are positive (for the price).  Can't stand the little pots they come in so I've ordered some pigment pots from eBay to decant them into.  I shall do some swatches of them soon.