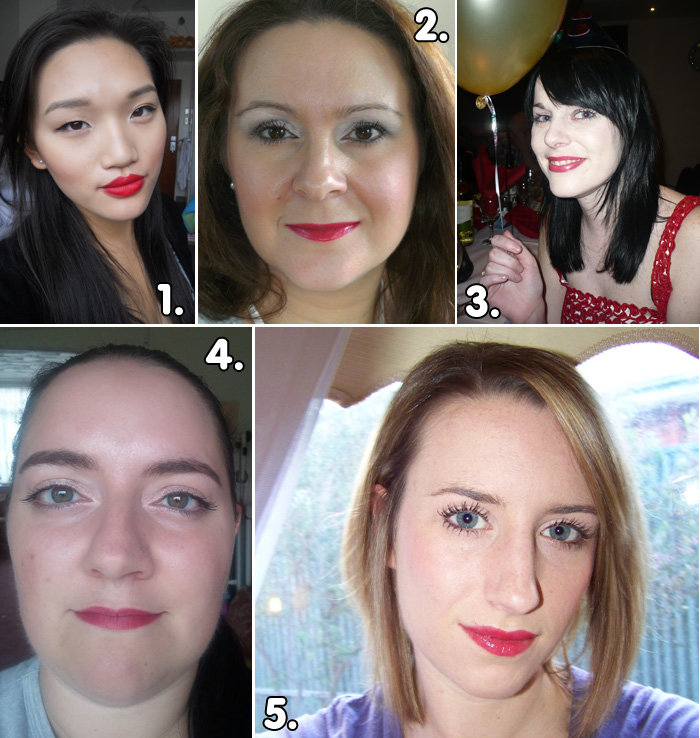 1. Victoria from Victoria's Makeup Secrets smoulders in Wet n Wild's Stoplight Red.
2. The inimitable Anita from Pleasureflush positively shines in a glossy Guerlain Rouge G in Garconne
3. Lovely Lauren from A Lauren to Herself is clearly celebrating how great her lips look in Avon's Charged Cherry!
4. Kelly from MusingsofaSlightlyMadMother is letting her lips do the talking with L'Oreal's Made for Me Colour Riche in Cassis Passion.
5. Stacey from AddtoCart has fashioned her own moisturising brand of red combining Estee Lauder's Signature Hydra Lustre lipstick in Rich Red mixed with Lanolips Lip Ointment in Apples – beautiful!


If you want to join in with the fun and submit your red lip look, please email me a photo of your lovely selves with the following info:
Your name:
Lip shade name:
Link to blog (if relevant):
if you're still waiting to see your submitted red lip go live, I'm getting there!