I'm delighted to introduce Abby from Un-observed to the blog.  Abby blogs about beauty, fashion, lifestyle, and decor and is guest-posting for me today about keeping a selection of oft-used products easily to hand.  Is this something you do?
I tend to keep my most used products in a basket on my dressing table. Some days I don't want to trawl through my drawers to find something I use regularly.  The products I have on my dressing table often change though.  And I like to add things to it that I have forgot about, just so things don't go un-loved.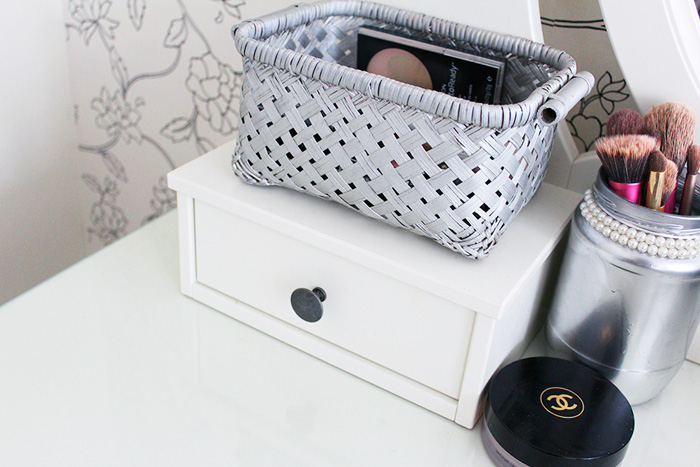 Here are a few of my favourite products which I currently have on my dressing table.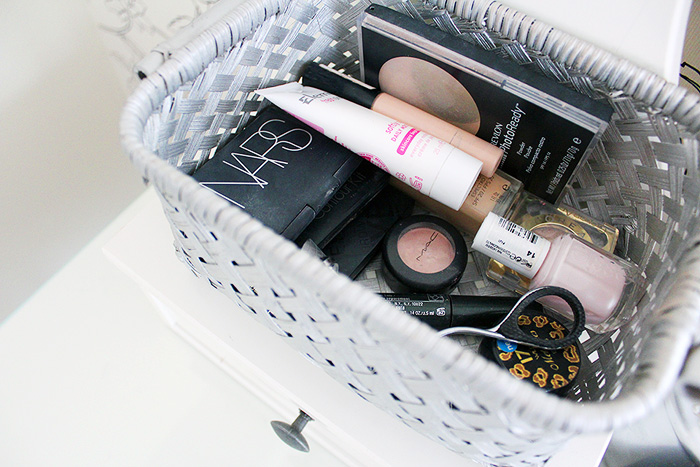 First up is L'Oreal's Color Appeal Eye Shadow in 'Platinum Beige'.  I never used to sway from my Naked and MAC palettes, but saw this shade while going on a mad swatching session in Boots.  I love the shade on me and the texture Feels almost creamy.
I'm currently using a sample of Clinique's High Impact mascara. I have been through a few tubes of it in the past and love how it gives my lashes a real full effect without being clumpy. The formula is wet, which allows it to grip onto the tiniest of lashes but dries pretty quickly. It doesn't transfer under my eyes (which is a major plus for me) and it's so easy to remove. I must get round to purchasing a full size again.
I am currently in love with Revlon's fairly newly-released 'Nearly naked' foundation. I purchased it a few weeks ago and I still love it, if not more. I would say my skin is fairly clear. Nothing a good concealer can't cover up, so I don't like to use a heavy foundation. This one is perfect and with a little powder stays on throughout he day. I like how it feels like I don't have foundation on at all, as it is so light and blends in so easily. It's definitely a natural finish and I tend to use my fingers to apply it.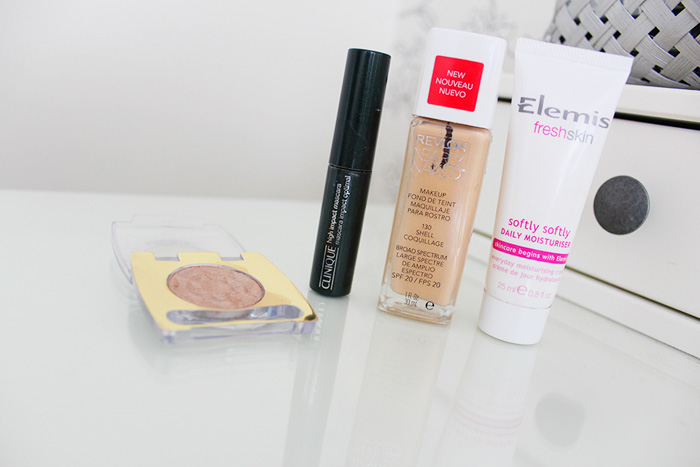 I purchased a magazine the other week which came with a free sample of Elemis' 'Softly Softly' Daily moisturiser. My usual moisturiser is Oilatum's daily repair and whenever I try another one out, I usually end up hating it. The Elemis moisturiser has such a different formulae than what I'm used to. As I have dry skin I usually look for a thick moisturiser, but this one is quite the opposite. It's very light and smells strongly of Tea tree oil. I don't like the scent, but luckily it doesn't linger for long. It sits perfectly under my foundation, and I have noticed a massive improvement with my skin already.
I like how I have a mix of new products I am trying, samples and old favourites. I find this the easiest way to not forget about a product, as well as trying something new.
Does any one else store a selection of products away from their collection?