In celebration of the Icelandic 'wonder' serum's 1st birthday, Bioeffect are offering a free travel-sized version of their serum with every full-sized purchase.
Sadly, too rich for my blood (I might change my mind when the fine lines start creeping in properly), the £125 serum contains the revolutionary ingredient, Epidermal Growth Factor (EGF).  A substance which occurs naturally in human skin and has the ability to speed up the rate of cell turnover.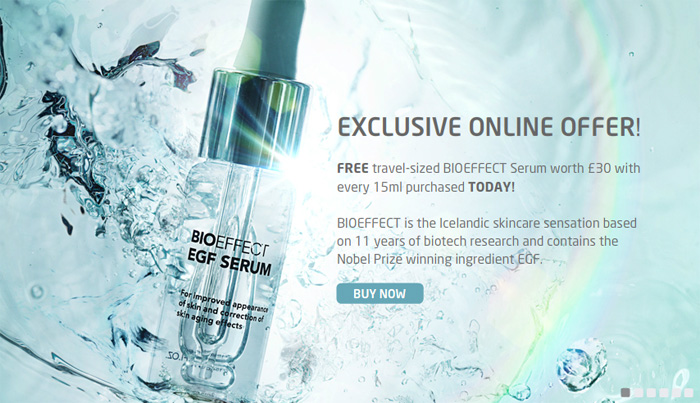 You'll be hard pushed to find too many negative reviews of this product – trust me, my Mum's had me searching many-a-time.  I applied for a sample bottle last year and although I'm not quite at the age where I might experience visual results to WOW me, I did notice an impressive boost in general hydration.  So much so, that the 'crepey' effect I get down the sides of my nose disappeared completely and the pores in that same are appeared more refined thanks to the improved skin structure.
If it's so wonderful, why haven't I bought it?  Well… because it's £125 and it's 15ml.  That's a lot of money for not a lot of product.  If you have a lot of money to spend on not a lot of product.  I thoroughly recommend giving it a go.
Bioeffect EGF Serum is available today only with FREE next day delivery and a free travel-sized version.  If you've been contemplating that purchase, now is the time to go for it.