Most of you will be familiar with the premium beauty range from makeup artist Terry de Gunzburg, the SpaceNK staple has had the blogging world in fits of rapture in recent years over beautiful, pink-tinted pots of Baume de Rose and the radiance-boosting Eclat de Teint.
Now, what will the fragrance world make of the brand's foray into the world of perfume?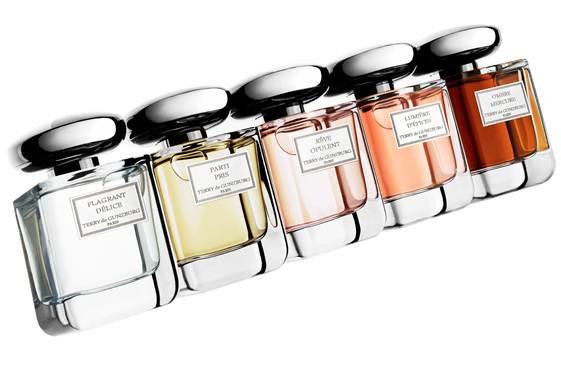 Launching on the 16th September are five new fragrances that, sticking to time-honoured tradition have been formulated in Grasse, a place synonymous as the spiritual home of French haute-parfumerie.  The By Terry creator asserts that neither time nor money have been spared in the creation of these scents, which ultimately exist to "reflect the designer's passion".
Of her new collection, Terry says:
It has taken me ten years to achieve this collection of 'personified' scents. I had to progress slowly in order to learn and understand about essences that felt right, which was a humbling yet enriching experience. I had to ignore the dos and don'ts imposed by trends or by a commercial brief. Free from any restrictions, I have followed my instinct to create pure, original and extravagantly high-quality fragrances.
The new collection comprises the following five fragrances (I've included the descriptions from the press release):
PARTIS PRIS

Parti Pris delivers its 'Haute Féminité' in seconds. Instantly recognisable, the tuberose is exquisite and compelling, revealing its power of seduction in a precious floral bouquet. The sweet, absolute orange blossom melts into the richness of the absolute Turkish rose together with a hint of an exceptional ylang ylang, created exclusively by the Maison Robertet. At the base, a surprising vintage accord through smoked vetiver and sandalwood together with Vanilla and Tolu balm. Incense, Turkish tobacco absolute, rockrose and labdanum echo ancient perfume accords.
The resulting scent is the aura of chicness swathed in silk.

RÊVE OPULENT
Restrained when it comes to extractions and other distillations, the gardenia gives little away.
A tenacious floral ensemble, with Egyptian jasmin and Indian Sambac jasmin together with essence of rose and its absolute, a touch of orange blossom, a trail of ylang ylang and a hint of Sri Lanka cinnamon become a dream of gardenia.

LUMIÈRE D'ÉPICES
Vibrant and sparkling, the fragrance opens a refreshing symphony of citrus notes. The bitterness of grapefruit, the blood orange zest and bergamot: awakening the heart, fresh as jasmine water, it is contagiously chic. With facets of roses and orange blossoms, it seems oxygenated, like fresh air. Indian sambac jasmine, with honeyed tones gives warmth together with orange blossom absolute, spices and dry woods. Muscat, clove and cedarwood bring this contemporary composition to life.
A distinctively elegant fragrance with a luminously vibrant bouquet

OMBRE MERCURE
Noble, powdery, feminine and rare, the scent unveils all the facets of a delicious woody iris. Formulated with the purest iris 'butter', this olfactive treat flirts furtively with a few petals of rose, ylang ylang and jasmine. This subtle blending gives it softness with the darkness of the patchouli forming the spine of this fragrant composition.
Intense, powerful and purring on the skin just like a feline, it reveals camphor-like vapours and a carnal instinct recalling mythical blends of the perfume world.
Vanilla, with a base of spicy benzoin, the iris in fusion with the patchouli reveals more femininity. This blend with accents of violet, reminiscent of loose powder, red lipstick and of the classic chypre blends, is especially designed for the passionate characters.

FLAGRANT DÉLICE
Thrillingly tempting, Flagrant Délice is infused with almond milk and sun-ripened fig. An alluring combination of modern materials with natural ingredients create a rich blend.
Instantly, the bitter almond essence gives a carnal hint with notes of bergamot and mandarin giving balance. In the heart, Mediterranean fig, with vegetal and milky accents enriched with red currants melting in tonka beans and white musk creates an enveloping magnetism.
Priced from £68, the Terry de Gunzburg Haute Parfumerie collection is available exclusively from Harrods from the 16th September 2012