Despite my very best intentions, I haven't fared too well at this challenge.  I mean, it was simple enough… "Move More, Sit Less" they said…. "Show us how you squeeze more activity into your day" they said.
And so I thought about it.  And I thought about it some more, and I spent so long thinking about it, that I didn't really do a huge amount about it.  What is it they say about the road to hell being paved with good intentions?  Oh yeah, that.
It's not as if the plan doesn't give you an incentive to exercise either.  You can earn activity propoints by working up a sweat before swapping them for normal propoints which is ideal if you're a propoint or two short of that glass of wine you've been craving.  So why have I failed?  Well, I promised myself that last week would be the week I'd finally pull my running shoes back on.  The snow has cleared, the temperatures have risen a touch and the sun seems to be hanging on for just a little bit longer in the evenings.  Did I get out there for a run?  Did I naff.  I didn't even drag myself out for a brisk walk!
So lame-ness aside, what did I do?  Well, I dusted off the Wii Fit in an attempt to alleviate some guilt.  I loaded up The Biggest Loser game (yeah, that's me – and not in the positive sense of the expression), please excuse the feet, I'm surprised I was able to see them.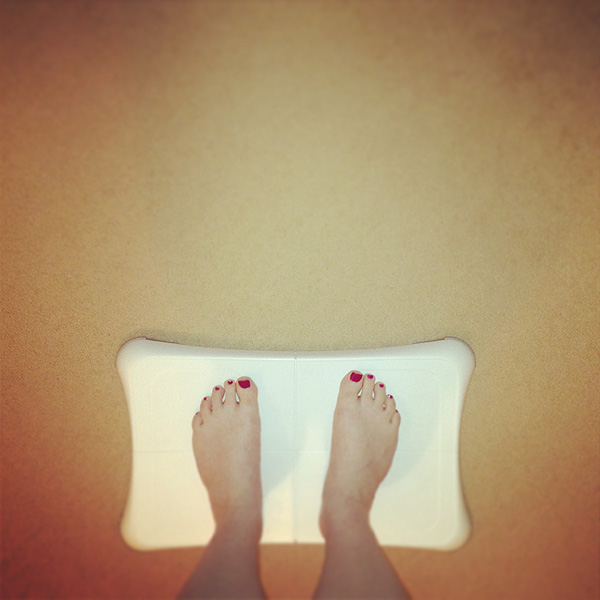 It was fun for about 5 minutes and then it actually started to burn a bit. Why can't exercise just stay fun? Why does it have to start bloody hurting anyway?! I've learned that I can do a pretty mean squat, that my lunges are atrocious (I wobble all over), and that I need to wear my sports bra if they start with that jumping jack stuff again.
In all seriousness though, I banked two activity propoints through my efforts so it wasn't all bad for a half hour routine.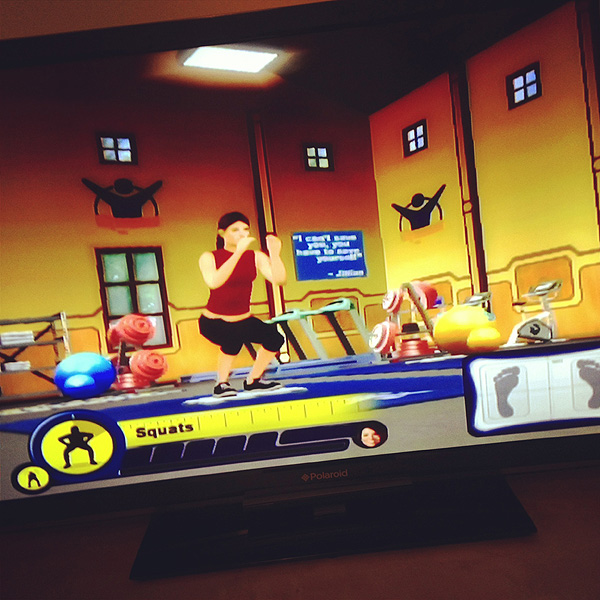 My other efforts at increasing my exercise count involved a far more enjoyable play with my hoops!  The one in the photo below is my most recent acquisition, she's smaller and faster and has white glitter tape, isn't she pretty?  I still need more practice at keeping her up so I did end up moving back to a slower hoop that gave me more control, I'll get better though!
I do find hooping far more enjoyable than other forms of exercise and I've been doing it (on and off) since last April but I'm not sure that it really gives me enough of a work out.  I've tried the weighted varieties (which make you sweat!) but I've read too much about the potential damage they can cause to want to go back to them.  I found it pretty difficult to gauge how many activity propoints I could bank with the hooping, but I let myself bank 3 propoints for 40 minutes, based on a rough 70kcal burned = 1 activity point rule.  I'll have to use my heart rate monitor this week to see if I'm being too generous with myself!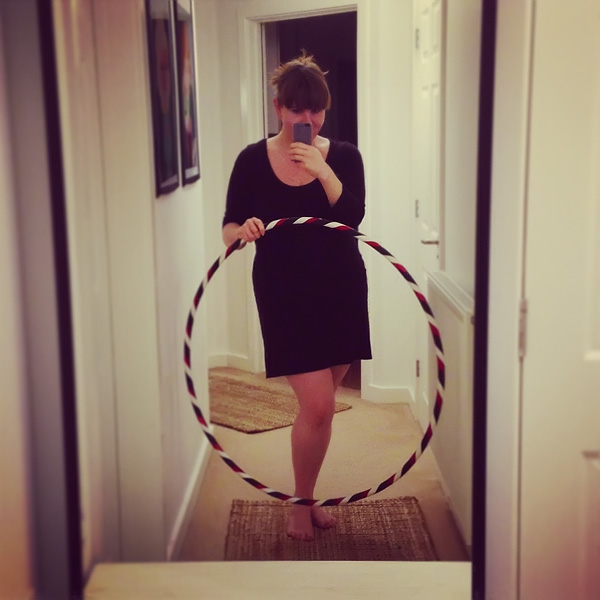 It's not always easy to find obvious ways to incorporate exercise into our busy schedules, 40-minutes of hooping is actually quite a large chunk of my free time, it's just as-well I enjoy it!  If the weather is kind this week, I'll be swapping the steering wheel for some cosy insoles and walking to pick Leila up from nursery.  I've got a pedometer* to ensure I don't miss a trick and make the most of this additional activity.  If I'm doing it, you can bet I'll be banking it on the Weight Watchers app!
How are your activity levels?  Are you skirting around some serious workouts like me or are you straight into building up a sweat?
* I am a Weight Watchers blog ambassador and my links to their website are affiliated.  I have received no payment for this post.  The pedometer mentioned is a press sample.