What did one aspiring wig say to the other aspiring wig?
I wanna get a head!
Wigs.  The bane of many-a-joke.  Historically… and in my life time, wigs have been the preserve of fancy dress parties and old guys with combovers to disguise.  Let's be honest, the wig itself is a valid reason for not wanting to ever wield a gavel in a courtroom, an otherwise totally aspirational profession.
But as Bob Dylan once said, the times they are-a-changin' and wigs are now one of the most fashionable accessories you can add to your shopping basket in advance of a night out!
My only experiences with wigs have been less frivolous, during times of cancer care… but seeing the profound difference that this fairly uncomplicated piece of headwear can make to a person's confidence ensures that you'll never underestimate the power of a full head of hair again.
When it comes to wearing wigs for fun, the only rule to abide by is a simple "does it look good?" assessment.  I haven't taken the plunge yet when it comes to "for fun" wig-wearing but I do have my eyes locked on a few…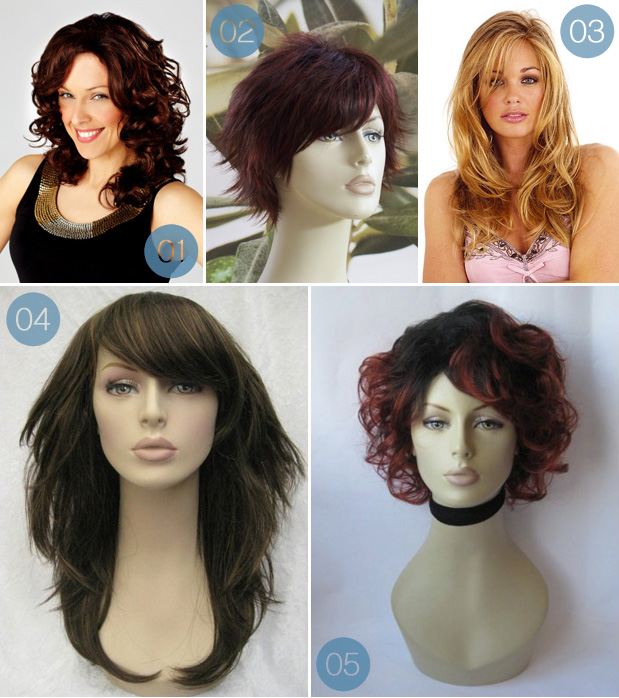 01: Tannah // £49 // hothair.co.uk
02: Two tone short & spiky wig // £17.99 // ebay.co.uk
03: Joanna (not in that colour!) // £129 // hothair.co.uk
04: Elle // £26.99 // annabelleswigs.co.uk
05: Tess (my favourite) // £24.99 // annabelleswigs.co.uk
The sky is the limit when it comes to style, colour, and in many cases, price but it's a good idea to know your basics before commiting to a purchase and the most obvious decision you'll need to make when considering a style is whether you want to opt for a synthetic or human hair wig.
You would be forgiven for assuming that human hair will always beat the synthetic option but this simply isn't true.  On the whole, synthetic wigs take less maintenance than human hair and can hold their initial style better.  Of course, you must never approach them with any heated styling tools and durability is unlikely to be as good as the human hair variety, but improvements in their realistic texture and an attractive lower price-point mean that synthetic styles are a good choice for casual wearers.
What about you… do you wear wigs?  What have been your experiences with them and do you have any tips to share?
Would you like to buy a wig but don't know where to start?  Let me know if you've seen any lust-worthy hairpieces recently and feel free to link me in the comments, I'm always up for a bit of virtual wig shopping!
* I'm so sorry for the unsubscription-worthy title, once you get something like that stuck in your head… it's damn near impossible to extract it.