Or is it vol. 533493491?  With over 2250 posts under my belt, you can appreciate that I've loved and fell out of love with all manner of things, such is the fickle nature of beauty and such is the fickle nature of "ooh shiny".  I'm always reticent to admit to Holy Grail products because I'm not really the kind of person to stick to one thing for life (except perhaps for Mr. L and Boost bars).  If I repurchase something, that's pretty damn good going when there's all manner of other lovely things that promise the earth and deliver about 2 continents worth instead.  As beauty lovers, we've grown to expect a certain amount of over-selling when it comes to product claims and I guess that's why blogs are so useful, they simply provide the experiences of peers who generally have the same expectation levels as yourself.
With that in mind, these are the things that I've been currently loving long time.  Well, about two weeks – which, in the coquettish world of beauty, is literally, forever.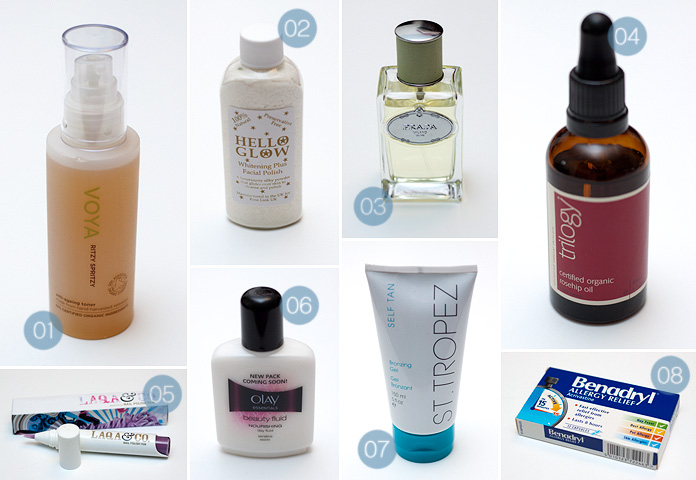 1). Calling all mermaids!  VOYA Ritzy Spritzy* hails from the salty depths, quite literally!  The hero ingredient to this refreshing toner is hand-harvested seaweed, packed with vitamins B1, B2 and B12 (sounds like Bananas in Pyjamas), plus polysaccharides and alginates, all of which combine to offer a tonic that delivers a moisturising, oil-free formula.  I'm an toner-nut and after using it continuously for a week in-place of my usual variety, this one is particularly efficient in cooling the skin, making it a great holiday choice for those jetting off to far-flung beaches. £23.00 from Look Fantastic.
2). Hello Glow! Hello indeed to this budget-friendly alternative to a particularly well-known Dermalogica favourite!  If you're a Daily Microfoliant addict, you might want to give Hello Glow's Whitening Plus Facial Polish* a spin.  Released just last month, the powder formulation mixes with a little water to create a mildly exfoliating paste that leaves my skin feeling incredibly soft.  It contains a 100% natural blend of coconut milk powder, potato starch, milk, honey, rice and essential oils and is suitcase friendly too! £9.99 from RoseLinkUK.
3). It wouldn't be Summer without a fresh, summer fragrance to distract myself from the necessity to build a replica Ark and Prada's Infusion d'Iris offers maximum distraction.  A classic, green scent which despite the name offers a more sensual, woody edge than I'd expect.  The floral is clearly there, along with a burst of Italian-inspired citrus zings that never smell too sharp but it's the drydrown that leaves my mouth watering in it's pure cleanliness that leaves me feeling like I've just stepped from the shower (minus the cheap soap!).  A perfect balance of floral, fresh and woody that simply works very nicely on my skin.  From £40.00 at Debenhams.
4). From one classic to another, in the form of Trilogy's Certified Organic Rosehip Oil, which I purchased as a little moisture-booster to my current skincare routine.  I use it while my skin is still wet from the shower (water really makes my skin feel tight), and massage it in to my elbows, knees, heels and any little eczema patches that have flared up overnight – what's left on my hands after this, goes straight on my face.  In the winter, I may use it more often but a couple of times a week at the moment is enough to keep my skin supple and happy. £16.50 from Boots.
5).  Another one for the holiday bag is Laqa & Co's Nail Pen in Incestuous*.  Hate the name, love the colour!  This muted lavender nail pen is one of those products that you think will never work.  Nail polish in a pen?!  But work it does… though I discovered that painting with your "wrong" hand is significantly more tricky than when using a regular polish brush – it's just like writing or drawing with your weak hand!  The polish dispenses easily and is fluid enough to work with without too much fuss.  5ml for £11 makes it an expensive option, but it's great for travel and is a real conversation starter as I discovered on the train the other day! £11 from PowderRooms.
6). There's lots of classics on my list today and Olay's Classic Care Nourishing Beauty Fluid (Sensitive) is perhaps the consummate defintion of the word.  My day moisturiser recently ran out, and being on a no-buy meant that I had more chance of a sunny day than guiltessly hot-footing it to the Elemis counter, so I settled for Asda instead and picked up this one to tide me over.  I actually meant to pick up this one but couldn't find it on the shelves.  That being said, it's doing a sterling job at leaving my skin feeling hydrated with a non-greasy finish.  I'm not sure I'll repurchase, because I'll hopefully be off my no-buy when this one runs out and I'll try and pick up the one I meant to get next time.  Still, £4.69 from Boots – mustn't grumble!
7). Can you tell I'm not going on holiday until September?  My goodness am I packing in these travel essentials this month!  The St. Tropez Bronzing Gel* is a great option for pasty legs that demand a streak-free finish!  Creams are all well and good but this dark gel will ensure you leave no patches un-tanned!  Combine it with an applicator mitt and really work the formula into your skin to ensure an even tan.  I like the gel formula because it looks a bit scarier, thus making me less complacent with my application – it's all in the mind folks and this one just makes me work harder (in a good way!). £21.99 from Boots.
8). Last but by no means least!  Benadryl Allerfy Relief (Acrivastine) keeps both myself and Mr. L free from hayfever.  I'm fortunate to only suffer from mild symptoms but when the pollen count reaches the top of the charts, I reach for one of these and it knocks all symptoms on the head within half an hour.  I do sometimes have to take another tablet later in the day and they're not the cheapest (I don't think you can get generic versions) but they're the best I've found for controlling the summer sniffles!  £3.80 from Tesco.
What are you loving so far this month?
* press sample