A makeup artist once told me that straight men don't like bold lips. They can feel intimidated by a statement colour and don't consider these women as "kissable" as their smoky-eyed/nude-lipped counterparts.
Just as well I don't give a shit then, isn't it?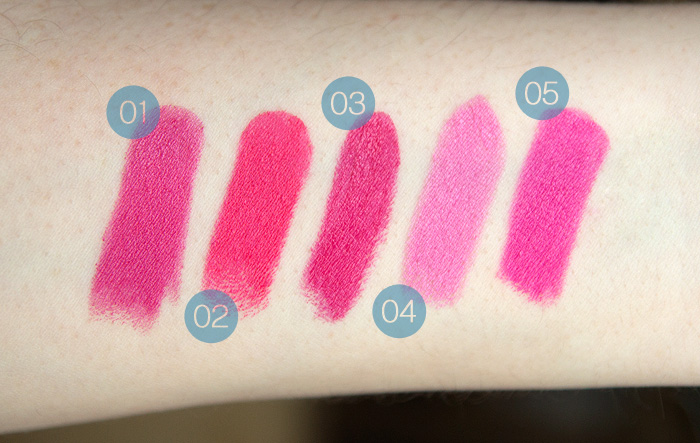 Here are five of my most retina-searingly, beautiful pink lipsticks and you'll be delighted (or at least, you should be, I engineered it this way!) to hear that they're all under £20.  As much as I do love my Tom Ford Pure Pink, you can get some raging pigment for much, much less moneh.
01: Boots Seventeen Lasting Fix Lipstick in Pink Power
This is my latest pink acquisition and I've been reliably informed that it's a dupe for MAC's legendary Girl About town.  I won't "review" it because I'm posting a FOTD with it later… suffice to say, for under a fiver… it's a bit of a bargain bright! (£4.29, boots.com)
02: Wet n' Wild Mega Last Lipstick in Don't Blink Pink
An eBay purchase from last year, this staggeringly intense pink is almost neon and definitely leans a little warmer than the rest, making it quite an unusual shade.  Most of these bright pinks can often be mistaken for fuchsia, so it's nice to see one that's a little bit different.  You can see it in a FOTD, here. (£2.80 not inc. shipping, ebay.co.uk)
03: BarryM Lip Paint in #145 Punky Pink
This is another apparent Girl About Town dupe (what is it with that shade!) though I think it's a wee bit more cherry-toned, slightly deeper than the MAC offering.  A hair more expensive than the Seventeen lipstick but still under a fiver, you can't go wrong! (£4.49, barrym.com)
04: BarryM Lip Paint in #146 Dolly Pink
Now, I have to admit… I don't wear this one a huge amount, mostly because it's one of those lipsticks that like to wear you.  Dolly Pink is a candy-fest that just about has enough depth to keep it a little more classy (haters gonna hate) than the Nicki Minaj, Gaga, shitty pinks that look like you've ground a piece of chalk into your lips.  This is as blue-pink as I can go without looking like a revolting caricature of myself.  I've even binned MAC Snob. (£4.49, barrym.com)
05. Make Up For Ever Rouge Artist Intense #36 Satin Fuchsia
The most expensive of the bunch but a truly pretty fuchsia that lasts and lasts.  This MUFE offering is part of a huge range that of lipsticks that make me wish I lived closer to a stockist for some serious swatching.  It's a very clean, bright pink that whitens the teeth and makes the eyes sparkle.  Not a bad makeover for less than twenty quid. (£16.95, gurumakeupemporium.com)
What do you think of my "do not adjust your set" selection of pink lipsticks?  Am I missing any of your favourites?  Let me know in the comments!