I do love other blogger's What's In My Bag posts.
Probably for the same reason that I get all hot under the collar when Through The Keyhole gets repeated on Challenge, the truth is… I'm nosey as hell.  Not in an intrusive, knock-on-your-door-always-in-your-face kinda way… more of a stalkerish, I'm-gonna-check-out-all-your-facebook-friends kinda way.  Don't think I don't know your IP address.
So anyway, there I was… getting all seal-clappy about doing my own What's In My Bag… because, after all… four years is a long time for a blogger to go without doing one of these posts…
…when all of a sudden, I looked in my bag and got the blog wobbles.  You see, there really isn't anything of interest in my bag at all.  Put it this way, I'm not about to unearth some wonder-product that I, as a beauty blogger, ardent ignorer of trends, swear by.  Life's just not that interesting.
But I've snapped the photos… and I've already written about 200-words, so we're both stuck with it.  Christ, even my bag is boring…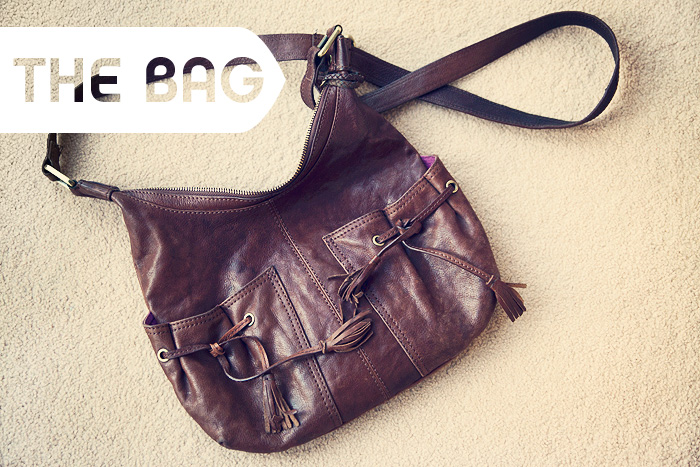 My bag, from Oasis (a shop with shoes so hot) is a lovely dark chocolate leather with magenta lining.  It's a bit of a mum bag to be fair, cross-body style with a substantial zip so I can perform various death-defying tying shoelace stunts without spilling the contents across the pavement.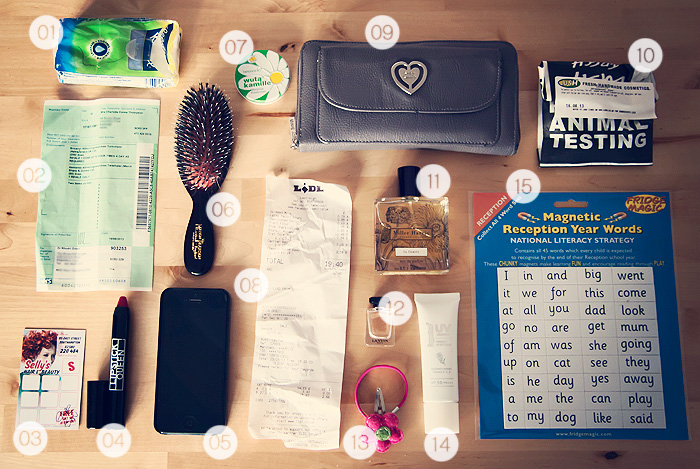 Told you it was boring… but at least it doesn't look like Cath Kidston puked in it.
01: Kleenex Balsam. When nose-grating tissues just won't do.
02: My prescription.  I finally got my inhalers sorted out at our new surgery just in-time for my annual under-used pre-payment prescription thingy to run out.  And so now I'm carrying this around in my bag, umm-ing and ahh-ing about whether to renew my PPC or just stop taking my medication. (I jest).
03: Selly's Loyalty Card.  Most of these are in my purse but I just got my brows threaded and this slippery customer didn't get tidied away.  I think I get a free blow-dry or something when I fill 'er up and Selly's is my favourite place to go locally for some sharp, non-poncy threading.
04: Lipstick Queen Chinatown Glossy Pencil in Thriller*.  It's sheer enough that you can apply on the go without being so sheer that you needn't bother.  I've got a FOTD type post coming up on this later on this week.  £22 from SpaceNK.com
05: iPhone5.  Hate myself for being so utterly addicted to this thing.  Love it more than chips.
06: Mason Pearson hairbrush.  This one's Leila's… mine is bigger, muckier and much, much older.  I steal hers though because it fits in my bag so neatly.
07: Herbacin Glycerine Hand Cream.  I use it on my cuticles, it's nice for keeping in your handbag because it's not too heavy and doesn't leave huge amounts of residue behind.  The tin is stupidly cute and it costs £1.50 from John Lewis.com
08: Lidl Receipt.  Keepin' it real… I'm glad that the photo is too small for you to see what I bought.  Oh ok, it was nail polish remover (in bulk) and bourbon whiskey (not in bulk).
09: Purse.  Tattered, in need of a new one…. stuffed with receipts, sadly not money.  I always go to TKMaxx for my purses, they're always BIG and boringly plain in style.
10: Lush Solid Shampoo.  I can't go into town without nipping into LUSH, I just can't.  I really enjoyed using Jumping Juniper and asked the SA to recommend me another shampoo for my greasy roots/dry ends combo.  She did, and I ignored her and bought Seanik instead, £5.50, LUSH.co.uk
11: Miller Harris La Fumee EdP.  I'm ringing in the end of Summer with this beautiful smoky scent from Miller Harris.  It's so dry and intoxicating, I can practically feel the crackle in the air.  £65 from Escentual.com
12: Lanvin Me EdP*.  I'm carting this sample bottle around with me at the moment because I'm trying to get to the bottom of it.  It's a juicy, fruity, woody concoction that smells more grown-up than most but probably not enough to entice me over to the dark side.  £49 from HarveyNichols.com
13: Children's Hair crap.  Various shades of pink and/or red usually.
14: Coppertone UV Protect Perfect UV Cut Cream SPF50/PA+++.  I love Coppertone sun protection and this one is great for light-feeling, no-compromise face coverage.  I don't usually wear SPF50 at any point except for high summer despite my uber-pale skin, so this one will be superceded by an SPF30 soon enough.  Bought from the 99p shop, if you spot one, buy one but do make sure you test it before entrusting your face to it – I don't know how old their stock is but I haven't had any problems with my purchases in the past.
15: Magnetic Reception Year Words.  Just bought it, haven't taken it out of my bag yet.  I'm trying to expand my vocabulary.
Want what's in my bag?  What's in YOUR bag?
* press sample