Sometimes technology baffles me.  I'm not talking the kind of bewilderment that leaves my Dad staring blankly at the DVD player for hours on end until someone finally takes pity and shows him where the eject button is; I mean the type of bemusement that comes from trying to understand something that employs so much science, you need a minimum of a BSc to know where to start.
Let's just say then, for simplicity's sake, the new Guerlain foundation is really rather technical.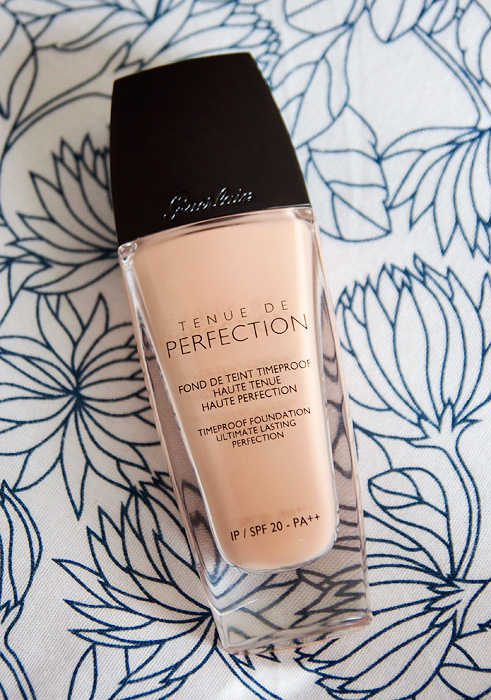 It's pretty much an unspoken rule that for a foundation to be long-lasting, I mean… truly marketed on its long-lasting qualities, it will generally suit one particular skintype over another.  Oily-skinned ladies, this one's for you.  Except, it's not.  Well, it is, but it's not just for you alone… supposedly.  Confused?  Me too… stick with me…
Guerlain's Tenue de Perfection Timeproof Foundation makes no bones about being a wear-proof foundation, it's been designed to provide the kind of longevity that will see you through the day, and then some.  It sells itself on "unfailing perfection", an "infallible formula", and "16-hour hold".  These are no meagre claims.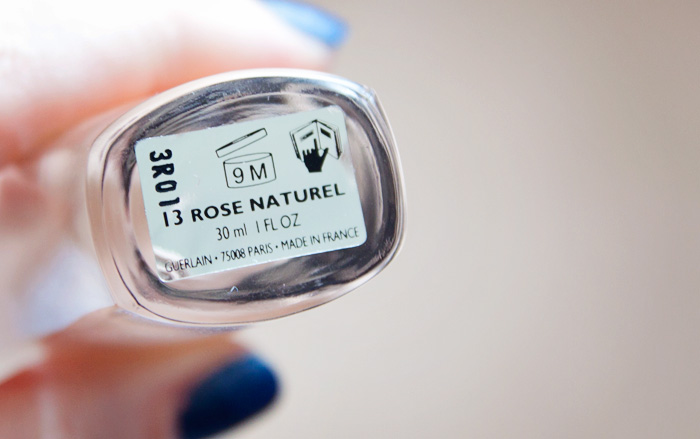 The thing about this foundation is that, it doesn't feel like a traditional longwear foundation.  It feels exceptionally lightweight on the skin, delivering a classic velvety texture without immediately seeking out my dry patches (although in fairness, I'm not winter dry at the moment), and coverage-wise, it offers a medium, buildable formula.  This is what I mean about the rule-breaking… this isn't really how long-wearing foundations are supposed to feel or look.
With regards to how it feels on the skin, for those who are familiar with other formulas, I would say that this feels somewhat similar to the recent Armani Maestro Fusion foundation… it's a barely-there product with a lot of slip.  Except this one has more pigment, more coverage in a single sweep, and doesn't highlight dry flakes within seconds of application.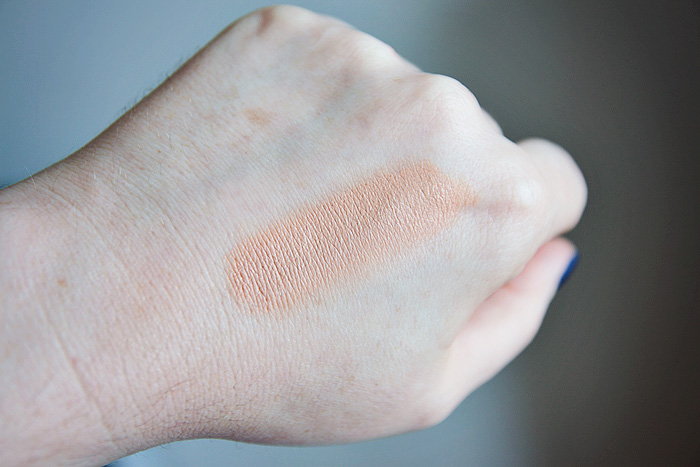 I'm not going to try to explain, question or debunk the science behind this foundation because I don't understand it enough to pretend that I do!  Let me instead, present the information to you as it is written in the press release.  Perhaps between us… we'll share a greater understanding of the technical aspects.
The formula forms a complexion-enhancing film over the skin through the use – a first for Guerlain – of three volatile oils that evaporate one after the other.  Three different volatilities create a flawless complexion in three stages.

The first masterstroke: the first oil evaporates instantly under the fingers, to ensure perfect wear for the product and allow it to melt into the skin, which immediately appreciates its softness.

The second key step: the second oil coats the skin, more completely and evaporates just after helping the foundation to glide evenly over the skin, providing perfectly uniform coverage.

The third highlight: the final oil is then released to apply and fix the Timeproof complex, ensuring irreproachable correction and all-day hold.
So, my understanding of this is that the first two (of the three) oils, exist to provide a kind of "inbuilt primer" for the foundation.  Encouraging greater glide and skin prep… but that, the key to the success of this foundation is in the fact that these oils "evaporate", therefore ensuring that they don't interfere with the formula's longevity later in the day.  The third oil, I'm not entirely sure about.  As I said, it's a bit beyond me!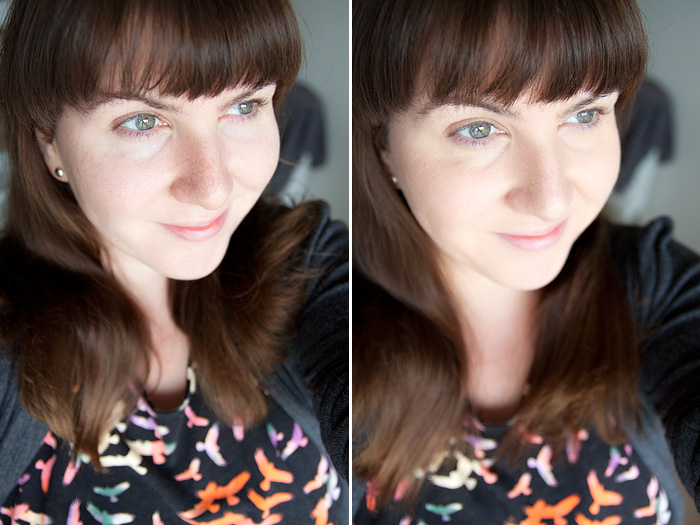 Now, back to my trialling…
Well, you can see from the before/after pictures above that the colour match was not good for my skintone.  I used shade 13 Rose Naturel.  I count nine shades available on the retailer's websites, which appear to be grouped according to undertone: beige, rose, and golden (dore).  Although the rose undertone is obviously correct for me, it looks as though I would need the "clair (light)" version rather than the "naturel (natural)" which I have here.
It appears that there may only be two depth-stages in the rose undertone (the aforementioned clair and naturel)… so I'm not entirely sure how pale this foundation actually goes.  Definitely do some counter-swatching and don't buy this one blind.
You can see that the foundation evens out the skintone quite nicely but doesn't eliminate the need for a concealer… this doesn't provide heavy-duty coverage for blemishes but is buildable for areas of discolouration or uneven skin-tone.
You should also be able to detect that it doesn't mask any natural luminosity either, both photos were taken within 2-minutes of each other and my skin displays similar highlights without any additional dullness after applying the foundation.  Basically, my skin still looks like skin.
I think that in the colder months, as my skin becomes more parched, I might uncover some issues with this foundation.  After wearing this for around five hours, I did notice that dryness had become more apparent when looking closely in the mirror.  Although the foundation hadn't slipped from my t-zone – infact it lived up very well to its claims of longevity – it had gathered slightly on the dry patches around my mouth and nose.  Just enough to highlight them.
All in all, I'm intrigued, if not completely sold on this foundation.  It doesn't help when you don't have a colour match because your eye is instinctively drawn to the flaws that this accentuates but from the time that I did spend wearing it (indoors), I can vouch for a longlasting, lightweight formula that evens the skintone in a natural way without masking luminosity.  As for the technology, well your guess is as good as mine!
Guerlain Tenue de Perfection Timeproof Foundation is priced at £37 and available to buy on counter and online at debenhams.com, harrods.com and feelunique.com now.
* press sample