Question of the Week: Name the most expensive and inexpensive products in your current daily makeup routine.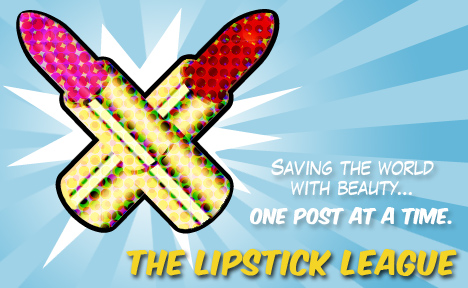 Answer: That's hard to answer because I chop and change my cosmetics daily.  So, I'm gonna cheat and change the question from "makeup routine" to "beauty routine".  The most expensive would be my perfume, the Liz Earle Botanical Essence No15 which I'm completely stuck on at the moment… and I suppose my most inexpensive would be my choice of night cream, Eucerin Even Brighter Night Cream, which at under £20, is pretty affordable for a targeted piece of skincare.
Nouveau Cheap – For most of us, Bonnie Bell is synonymous with Lip Smackers lip balms. But have you seen their new nail lacquers, lip lacquers and lipsticks? Come take a peek at some swatches–they just might surprise you!
Pink Sith – takes you on an island adventure to Kauai when she tells you all about the NARS Spring 2014 Eyeshadow Duo in Kauai. It's 72 degrees and sunny there right now!
Prime Beauty – has two major obsessions: Makeup and Chocolate! She can get her get her fix for both with the Too Faced Chocolate Bar Eye Shadow Palette–it's a cavity free sweet treat you NEED to indulge in!
Phyrra – is ready for Spring with the Kat Von D Esperanza palette! She loves it so much she's giving one away. Open Worldwide.
we heart this – the next in the line of infamous tints is a sweet as a lollipop and as on trend as can be; check out the Radiant Orchid hued Benefit Lollitint.
Clumps of Mascara – is running her first race of the year but she's picked the ideal lippy for her race face…Tarte's Power Pigment!
Gouldylox Reviews – The Too Faced Chocolate Bar is sinfully delicious. Just when you thought browns were boring, think again.
Lipglossiping – ponders whether anyone would consider taking the plunge and invest in some eyebrow extensions! Well, would you?
My Beauty Bunny – Jen got a chin implant! Read all about it and why she made the decision. Plus, see the before and after pics: Why I Decided to Get Plastic Surgery.
Guest Post of the Week, as chosen by Nouveau Cheap – Whenever one of my lovely Canadian readers says to me, "I wish there was a blog like yours, but for Canada" my response is always, "There is!" If you're looking for Canadian drugstore beauty info and sale alerts, check out Sparkled Beauty, written by my long-time blogging pal, Halifax. She'll hook you up!