Now, despite fears that I may sound like your Mum… I HAVE to talk to you about sanitary wear, are you sitting comfortably?  Not fidgeting?  Good.  Now listen up.
Exciting news!
Bodyform are launching a new "Campaign for Confidence" and are very understanding of the fact that when us ladies look good, we feel good.  In light of that, they're treating us to the latest lip gloss in two gorgeous, autumn shades.
Yes, you read that right!
From the 12th October you can snap up a Limited Edition Jemma Kidd Lip Gloss absolutely free with special packs of Bodyform!

The lip glosses come in 2 shades (Orchid & Rose) and are worth £10 each from the Jemma Kidd Makeup School range.
The limited edition packs will be available from the 12th October in all good supermarkets and pharmacies and will no doubt be in high demand so make sure you don't delay!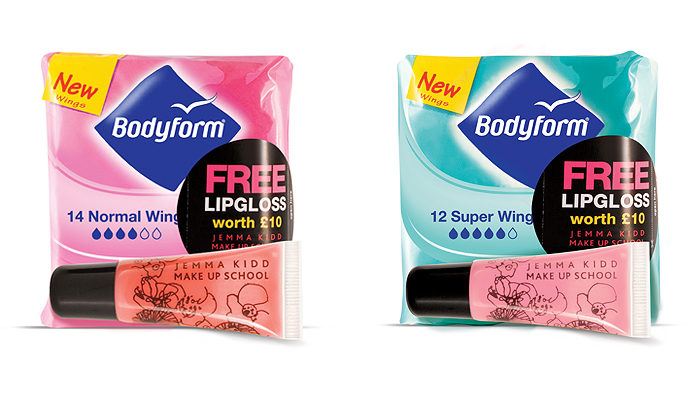 Also featuring on these LE packs is some useful information on symptom awareness from The Eve Appeal, a charity working hard to raise funds into research for gynaecological cancers.  Ovarian cancer is the fourth most common cause of cancer death in women in the UK, so greater awareness of all gynaecological cancers should be of interest to every woman.
As if that wasn't enough… I have a little "bodyform inspired" giveaway coming up, further details of that in the next few days!  Too exciting!
Bounce with me xx