Alessandro International are not a new brand, infact the German company have been around since 1989 but it's only now, in 2013, that they'll finally enjoy a UK launch at Professional Beauty next week.  Focusing on the professional market, the nail, hand and foot care brand are renowned for their unique Colour Code philosophy which ensures that all 99 of their shades are available across the three systems that they offer:
NAIL POLISH – For all those who love classics and make new decisions every day: non-permanent Durability up to 1 week.
LAC SENSATION – For all those who wish for long-lasting colour joy: Semi-permanent durability up to 3 weeks.
COLOUR GEL – For all those who want to be faithful to their favourite colour in the long term: Permanent durability up to 6 weeks.
I have two shades* from the range to show you…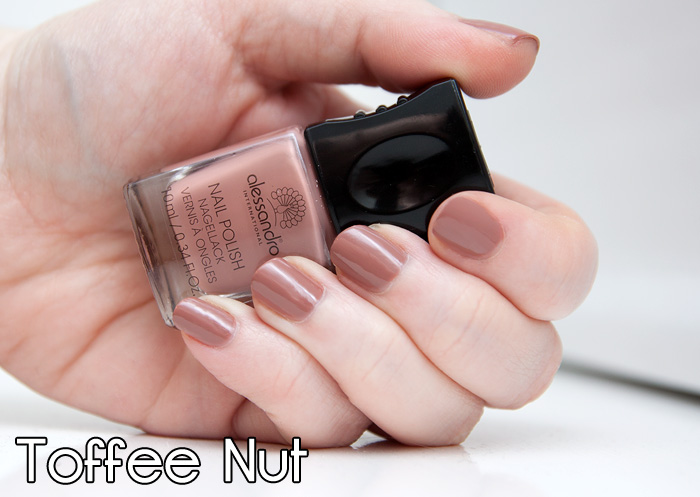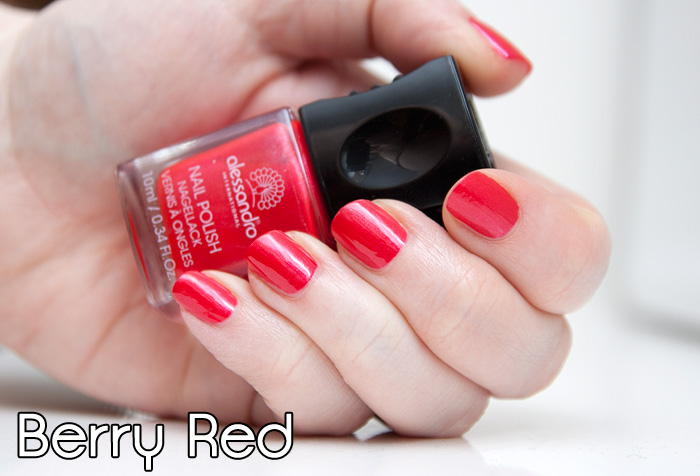 Toffee Nut is a creamy, mid-toned nude with a well-pigmented formula that feels a little thick but spreads quickly and smoothly across the nail. The colour isn't quite to my taste but it gives a clean, conservative look.
Berry Red is more my cup of tea, with its blue flashes and delicate shimmer.
Both polishes offer great coverage in only two coats but benefit greatly from the addition of a top coat. My nails are also suffering from a little damage right now and if you suffer from ridged nails, these will require a base coat before they'll disguise any such thing. Drying time was very impressive, each coat was touch dry within 5 minutes.
If you want to find out more about the Alessandro International, head to stand I22 at Professional Beauty London, taking place at ExCel on 24-25 February 2013
* press sample