Well, I should probably start this review by saying that I have never been a big fan of Issey Miyake's scents. I'd even go so far as to say that I have been completely bewildered over the years by the brand's following and their flanker after flanker release strategy that would have even the most ardent fan spinning with confusion.
Pleats Please is the designer's latest fragrance launch that celebrates his iconic 80s fashion line of the same name.  The Japanese designer's interpretation of East meets West has had many women flailing over his knife-edge pleats, created by specialist pleating techniques (no, really!) that make his designs both ready-to-wear and long-lasting.
Both of those descriptions could equally be applied to the brand's new scent.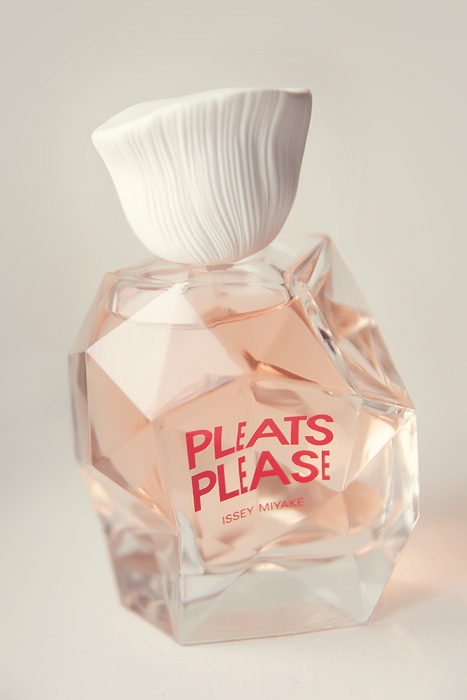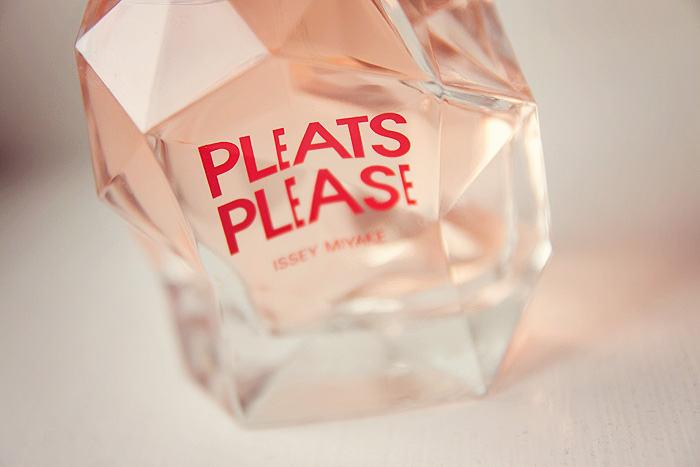 At first spritz, I felt a huge sense of deja vu.  The initial note of Asian Nashi pear (an apple/pear hybrid) instantly put me in mind of a hugely generic synthetic, clean and fruity opening.  It's sweet and thoroughly 2D, nothing like the designer's wonderfully structured catwalk creations.  I was disappointed but not surprised.
And then I went about my day.
It was about 30-minutes later that I found myself tentatively sniffing at my wrist again.  The sweetness was still there but it had blossomed into a big floral.  Big in an unabashed 80s way (can I have some shoulder pads to go with my pleats?).  I'll admit that I have a soft spot for big florals, giant bouquets that envelop you in their heady bosoms.  The kind that you wouldn't want to escape from even if you could.  My use of the word "bosom" isn't accidental… there's a skin warmth in there among the flowers, unwashed but definitely not unpleasant.  Undoubtedly all this "scent" will prove too much for some but I'm rather taken by the way Pleats Please deceived me.
I hate the bottle, I think it's a monstrous creation… but I will admit that it feels gorgeous in the hand.  Modelled on Miyake's famous Bao Bao bag with a "pleated" white plastic top, it reminds me of a feminine Marc Jacobs Bang (without the toppling over issues).  As far as longevity and silage are concerned, providing you're a fan of how this creation actually smells… you should be pleased with its performance on both counts.  Lingering enough to last the day, excellent for an EdT and conspicuous enough in its presence to elicit an "I can still smell you" from my husband as we lay in bed that night.
Issey, you have won me over.  Well, almost.  I still really dislike the opening… but I will persevere just so that I may appreciate the addictive, powerhouse of a dry-down.
Issey Miyake Pleats Please is priced from £33 for 30ml and available to buy instore or online at Boots, Superdrug, Debenhams, and online (from £28) at escentual.com
* press sample