When trying a beauty product for the first time, I try to remain open-minded.  When a product has been hyped by the beauty community, it's easy to have certain far-reaching expectations the first time you try it.
However, in the case of the new Josh Wood Blending Wand*, my expectations were lower than low.
Reviews for this product, which is sold exclusively at Marks & Spencer are generally pretty dire on the M&S website, frighteningly so to be honest.  I try to avoid reviews before approaching a product that I'm going to blog about but I was frankly unsure about the best methods for applying the goop inside the wand (the instructions aren't in plain sight), and so I found myself Googling in advance.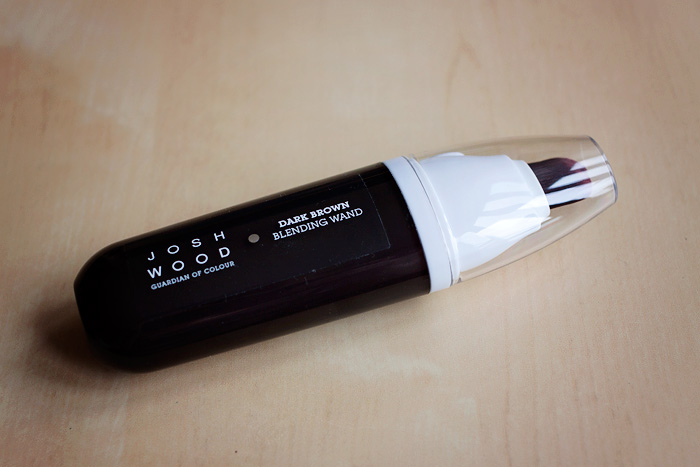 Before I get down to the nitty-gritty, let me explain what – in my opinion – this product from acclaimed colourist Josh Wood is, and perhaps more importantly… isn't.
The Josh Wood Blending Wand is a temporary solution to a common problem.  The problem being visible roots between hair colouring.  Perhaps you go to a salon for a professional experience every couple of months, or perhaps you box-dye it at home.  Either way, you'll be familliar with the annoying inbetween stage… inbetween salon appointments, or inbetween finding time to redo your roots at home.
What it isn't however, is a replacement for a regular hair-dye.  This also isn't a replacement for a permanent root touch-up kit.  In my novice experience, it takes less than 15-minutes from start to finish to turn the unsightly into the respectable when it comes to your hairline.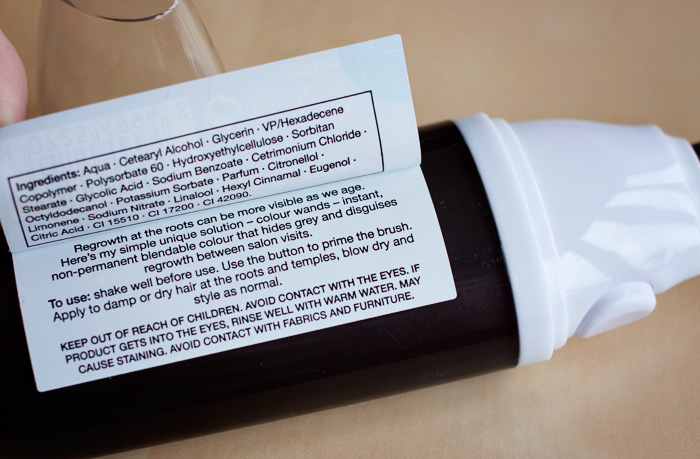 The somewhat limited instructions are located under the label on the back of the wand.  It makes the application process sound a little less involved than it actually is.  First things first, I absolutely recommend that you don't try to use the Blending Wand without a little mixing bowl to hand.  The "goop" inside literally drips out when you prime the product and you risk making a mess unless you dispense into a bowl first.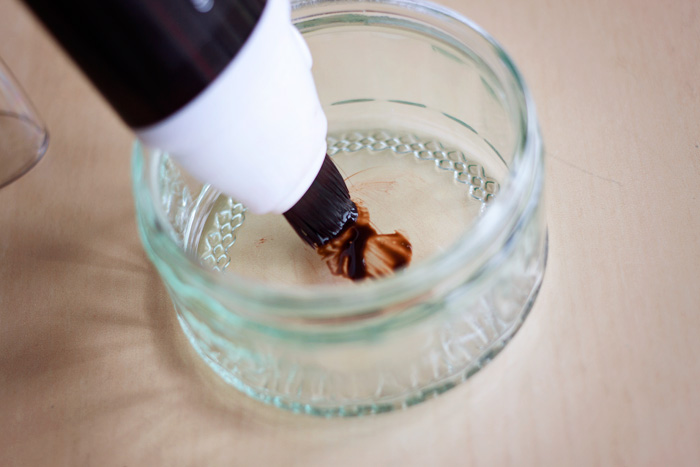 I applied the Josh Wood Blending Wand directly onto dry hair.  Let's be honest… if I wanted to faff around with wetting my hair first, I'd just go down the root touch-up kit.  I wanted something that I could use during those emergency moments of god-awful clarity when you catch sight of yourself in the mirror whilst getting ready to go out.  If it couldn't fulfil that role… I wasn't particularly interested.
To use, I pumped the button on the side of the wand a couple of times to prime it.  This allows the product to dispense into the brush… or more conveniently, into the bowl you've sourced.  Load the brush with the colour and gently apply the product to your roots.
For me, the key to achieving a good finish without making my hair sticky, or staining my scalp is to use a light hand.  You don't need half a gallon of product on the brush for it to be effective.  Use a little at a time and don't be afraid to work the brush across the "grain" of your hair aswell as in the root-to-tip direction.  Doing this with an almost-dry brush and working it through the strands cross-ways works well for me.
At this point, your roots should be damp but not saturated.  If you use too much product, you're going to be left with a sticky-residue once you've blow-dried.  The product will not magically disappear into the ether just because you've blasted it with a hairdryer.  Use a light hand and apply more if needed.  I also recommend using your fingers to lightly distribute the product across your roots whilst drying, in a similar way to rubbing in dry shampoo.  Remember to wash your hands immediately afterward to avoid stained fingertips.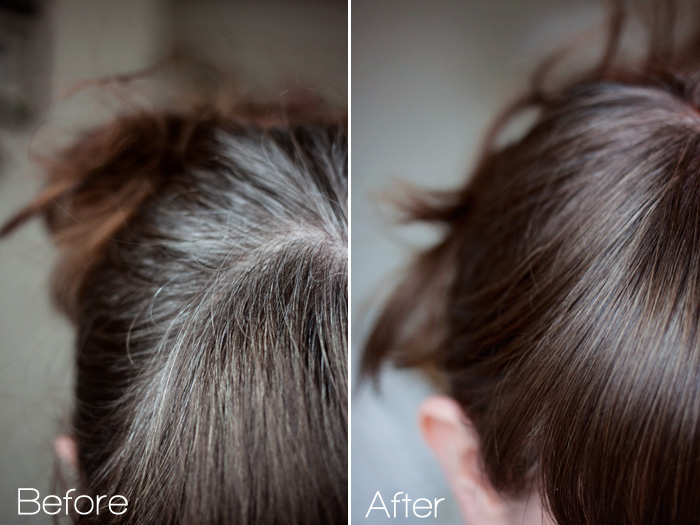 Because of my preconceptions after reading the reviews, I can't quite put into words how impressed (relieved?) I was when I saw the results.  The colour blended well with my own and I only had a tiny bit of scalp staining where I'd been too heavy-handed at the temple.  My hair did feel heavier after application, especially around the fringe but it wasn't sticky and didn't need immediate washing, though I did wash it before bed that night as I was worried about staining my pillowcase.  The results have lasted well after two hair-washes, I don't expect it to last much more than three or four at a push.
All in all, as a quick-fix solution for disguising roots in under 15-minutes, I can't fault it.  If you try it and don't get the results you were hoping for, take a look at your application method because you might need to adjust the quantity of product you're using.  Considering just how bad my roots were, I really didn't need to use a lot of product to get my finished result.  I should get many, many more uses from this magic little Blending Wand.
The Josh Wood Blending Wand, priced at £12.50, comes in 4 shades and is available exclusively instore and online from Marks and Spencer.
* press sample
if you liked this post, please don't forget to check out my subscriber options, here