A big welcome to Anna from It's A Bloggers World who is guest-posting on Lipglossiping today.  Anna is an Italian, living in Manchester.  Today, she is talking about a rather unusual-looking makeup brush and I'm sure I can feel the stirrings of a new desire already!
I am sure that every one of you, as makeup-addicts have faced, at least once, THAT question: "Are you a foundation brush or a sponge person?"
Dilemma.
I have been through all the different stages: fingers, flat brush, stippling brush, latex sponges (in every shape created), wet or dry, everything!
Then I realized it was more a matter of what effect I wanted to achieve from my foundation than finding the perfect tool; most of the time, I'll use a stippling brush if I want to go for medium, natural coverage or I'll choose a flat brush with the addition of a sponge if I need a full coverage "hide-those-spots-please" finish!
This is why I couldn't help myself from buying this little jewel.  Enter the Sonia Kashuk Complexion Perfector Brush.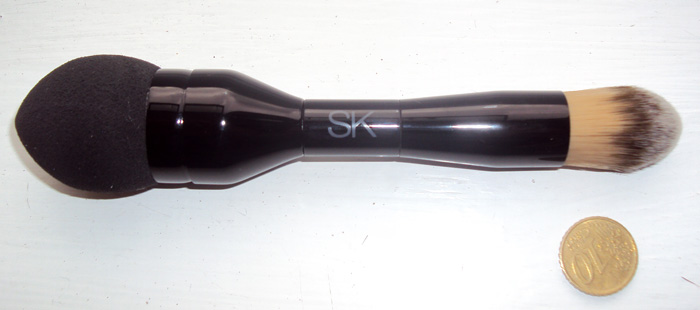 I had the opportunity to purchase this last summer while in Chicago as I casually found myself walking near a Target (don't look at me like that, of course it was planned and of course I knew where the shop was before even landing in the USA!)
As you can see, it's a dual-ended brush with an oval sponge on one side and a brush on the other.
The brush is synthetic and has a domed shape. It's quite firm but no worries, it doesn't scratch your skin at all, it just does the job of keeping a well-defined shape.  The sponge is oval-shaped and quite similar to the iconic sponge that Sonia Kashuk is famous for.  It can be removed to for washing, clever isn't it?
I basically use both parts: I first apply foundation with the sponge and work it out all over my face.  Then, I use the brush for the sides of my nose, the under-eye area and any small details (see "detail" as that spot that decided to rise like a volcano on your chin without being invited).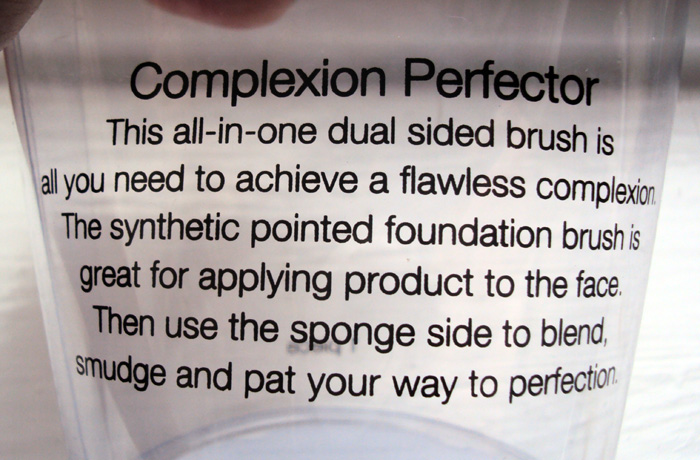 As you can see on the instructions, it can be used the opposite way as well, using the brush first before blending all over with the sponge, but I find it easier for me to use the first way.
Sometimes, if I am lazy, I use the brush to apply my concealer as well and it works pretty good.
I didn't have any problem when I washed it, no loose hairs or changes to the shape (doesn't it get on your nerves when this happen? I go mad!)
It's part of the "Kashuk tools" and costs about £15.50. Unfortunately my dear Sonia is not sold in the UK, so you have to count on ebay, an old friend that just moved to USA or that holiday that you really need…
Are you ready for a trip to the USA then?