If Inspector Gadget owned an electric toothbrush, the Braun Oral B 5000 Triumph would surely be his weapon of choice.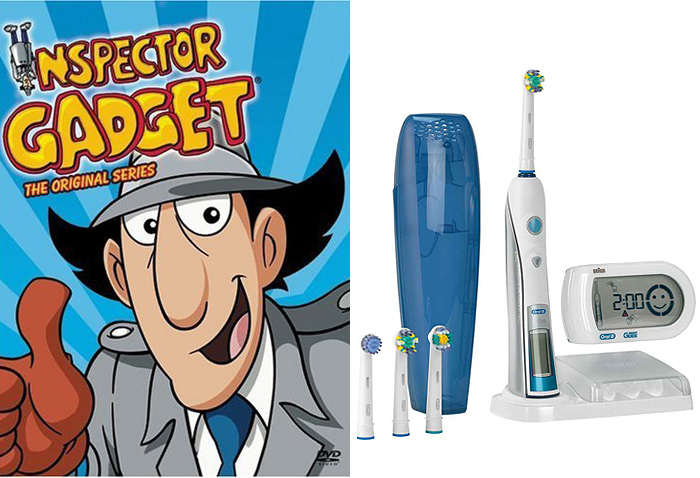 The Inspector Gadget of toothbrushes
I make my living surrounded my motherboards, CAT 5e cables and heat sinks, I'm not one to be turned off by a little gadgetry but this device had me scratching my head for a wee while at all the modes, options, brushes and monitoring solutions.
Say what?
It basically consists of two units.  A toothbrush (that comes with a 'docking station' for charging) and a 'SmartGuide' which sits somewhere near the toothbrush unit.
When I initially unboxed the product, I read the instructions for the 'SmartGuide' and got so bogged down by them, I decided that I'd simply ignore that part of the system and concentrate on using the toothbrush.  After a few weeks had passed, curiosity got the better of me and I unpacked the 'SmartGuide' and installed it alongside the toothbrush.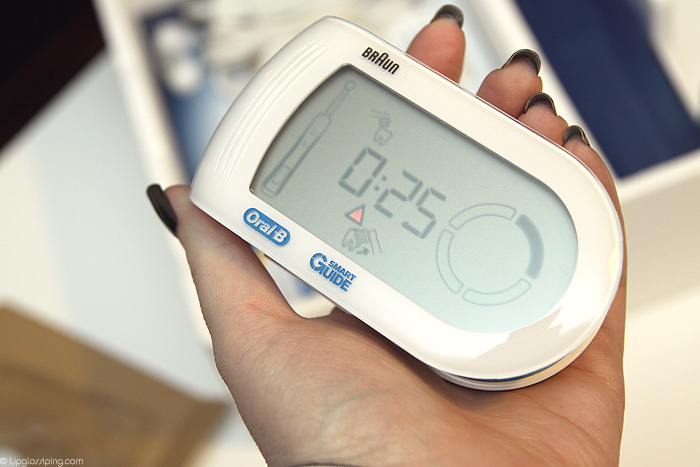 The SmartGuide, doing what it does best… flashing at me.
Having never owned an electric toothbrush before, the actual brush itself has been a revelation from day one .  My previous experience (of trying my mother's!) had been brush heads that were WAY too big and clunky to reach the back of my mouth which left my teeth feeling thoroughly uncleansed.
The brush heads that click onto the Braun Oral B Triumph systems fit each tooth perfectly but are still small enough to reach right back to those pesky wisdom teeth without putting your jaw into spasm.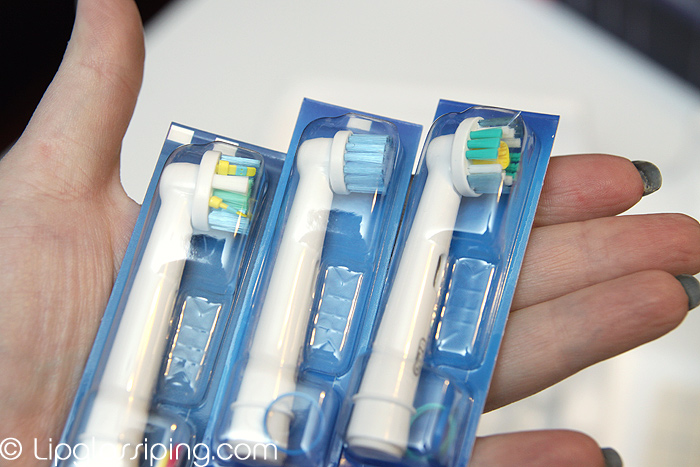 It comes with a variety of brushes for all your brushing/polishing needs.
I've come to the conclusion that I've no real use for half the brushes that you can purchase to integrate into this system… after three months, I've decided that for my requirements, the Oral-B Precision Clean Brush Heads do everything I need although it's nice to have the option to incorporate special polishing cups and floss-action heads into your routine if you require.
On the subject of flossing and despite owning brush heads that claim to offer this action, having an electric toothbrush with all these bells and whistles hasn't replaced the manual action of a piece of flossing thread successfully.
I visited my dentist after having used the Braun system for 3 months and interestingly, the only area that hadn't shown any signs of improvement were the gaps between my teeth.  It's a breeding ground for bacteria and picking up one of these all singing/all dancing electric toothbrushes doesn't replace the need for daily flossing.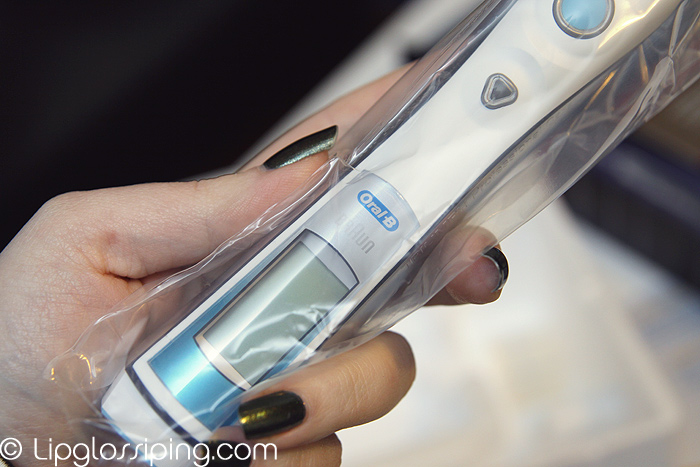 Well designed and nicely weighted handle with display
But hold on there for a moment… because did you notice what I said?  The "only" area not to have shown improvement!
I've been visiting my dentist for about 12 years now and she always makes my visits sweeter by making me feel better about my mouth being the plaque attractor that it is.  "Some people just have more ridges on their teeth to attract it!" she says whilst I sit there worrying that she must think I never brush my teeth at all.
When I visited the dentist last week, I asked her specifically to tell me if there were any noticeable improvements to my last visit.  She consulted the computer and worked her way around my mouth, noting various numbers to her auxiliary who plugged them in to the system (lots of 2's and one 3 incase that means anything to you!)
Apparently, my gums had improved in most areas except for that one number 3 which I could feel was slightly inflamed just with my tongue.  She noted that there was an overall significant improvement on last time (5 months previously) and that she had been a little concerned at their deterioration following the birth of my daughter.  Apparently, we're back on track!
Not only that but she also made a little joke that the scale and polish was going to take her half the time it usually does as the 'flat surfaces' were looking really clear of plaque compared to normal.  To be honest, I could have told her that!
OK, so the Braun Oral B Triumph 5000 has passed the dentist test with flying colours as far as I'm concerned.  It's obviously brushing my teeth more effectively than a manual toothbrush ever did though as I said earlier, it doesn't replace a good old-fashioned floss which is just as important as tooth brushing!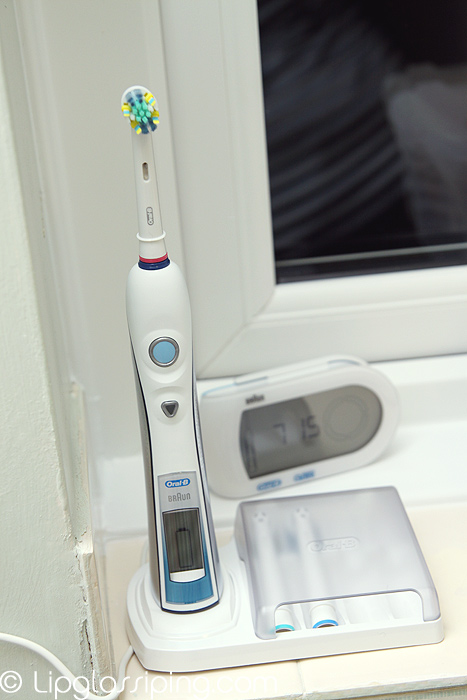 The system all set up!
But back to this SmartGuide for a minute… afterall, this is one of the Braun's USPs.  We're talking about a toothbrush that costs £160+ when it isn't on special offer.  It's USP needs to make it worth that doesn't it?
Sweeping aside all the special modes for deep cleaning, sensitive cleaning, polishing, tea-making and everything else it offers… the SmartGuide gives me one major advantage…
It makes me brush my teeth for a full 2 minutes night and morning.  It's like a nag.  I switch on the toothbrush… and 10 seconds later I'm ready to move on to the next section of my mouth.
"NO!" says the SmartGuide.  Well, it doesn't actually *say* 'no' – that would be REALLY clever!  What it does, is flash at me.  It shows me the quadrant of my mouth that this brush needs to stay in for the next x-amount of seconds.  I look back down at the sink… surely it's time nowwwwwwwww…
"NO!" (flashes the SmartGuide)…
The simple truth is that without the SmartGuide, I'd be finished with my teeth brushing approximately a full minute earlier than with it.  And that ain't good news for my teeth.
The Braun Oral B Triumph 5000 Electric Toothbrush (with naggy SmartGuide) is available online at Boots priced at £163.39… but wait!
You can get it from Amazon for £79.99.  And that my friends, is what I would be happy to call a bargain.