Just when we should all be tailoring our skincare to lead us into the warmer weather, those pesky chaps at the MET office are happy to remind us that although it may well be almost JUNE, it feels uncannily like February out there.  My skin has been feeling so unbalanced as the year has progressed and finding the solutions to keeping everything under control has felt like applying weights to an old-fashioned pair of scales whilst wearing a blindfold.
Clearly, I needed some expert advice and whilst checking out the new beauty hall at John Lewis, Oxford Street on Tuesday evening, I noticed the Elemis counter looking a bit quiet so I asked if I could jump in the chair for one of their complimentary skin consultations, I was excited!
Until I caught sight of the picture that looked back at me.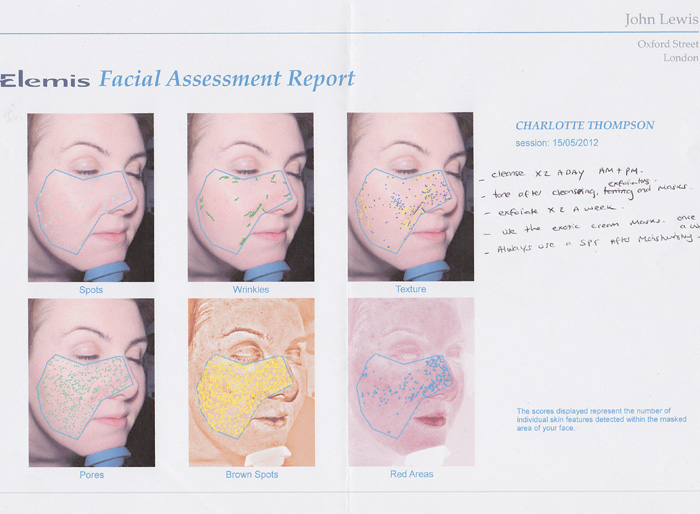 "Dude, trim your eyebrows" was my first thought, I almost felt the need to apologise to the therapist for them.  Second thought was "oooh, my skin looks quite clear!" (vanity is never far behind).  To be honest, I didn't really have a clue what I was talking about but I was guessing that the less blobs on the scanned area, the better.  Turns out, I was mostly right.  You can click the picture above to view a large version… I'll tell you a bit more about what the equipment can pick up on…
Spots – self explanatory, the facial assessment picks up on any blemishes/congested areas that are on the skin's surface, lurking just underneath about to erupt, or hiding dormant… waiting for the opportunity (read: important ocassion) before putting in an appearance.  My cheeks are actually where I seem to get the most blemishes, so I was surprised to see such a large number around my nose.  Not really sure why I was surprised when I got home and checked out the blackhead congestion in the mirror…
Wrinkles – I was blindly hoping to score low in this area.  I think I got about average… but the therapist pointed out that the scanner had detected more furrows in the areas where the skin was visually quite dry.  There's a good reason right there to keep your skin as well-moisturised as possible I think!
Texture – This indicated the areas of my face that would benefit from additional hydration, and also the areas that showed signs of "healthy" oil production.  Unfortunately, because I was wearing makeup at the time of the scanning session, I don't think this image is as accurate as it could be, but it does show that there aren't too many clearly defined areas that can be categorized as traditionally dry/oily.  As I've always complained, I'm perfectly capable of producing makeup-melting oil in the same areas as I'm experiencing practically, scaly patches of skin.
Pores – Another self-explanatory one, I'm very… err… pore-y.  Great.
Brown Spots – FINALLY.  Something I can smile about!  Apparently, for my age (I told her I was 73)… I have very little sun damage (the yellow areas are ok, it's the brown ones that aren't!).  That'll be all those years spent in my bedroom being an angsty teenager then.  Result.
Red Areas – Well, this I just knew wouldn't be brilliant.  You can see that I suffer redness in the classic areas across the nose and cheeks.  I've mostly (not really) made peace with this as a hereditary condition and frankly, I'm not inclined to give up curries/hot showers/central heating/all that fun stuff in an effort to reduce it.  I'll just LAZOR the bitches when the capilliaries get too much and hope for the best, job done.
My therapist went over my results and discussed my lifestyle with me, she asked me about my current beauty routine (I nearly bored her to tears), and then she made some suggestions about how I might tackle the classic symptoms of unbalanced skin and get things back on track.  This included:
* drinking more water to ensure I'm not physically dehydrated.
* exfoliating (gently because of redness) more frequently.  I currently only exfoliate once every couple of weeks, she suggested that I up this to twice a week.
* I explained that I'm not using water during my cleansing and that I feel this has helped with sensitivity issues but that I hated using cotton wool pads.  She suggested that I use an extremely well wrung-out face cloth instead, practically dry so I'm not actually splashing water on my face but still benefiting from the warmth, gentle exfoliation and more definite cleanse.
* treating my skin to a moisture-rich mask after an exfoliation and leaving it on overnight, just once a week.
* ensure that I apply my moisturiser prior to applying my sunscreen to lessen any potential issues with congestion.
I was really impressed because most of her tips weren't brand-specific and more about how I conduct my beauty routine than what products I use.  Of course, she did recommend some Elemis products based on the results from the SkinLab Assessment and our discussion on what kind of products I actually liked to use, which was novel.  Usually I can spend 10 minutes talking about how I don't like foaming cleansers only for the SA to recommend me their foaming cleanser.
Here are her product recommendations to help battle unbalanced/combination skin:
Cleanse, Tone, and Moisturise
Elemis Pro-Radiance Cream Cleanser (AM + PM)
Elemis Soothing Apricot Toner (AM + PM + as needed throughout the day)
Elemis Pro-Collagen Marine Cream (AM as day cream)
Elemis Pro-Collagen Oxygenating Night Cream (PM as night cream)
Treatments
Elemis Papaya Enzyme Peel (2x weekly as exfoliator)
Elemis Exotic Cream Moisturising Mask (1x weekly after one of the exfoliating sessions, sleep in it!)
Supplements
Elemis Cellular Recovery Skin Bliss Capsules (when skin needs a pick-me-up or before special events etc.)
Daily Redness Solution (applied topically to the red areas)
Of course, I haven't just sold one of my kidneys so I couldn't afford it all but after feeling the beautiful slip and glide of the Pro-Radiance Cream Cleanser, I couldn't leave the counter without it.
I've only used it 3 times so far but I'm loving it for complete makeup removal (eyes and all) with a non-drying formula that doesn't have me rushing to slap on the moisturiser.  I really like the idea of sleeping in the moisturising mask and I've just received press samples of the Apricot Toner and Papaya Enzyme Peel (not related to this counter visit) so I'm looking forward to putting some of the products and all of her tips into action!
There was no hard-sell, and the therapist even sent me away with some sachets of the Daily Redness Solution (before I told her I wanted to purchase the cleanser) to see if my skin would tolerate it.
The Elemis SkinLab Skin Assessment is available in many Elemis Spas and on counter at some department stores – John Lewis lists which counters offer treatments at their SpaPod, you can call your local counter to find out if they offer a complimentary SkinLab consultation – it's the best thing I've done for my skin this year!