I'm crackled out.  I've been crackled out for about a year.  I'm bored of crackle.  No more crackle.  Boo to crackle.
China Glaze have released FOUR new crackle glitter polishes, because they think that I OBVIOUSLY haven't seen enough crackle yet.  The new China Glaze Crackle Glitters* landed on my doormat yesterday and I thought I'd swatch them up for all those 3 people out there who aren't bored of crackle polishes yet.
If I'm serious for a moment, they're actually pretty cool (in a really boring crackly way).  The four shades are Summer brights and each dries to a matte finish.  I haven't applied a top coat in the swatches because all the swatches I've seen so far DO include a top coat and I also wanted to gauge their drying time and how much they might/might no pull apart the lower layers of my maniucre as they dried.
Turns out, they didn't fare too badly at all, each finger was touch dry in about 10 minutes and fully dry within half an hour.  That's without top coat remember.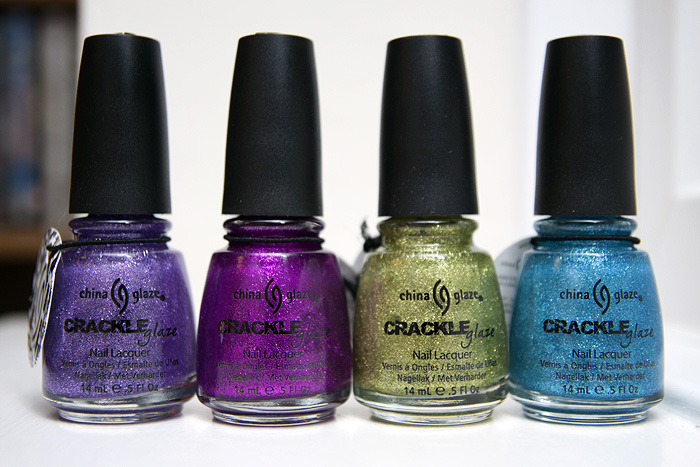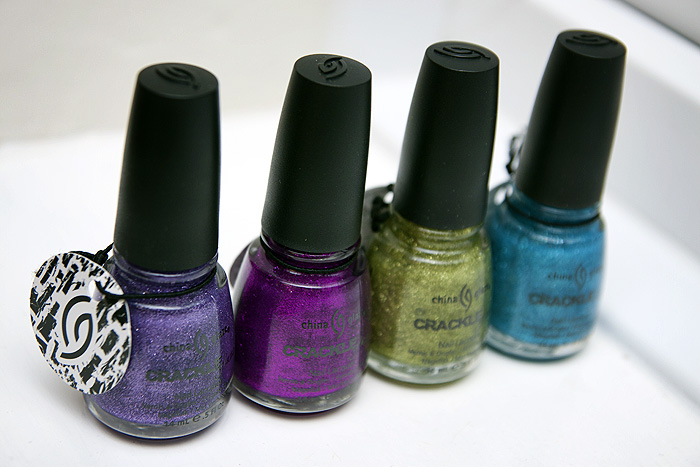 The four shades from left to right:
Luminous Lavender (luscious light purple)
Glam-More (bold fuchsia)
Jade-d (radiant bright green)
Gleam Me Up (bright sky blue)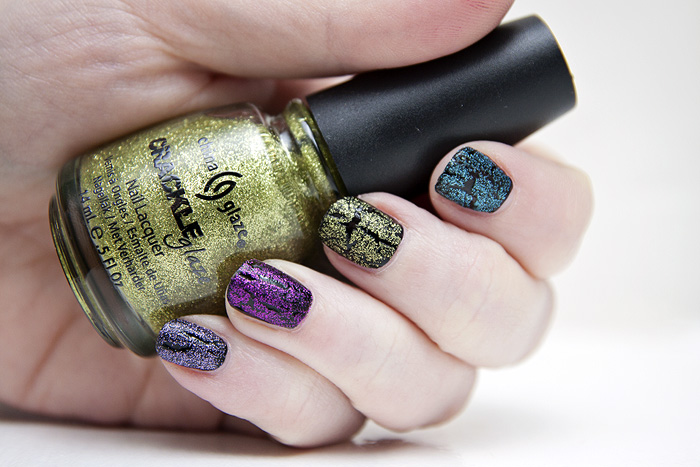 Jade-d is a beaut, it's a golden green that really pops against a black nail. Glam-more and Gleam Me Up are equally punchy and Luminous Lavender is left languishing as my least favourite.  It's simply sheerer than the rest and lacks the spark and contrast apparent in the other shades.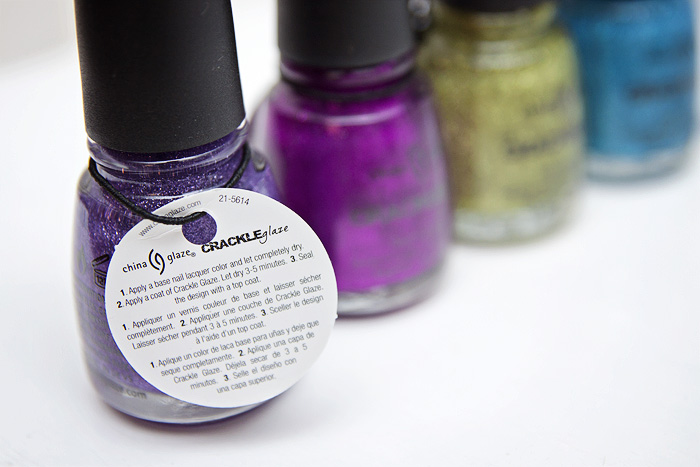 Ultimately, whilst I'm massively over the crackle trend, the formula on these is great and I'll begrudgingly admit that there's nothing better for patching up a tired manicure in minutes.  Got tip wear?  Slick a coat of one of these over the top and you're sorted.  It's a lazy girl's secret weapon in her nail arsenal (am I giving away my secrets?)
If you're on a budget, it's worth pointing out that MUA do some crackle glitters for around half the price of these, though I haven't tried them so can't comment on their quality.
China Glaze Crackle Glitters should be available to buy in the UK instore from Sallys.  I can't see them up on radiant-babe-beauty or beauty4nails-body yet, but I'm sure it won't be long.
Are these reigniting a spark of fondness for just one more dip into the trend?
* press sample