It's not that I mean to be a bitch, I really don't.  It's just that I'm on a spending ban and this time I really mean it – you see, we're about to move house and furnish it from top to bottom.  Paul says that furnishing it with makeup doesn't count and despite my protestations, we have to buy proper grown-up shit, like cookers n stuff.  It's to this end that I've been on a strict no-buy for almost a week.  I know! I can't believe my dedication either.
Let me tell you though… right now, it's 01.15am and I've just had a cup of tea and half a Boost bar and I'm feeling pretty invincible.  I could whip out the debit card in less time than it would take me to hide the chocolate wrapper and I could buy all this stuff *sweeps arm across browser window*.  But I mustn't.  I promised that I wouldn't buy anything except the bathroom essentials for at least a month, so I'm going to do a bit of enabling instead.  It's ok, I know you can handle it.
This is what I would have probably, definitely, most likely bought this week, had I been allowed.  It's always the bargains that test my lame-arsed resolve.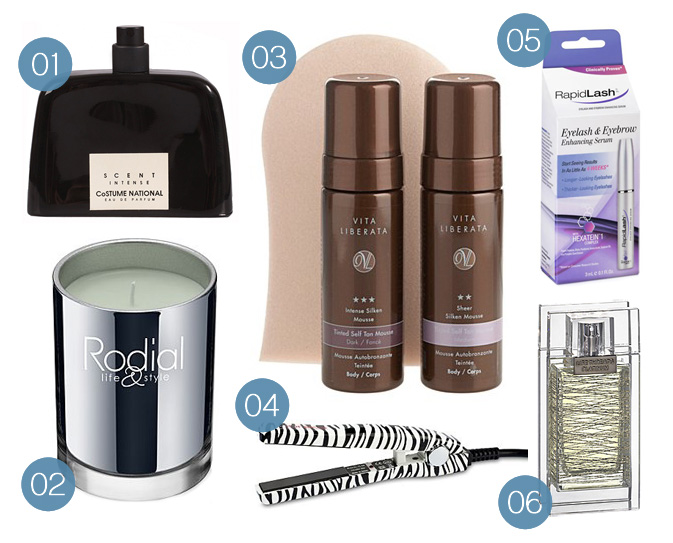 01  |  02  |  03  |  04  |  05  |  06
01: Costume National Scent Intense 100ml (sale price £26.10 / original price £87.00, 70% off)
02: Rodial Rehab Scented Candle (sale price £10.00 / original price £45.00, 78% off)
03: Vita Liberata Silken Mousse Set (sale price £14.70 / original price £49.00, 70% off)
04: Ionika Zebra Mini Straighteners – other styles available (sale price £4.00 / original price £9.99, 60% off)
05: RapidLash (sale price £21.00 / original price £41.00, 50% off)
06: La Prairie Life Threads Platinum Eau de Parfum Spray 50ml (sale price £37.00 / original price £74.00, 50% off)
You see what I'm missing out on? SCREW YOU NO-BUY!