…introducing INM's Out The Door quick-dry top coat.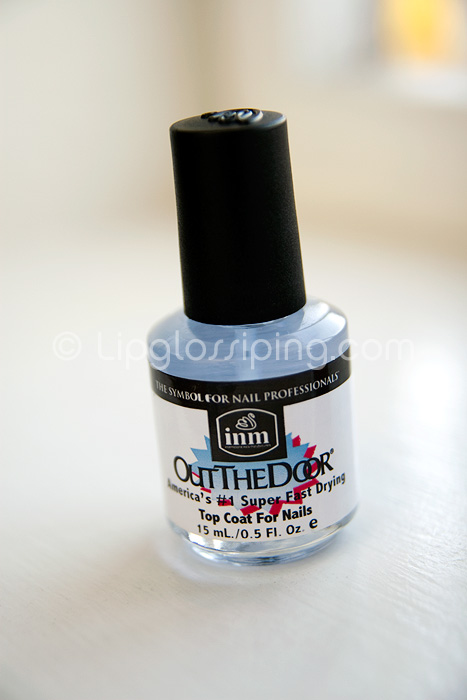 Recommended to me by the lovely Jamilla from Makeup for Professional Asian Women which, btw is a must-read for her inspiring and regularly updated posts.
INM's Out The Door is a serious contender to the Seche Vite crown… firstly, I'm gonna come right out and say that this stuff doesn't dry my nails as fast as Seche Vite.  I'll be surprised if anything does.  But, it does dry them respectably quickly.  I also find the texture of the product makes it far easier to apply.
I know that Seche Vite suffers from thickening, but even comparing this to a new bottle of the Seche, INM's Out The Door applies beautifully smoothly… it's as if I'm coating my manicure with water rather than polish.
In the time it takes me to 'top coat' all my nails, the first will be touch dry by the time I'm finished.  Not dent-dry however…  this takes about another 10-15 minutes to fully harden.  Which is fine for me, I just take a little more care and haven't had any problems yet.
Where the INM Out The Door blows Seche outta the water is with shrinkage.  I haven't experienced even a millimetre of unnecessary tip wear with this top coat.
Less pungent smelling and easier to apply makes for a happy Lipglossiping.  I often decide to paint my nails about half an hour before bed, and I haven't had any problems with duvet imprints!
Availability and price is also an issue as this seems to be a little easier to get hold of in the UK than Seche Vite.  Price varies but I've found it here for a bargain price of £3.95.
Have you tried it?