I want to extend a really huge thank you to Gem at SparkleSparkle for guest reviewing the Elemis FreshSkin range for me.  1 month and 9 products later my head would be spinning – but she's managed to keep her brain clear enough to provide some great analysis on the products from the new range!
Take it away Gem…
The new Elemis FreshSkin range is aimed at 16-24 year olds.
I am at the far end of that scale at 24, but my skin is exactly the same as it was as a teenager.  I'm getting to the point where I don't think it is ever going to change.  I have combination skin which is very oily across my T-zone and can get dry in other areas.  I haven't changed my skin care for years because what I have been using has left my skin reasonably spot free and balanced.  Before trying these products I was using the No7 Protect & Perfect Intense Beauty Serum and the No7 Balanced Results Day Sorbet.  I didn't use an eye cream because all those I'd tried I was either allergic to (puffy eyes was the opposite of the effect I was going for!) or caused me milia.  So I'd given up on finding a good eye cream.
I was very pleased to try these products.  I had not tried any Elemis before and most young skin targeted ranges I had tried were quite harsh and targeted more at spots than normal skincare.  I can't have much fun using normal skincare ranges as they all seem too rich for my skin and I need a lot of powder to get rid of the oily shine left behind.  After just over a month of using these products, I can say I really liked the range as a whole.  It had some really good parts and some bits I didn't like so much.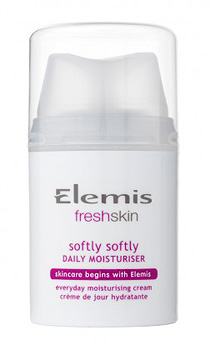 This is my favourite product of the range!  The cream being nice is important for this range, because face cream is the item I think most people will judge it on.  It has a gorgeous lavender smell and leaves a really fresh feeling after you apply it.  It looks very creamy when you first see it, but when you spread it, it is very light and very easily absorbed.  Best of all doesn't leave an oily layer, yet it still moisturises my skin really well, which is the most important factor to me.
It has lots of lovely ingredients to sooth and soften the skin such as, seaweed extract, sweet almond oil, chamomile, geranium, rosehip seed oil and lavender.  All these ingredients are focused on soothing, calming and moisturising, which I think is a good aim for the age group Elemis are aiming this range at.  There is one downside though, that it has no SPF.  Some people might say another downside is the price, but the No7 cream I've used forever is £17 for the same amount.  In fact I think I need less of the Elemis cream to cover my face.  The price difference really isn't a lot.  I will be buying this cream when I run out!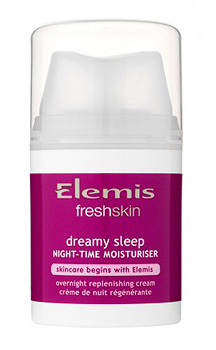 This cream is very similar to the day cream.  It smells of lavender like the day cream and absorbs into the skin quickly without leaving it oily.  I don't know if you necessarily need both the day cream and the night cream, they are very similar.  I'm not sure if I would notice a difference were it not for the labels.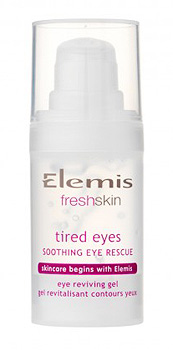 This clear eye gel is de-puffing and cooling.  I'm not a morning person and will take anything I can get to wake myself up.  As I mentioned before I have had some trouble finding a good eye cream, so I was excited to try this.  I really like this eye gel.  It is very soothing, reduces any morning puffiness and feels nice and refreshing.
You only need a small amount to dab around the eyes so although the price is quite steep at £15, I think it is worth it if you are looking for an eye cream that is refreshing and de-puffs your eye area.  It isn't all that moisturising, but it doesn't claim to be.  For me this is ideal, but if you want a moisturising eye cream, you may want to look elsewhere.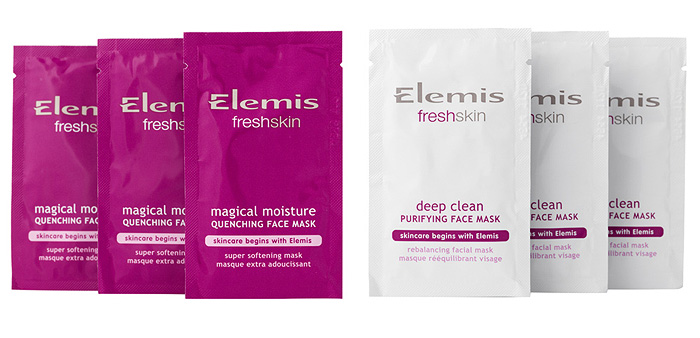 These face masks are a nice set.  The masks are individually packed in sachets containing a perfect amount of face mask goo. You just squeeze it out of the sachet, slop it on your face and relax.  The deep clean mask is a clay mask, which felt nice and cool when I put it on.  It tightens only slightly after 10 minutes and when I washed it off, it left my skin feeling really clean and soothed.
The magical moisture mask is more like a thick cream.  It smoothed on my skin nicely, and left it feeling nicely moisturised.  It didn't leave my feeling extra oily, it just left me with nice soft skin.  My make-up seemed to go on really nicely after the moisture mask my skin just felt really nice.  I would recommend these face masks and the price isn't too steep for 6 masks.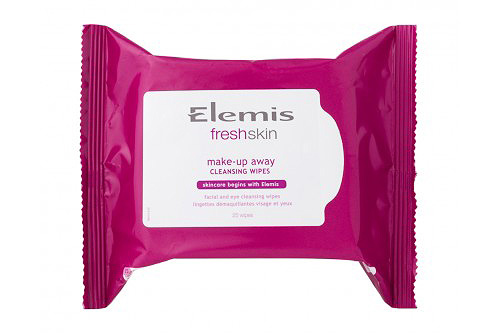 These wipes are ok, but I'm not sure if they are worth the £8 for 25 wipes.  It says it gently sweeps away impurities and make up, but I found it stung a little on my eyes.  Also, I wasn't too keen on the smell of these face wipes.  It's just a personal preference thing, but the chamomile and elderflower smell was a bit strange.  Most face wipes smell identical, whether you buy cheap ones or expensive ones, so I think I was surprised that these smelt different.  They did remove my make up, but I would say no better than my usual cleansing wipes.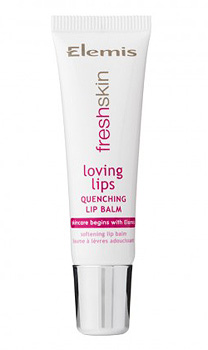 I wasn't very keen on this lip balm.  I found it had a very greasy feel to it and wanted to rub it off straight away.  I am not a fan of using Vaseline on my lips and this felt quite similar to that.  If you like the Vaseline feel, you will probably like this.  It is a clear balm that is very moisturising and is peppermint flavoured.  I normally love all things minty flavoured, but I can't get over the greasiness.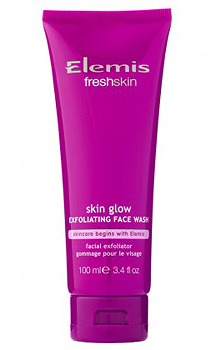 This is a great face scrub.  Like most of the products in this range it smells lovely, nice and fruity.  It is rough enough that you can feel that it is scrubbing away all the dead skin, but not too rough that I feel like my whole face is being scrubbed off as well!  It really leaves my skin feeling clean and looking radiant.  I'm not sure if it is worth the £12 though.  I think you can get a face scrub from the high street that is cheaper and does a similar job.

Again, this product smells gorgeous, quite fruity/citrusy.  It lathers up really well and leaves my skin feeling very clean, but not at all dry.  This seems to go further than the face scrub due to it lathering up so well, so is better value for money.
.
Overall, I think the range has some good and not so good parts.
The day cream and eye cream are my favourites and they really suit my combination/sensitive skin.  The face washes and wipes are pretty standard really and I believe not worth the price that they are.  I think someone 16-24 will be happy to spend a little extra for a really nice cream and less likely to spend more for a face wash, unless it is amazing.
I think the range does fit the needs of the 'average' young person's skin and has some quality products that aren't too expensive for a young person's budget.  I will definitely be purchasing the day cream and the eye cream when I run out!
.
Have you tried the Elemis FreshSkin range yet?  Any thoughts?