Must-Have Monday.  Not a new feature on the blog, I'm just pretending like it's always been there ok?  You probably won't see it again… I'm not that organised.
But you need to know something.  This isn't like all the other "must-haves" we all read about, the beauty essentials that are completely and utterly essential until the next. best. thing. comes along and takes its place.
The simple fact of the matter is that if you don't swim the Channel immediately, drag yourself into the first E. Leclerc that you come across and buy this item, you might aswell not bother buying anything else ever again.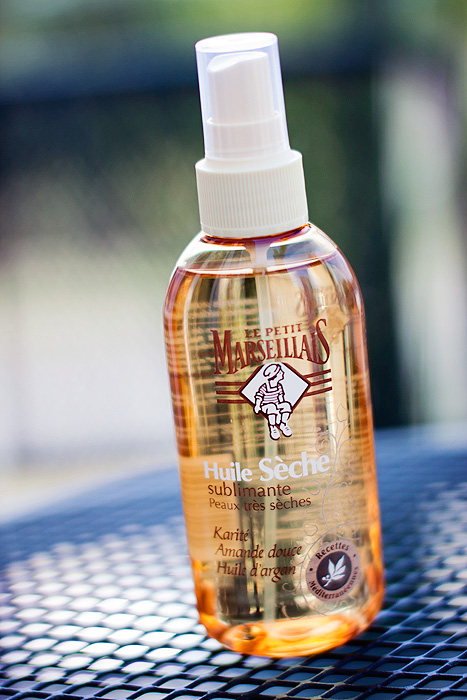 Are you hyperventilating yet?  Because you should be.
Le Petit Marseillais Huile Seche Sublimante is a dry body oil that has obviously been sent down from above.  Infact, it's not just a dry oil… it's the driest of dry oils.  I just tested that claim to the max by spritzing my arm, rubbing the oil in with my hand and then proceeding to wipe my hand all over my t-zone.  Not a single fuck did I give about wiping my oily hand all over my face, that's how dry this oil is.
Yet despite this scientific anomaly of how oil is supposed to work, it still leaves the kind of healthy sheen on the skin that suggests you've just disembarked the yacht after your Summer tour of the Med.
And don't even get me started on how it smells.  As I've previously hinted… this stuff has clearly been borne from the wings of angels.  Spritz it onto your skin and it smells as if you've walked through a tropical rainforest with that classic tiare monoi-esque smell.  Now, don't get me wrong…. gushing as I am, you should know that this isn't packed with the most beautiful natural oils on earth.  Here's the ingredients list…
Isopropyl myristate, sesamum indicum oil, isopropyl palmitate, isopropyl laurate, PEG-40, sorbitanperoleate, argania oil, prunus amygdalus dulcis oil, butyrospermum parkii butter, BHT, propylparaben, parfum, hexyl cinamal, linalool.
Mineral oil, Sesame seed oil, palm oil… only a slight nod toward the argan, shea butter, and sweet almond oil emblazoned as if they were key ingredients on the front.  Basically, the ingredients list reads like a whos-who of "stuff that kills the environment and gives you pore cancer while it's at it".
But what can I tell you?  It softens even the most parched areas of my skin with the least amount of fuss and hassle on a cold, Autumnal morning whilst making me want to lick myself all the way to school.  I've also started spritzing it on the ends (only the very ends) of my hair post-wash.  I heart it.
Did I also mention that it only costs a fiver?  Oh, I didn't?  My bad.
Le Petit Marseillais Huile Seche Sublimante is priced at around €6 and is available from most supermarkets… in err, France.  That stretch of water never seemed so wide as it does now.