You didn't know that I was psychic did you?  It's ok, I didn't expect you to… after all, I'm the one with the special powers, not you… and I know what you're thinking right now…
"…there is never a time in my life that I don't need my cleansing products to smell like hot-buttered popcorn."
You're right.
When it comes to the brand LUSH, I feel like I'm regressing. I'm sure that the proper rite of passage is to begin with a teenage addiction of all things LUSHY, then as you mature… you move onto the beauty halls and away from the "sniff me, sniff me!" LUSH stuff, keeping only a mild interest going (and a few furtive dips into the store for an occassional bubble bar topup).
Me?  I had no interest in LUSH stuff growing up.  I was a Body Shop girl through and through.  It didn't help matters that we didn't actually have a local store I could nip into… but still, I just wasn't particularly tempted by the brand.  When I did develop more of an interest, mostly through seeing other people's LUSH hauls and the like… I appreciated their ability to turn a boring bath into a far more interesting one.  But beyond that?  I still sidelined them somewhat.
It's only in the last couple of years that I've come to the realisation that I have a few LUSH staples in my bathroom that you'd have to prise out of my cold, dead hands before I'd give them up.
I've just discovered a new one.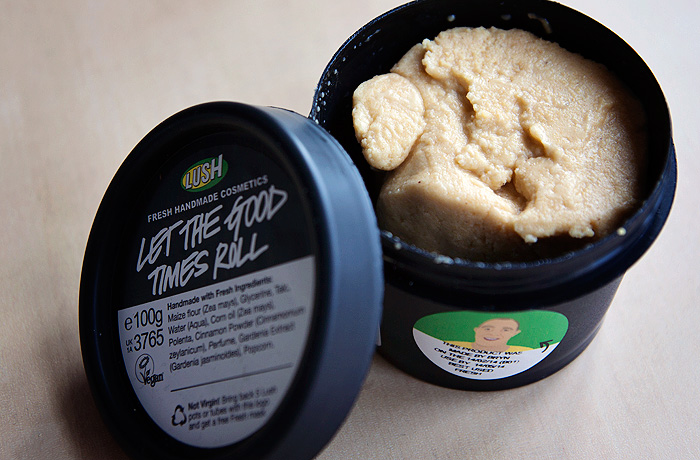 Let The Good Times Roll is a skin cleanser that delivers a damn good exfoliation while its at it.  On paper, with my prone-to-redness skin, I should probably run a mile from its manual exfoliation capabilities but my flaky skin would stage a mutiny if I dared to stop using this now.
To use it, you break a small amount away from the crumbly mass contained in the pot and rub it into your palms with a little water until it begins to emulsify and develop a creamier texture.  It's packed with grains of maize flour and polenta to exfoliate the skin and I'm careful to use only a light hand as I massage it over my skin.  If you're particularly sensitive, I'd recommend restricting its use to a couple of times a week but I've been using it every morning for over a fortnight now without any signs of irritation or over-exfoliation.
I use it when I'm in the shower, keeping the pot within easy reach… it's a little messier than your average cleanser and I prefer to do my exfoliating immediately prior to my makeup application anyway.  Before I started using this, I was using Dermalogica's Daily Microfoliant for exactly the same reasons and Let The Good Times Roll has completely replaced this high-end product, which will shave 10s of pounds off my yearly beauty budget, hoorah!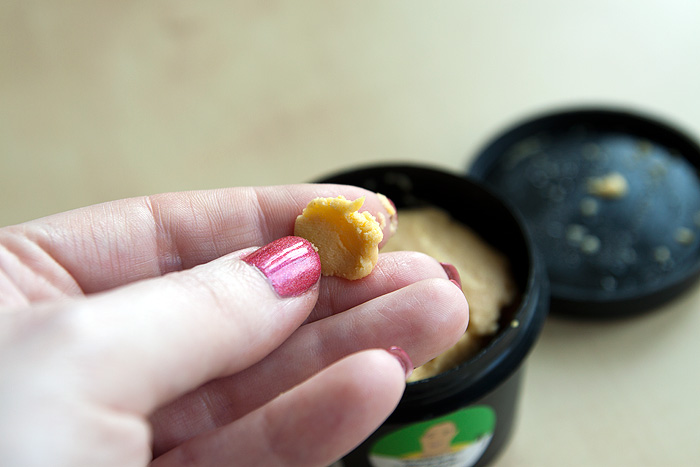 The reason that I place this above the Dermalogica for my needs, is not only because of its price point but also because it leaves a moisturising residue behind that the Dermalogica daily exfoliator doesn't.  This leaves my freshly-cleansed skin feeling more comfortable in the short-term, giving me half a chance to get my fringe dried before I have to get my daily moisturising skincare routine organised.  It may even be enough to replace some of my moisturising needs as the weather warms up, time will tell.
I'm a proper fan of this product, I was going to leave my usual full-month of skincare testing before writing my review but I just don't need to… I don't need to judge it on any anti-ageing or treatment capabilities, I just want to praise it for how it fits neatly into an already established routine, rids my skin of the daily flakies, and will leave me feeling less light in pocket than the product I was using before.  Job done.
LUSH Let The Good Times Roll Cleanser has now been made a permanent part of the LUSH skincare lineup, it's priced from £6.35 for 100g available instore and online.
* press sample
if you liked this post, please don't forget to check out my subscriber options, here