Literally. It's not wishful, it's damn lustful. Now that we've finished furnishing the flat, I'm putting aside a little money each month for some lovely beauty things that have been catching my eye recently.  It's only fair that I be rewarded for my diligence, stiff upper lip and horrifying withdrawal symptoms, no?
Well here's what I was daydreaming about last weekend…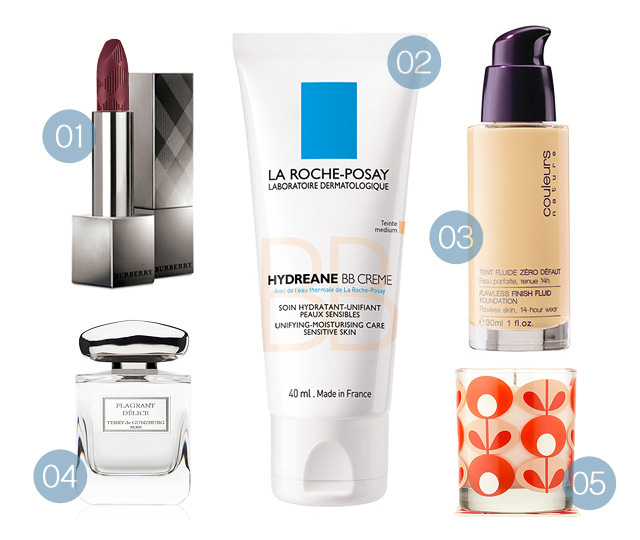 01: Burberry Lip Velvet in Bright Poppy (£22.50) – I'm not sure if they're out yet but these matte lipsticks promise to throw away the rule book when it comes to matte lip texture.  Hydrating?  I'll believe it when I see wear it.
02: La Roche Posay Hydreane BB Cream (£15) – Oh, um.  HELL YES.  A BB cream formulated by La Roche Posay has me salivating at the thought.  I'm like a 6yr old on Christmas morning – hoping, praying that what's under the tree is as good as she hopes.
03: Yves Rocher Flawless Finish Fluid Foundation in Rose 100 (£9.60) – Try saying that after a few.  I can hardly say it now (hides the bottle).  I tried this one on the back of my hand in the Yves Rocher store in Prague and it looked/felt soooo good but I'd already stretched my no-makeup budget to the max on some eyeshadows AND I'm currently in love with their BB cream (review coming soon!) so I skipped on this.  And now I can't stop thinking about it.
04: Terry de Gunzburg Haute Parfumerie Flagrant Delice (£68) – I wrote about these a few weeks ago but have since had a cheeky spritz of Flagrant Delice on my wrist and I'm captivated.  Creamy almond milk and sun-ripened fig make for the most delicious combination that not only I, but Leila too have fallen in love with.  She says it's a very "mummy" smell which I'm taking to mean that it makes her feel as downright comforted as it does me.  Honestly, such a beautiful and lingering scent. Wantsies. Can't affordsies!
05: Orla Kiely Geranium and Myrrh Candle (£24) – I do have a soft spot for Orla Kiely, I know that those bloody designs are everywhere but, c'mon… they are brilliantly retro and modern all at once.  I was actually hoping I'd prefer the scent of the lime green design, seeing as that would have been the one to match my decor.  But in typical sod's law-style fashion, it's the Geranium & Myrrh in resplendent red that I'm lusting after.
What lovely things have you been lusting after recently?