When it comes to skincare, it can occasionally feel like I'm chasing my tail, fixing one problem only to be faced with another… but if there's one aspect of looking after my face that I seem to have gotten the hang of, it's caring for my lips.  This time of year reminds me of the miserable winters I used to spend with constantly sore and painful lips.  If I wasn't licking at them like a dog attempting to heal its wounds, I was picking… or even worse, peeling.
Lip condition can deteriorate rapidly, we put the central heating on on Sunday for the first time (we didn't make it to November!) and last night, lying in bed, I could feel that tell-tale tingle around the edges of my lipline.  It's time to up my game and put my winter plan of action into… well… action!  Without further ado, here are my hints and tips for winter lips!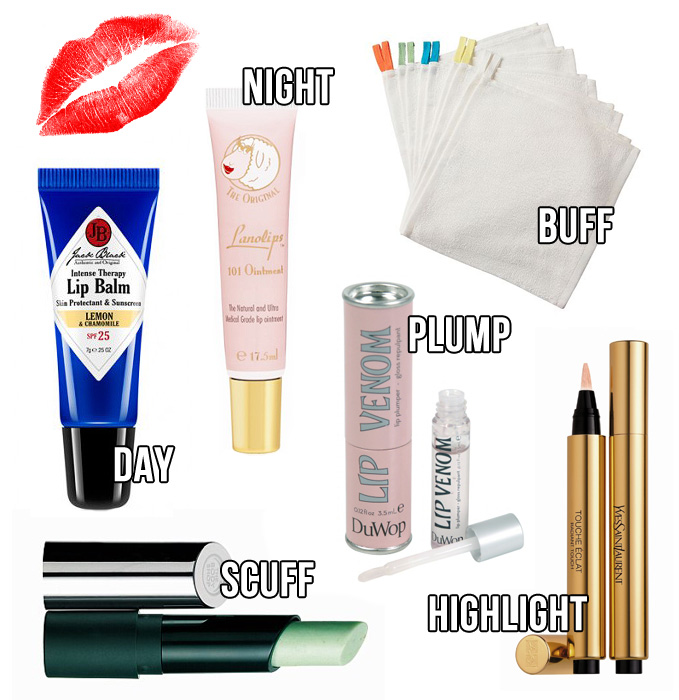 I shower in the evenings, and the first step in my annual plan for luscious winter lips involves the most basic of cosmetic tools, the washcloth (£3 for 10).  Whilst I'm waiting for my hair conditioner to turn my locks into mermaid-hair, I grab my hot flannel and gently rub back and forth across my lips.  Be gentle mind, you're not trying to remove a wine-stain!  Doing this every day will soften any flakes that are ready to come away whilst encouraging blood flow and regeneration.
Once I've left the shower, my first port of call is to reach for my moisturisers and my lips don't get left out here.  My night-time ritual (and I do this everyday) is to apply a layer of Lanolips 101 (£11) before bed – this rich, lanolin-based balm provides the best barrier for locking in moisture through the night.  When I wake up in the morning, it's still there and my lips are plumpity soft underneath – this stuff has been a lifesaver for me over the last couple of years.
During the day, I opt for something a little lighter in texture, which brings me on to Jack Black Intense Therapy Lip Balm (£7.25).  Whilst not as nourishing as the Lanolips, the formula is more comfortable to wear during the day and the added SPF is a bonus.  It's a compromise that I'm really happy with for now – plus the flavours are lush!  I reapply this over the top of my lipstick whenever I feel that my lips need it.
Talking of lipstick, it can be tricky to provide your favourite shades with a great base and The Body Shop's Lipscuff (£8) is a cult classic for priming your pout in preparation for every shade.  Swipe the bullet over your lips in the morning, massage in the formula with your fingertip and wipe the excess away with a tissue (or the back of your hand if you're a bit of a grot like me).  The Lipscuff leaves just enough coconut oil behind to provide moisture without slip and the exfoliating granules ensure that your lipstick won't emphasise any dry bits.
Lips shrivelled up in the cold?  I'm just joking… we'll leave the shrivelling up thing for men to deal with.  But if you do need a little extra plumping – particularly lovely for when you're rocking a nude lip – I still swear by the original (and the best), Du Wop Lip Venom (£11.85) – it's delightfully tingly (IT'S BURNING, IT'S BURNING!) and leaves my top lip almost matching the stature of my bottom lip, almost.  Thanks for the genetic un-eveness parents…
Finally, you literally shouldn't leave the house without a little bit of lip highlighting.  Don't know where to do it?  I stick to the cupids bow, using a subtle highlighter like YSL's Touche Eclat (£25) which makes for quick and easy blendability.  If you're wanting to go for a full-on pout, you can also add a highlight along the centre edge of the lower lip line to give the illusion of fuller, more lifted lips.  The Touche Eclat is subtle enough for daytime but if you're wanting to highlight for a "going out" look, choose a highlighter with a little more shimmer for added wow-factor.
What are your favourite products for keeping your lips soft and full in the colder weather?