Have magnetic polishes become the new crackle top coats yet? Are we bored of them? Nails Inc. hope not because they've just released their newest shade: Whitehall.
Whitehall is a teal green/blue that offers complete coverage in a single coat. Not, almost complete – fully complete. This was one of the quickest manicures I've done in ages, quick drying too – it literally took me around 10 minutes tops from start to finish.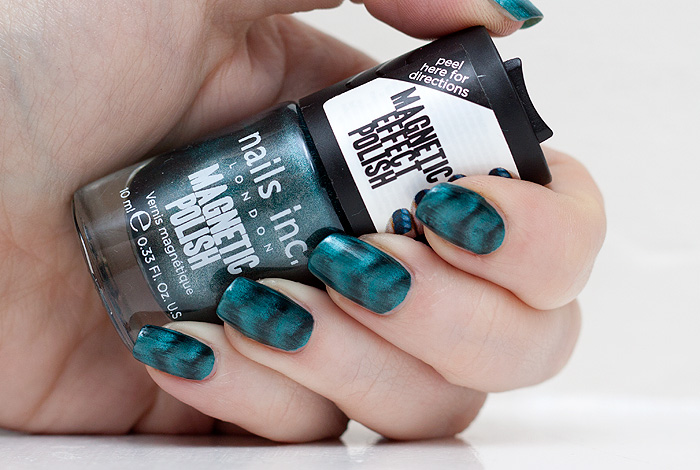 I'm not sure if you can make out from the above photo but this one dried to a fairly matte finish compared to some of the other magnetic polishes I've tried in the past.  It's a striking combination on the nails and I didn't encounter any magnet mishaps – the results were pretty consistent from nail to nail.
Ultimately, this is one of the better magnetic polishes I've tried – I'm not sure if this shade is available cheaper from the other brands (17, FashionistA etc) but I haven't got any moans about the Nails Inc. version!
Nails Inc. Magnetic Polish in Whitehall is available to buy online from Nails Inc. priced at £13.00 (ouch).

* press sample