Marian Newman is an acclaimed session manicurist of many years standing and has worked with a ton of legendary photographers, models and celebrities.  She was the first UK nail technician to work on the top level fashion shows and her work continued in this year's London Fashion Week when she demonstrated some on trend looks with Ruby & Millie as her polish of choice.
I'm loving these custom polish mixes for the catwalks and 'Black Tulip' is no exception: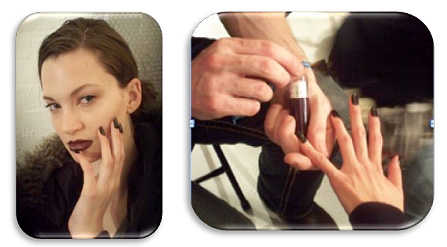 The Look:
Black Tulip is for strong, confident 'grown up' women.  Longer and perfectly oval glamorous nails matching a strong  lip.  The deepest purple; reading black but with a glimmer of luscious purple in the light.
Ruby & Millie Nail Color:
Mix Nail Color Blue 620C and Nail Color Purple 550C – Price: £9.50 each
Marian's Top Tip:
"The Black Tulip is a deep 'midnight' with just a hint of purple. The purple only appears in certain lights.  The key to this looking so fabulous is a smooth nail, smooth finish and a super glossy top coat. It should look almost PVC."
I can totally imagine this for AW/10… purples are usually hot anyway but it's lovely to see such a vampy colour wearing well on longer nails.
Problem is, I'm far too lazy to franken polishes… so Ruby & Millie need to get their bums in gear and just make sure it's released at Boots in time for my Christmas Dinner.