Kirsty has been one of my favourite people to follow on twitter for a while and I'm delighted that she's finally started her own beauty blog.  I don't know a huge amount about her but she's got a wonderfully potty mouth, has spermy eyebrows and gets regularly impregnated on the Jubilee line (her words, honest).  Check out her newest baby at www.blushnsuch.com.  Today, she's sharing her wisdom on how to combat oily skin.
How to beat The Oilies
Oil. I put it on my cuticles, I have no qualms with heating it until it spits and crackles and makes my chips taste delicious and I always slather my hair in it before bedtime to keep it as glossy as can be. It has its uses, definitely, and I love it when it's anywhere but my face. ANYWHERE but the face.
For as long as I can remember I've had a shiny t-zone which is as irritating as it is persistent. I get all the lovely spots and enormous pores which come with having combination skin and a bit of dehydration thrown in for good measure (there is no God) – all of which serve to create a seriously fussy canvas for make-up application.
Luckily, I've uncovered a few things which help to balance my skin over the past few years. The products that I've listed below are all absolute essentials in my eyes and I wholeheartedly recommend them to anyone who has ever applied a full face of make-up in the morning only to have it sliding all over your mush like a well-oiled tubby kid on a water park slide by the time you get to work. Enjoy.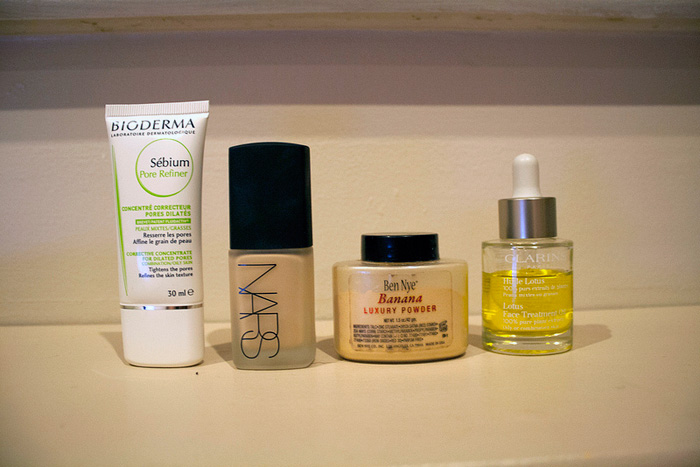 1. Bioderma Sébium Pore Refiner
I only received this in the post a week ago and it's already one of the products I love the most. It's a milky-coloured gel which I use as a primer to mattify my skin and also smooth over pores. You know how your make-up can look kind of melted on warmer days (or just any old day if you're as oily as I am)? Well, this stops it. I only need to powder twice in a 12-hour period when I use this stuff, which is nothing short of a miracle. And Lisa Eldridge uses it in her professional kit too. Double joy.
2. NARS Sheer Matte Foundation
Again, a fairly recent purchase. Again, I can't imagine myself without it. It looks awful when applied with a brush and just as bad when a BeautyBlender is used, in my opinion. To get the best out of this you're going to have to get right on in there with your hands. I apply it bit-by-bit, starting on my nose, by slowly massaging it into my skin and blending it outwards until it turns to nothing.
This is the only foundation I own that allows me to skip powder and it keeps me matte for around six hours. Don't let the word 'sheer' fool you into thinking this is a wimpy light coverage foundation, by the way. This is a solid medium coverage product that doesn't whine when you try to build it up. If you're on a budget, the best alternative to this is Bourjois Healthy Mix foundation.
3. Ben Nye Banana Powder
This powder is an absolute bargain. I paid £5 for 42g of product which is only just halfway gone after eight months of daily use *swoons*. It comes in several different shades but my MAC NC20/ Bobbi Brown Sand-toned skin likes the Banana powder best. It's yellow-toned, finely-milled and, most importantly, it's not going anywhere.
The packaging is a bit finickity and impractical (I pour some out into a Muji pot, then use it) but the value and quality of the product really speaks for itself. I have powders worth four times the amount that succumb to The Oilies within the hour – this stuff keeps me going for at least five. Nuff said.
4. Clarins Lotus Oil
I know what you're thinking. Oil. The very thing you're trying to keep away from your mush, and here I am pleading with you to put some right back onto it. But of all of the skincare I have purchased in my life, this has been the biggest game changer. After a thorough double cleanse every night, I mix some of this with whatever toner I'm using at the time and gently pat it onto my face. I wake up to plump, bright skin every time.
This product has really helped the dehydrated patches on my cheeks without upsetting my oily, clogged areas and it has definitely helped my skin to chill out on the oil production front. The dropper bottle also makes me feel a bit like a scientist, which is also somehow a massive bonus. Clarins, in their eternal wisdom, also sell Blue Orchid oil for dehydrated skin and Santal oil for dry/ extra dry skin, so no one need be left out. Excellent.
What are your favourite products to keep The Oilies at bay?