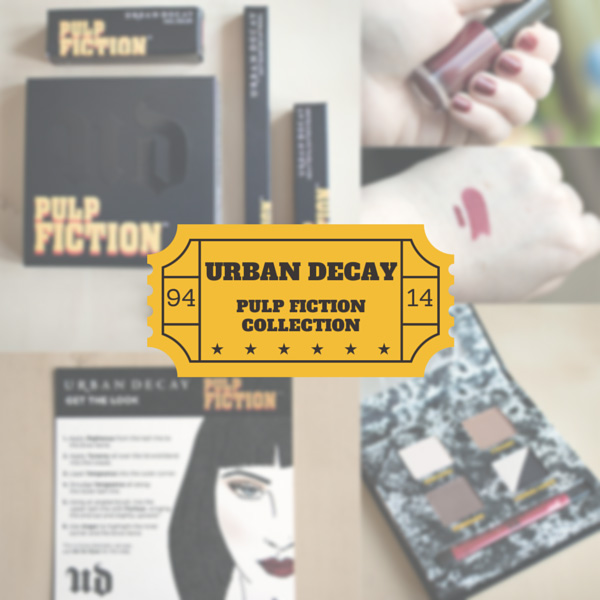 20 years ago, I hot-footed it to my local Our Price (remember them?) to pick-up the soundtrack to Pulp Fiction… on a cassette no less.  I still remember the total cringe of whacking it in the car's tape player during a journey across France, only to greet my parents with the opening line "Any of you fucking pricks move, and I'll execute every motherf*cking last one of you!"
To be fair to them, they were pretty cool about it, despite my tender age… and we later pulled in to McDonalds to see if we could order a Royale with Cheese.
Of course, just like any other girl who was lucky enough to be a bonafide teen in the 90s, I had a bit of a girl-crush on Mia Wallace.  The hair (ok, the fringe), the lips and nails, and the coolest way to wear a white shirt ever? Suddenly your school blouse didn't seem quite so unappealing in the morning.
Urban Decay have recently honed in on Mia's badass look with their Pulp Fiction Collection, and what started out as a homage to her lipstick and nail polish quickly developed into an entire line-up of products.  The brand gleefully states that one of the perks of creating the collection was simply being able to watch and rewatch the film over and over, all in the name of research, of course.  Sign me up for that job!
The limited edition line-up consists of five products: an eyeshadow palette, Revolution lipstick, 24/7 Glide-On Lip Pencil, Nail Colour, and a Heavy Metal Glitter Eyeliner.  It's not a straight-down-the-line copy of Mia's look (she didn't rock glitter in the film) but UD insist that had she rocked the more sparkly look, this is pretty much the way she would have done it.  Bold claims.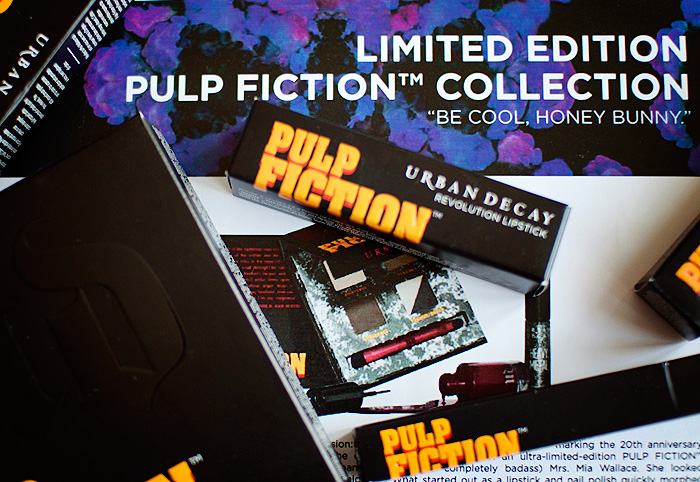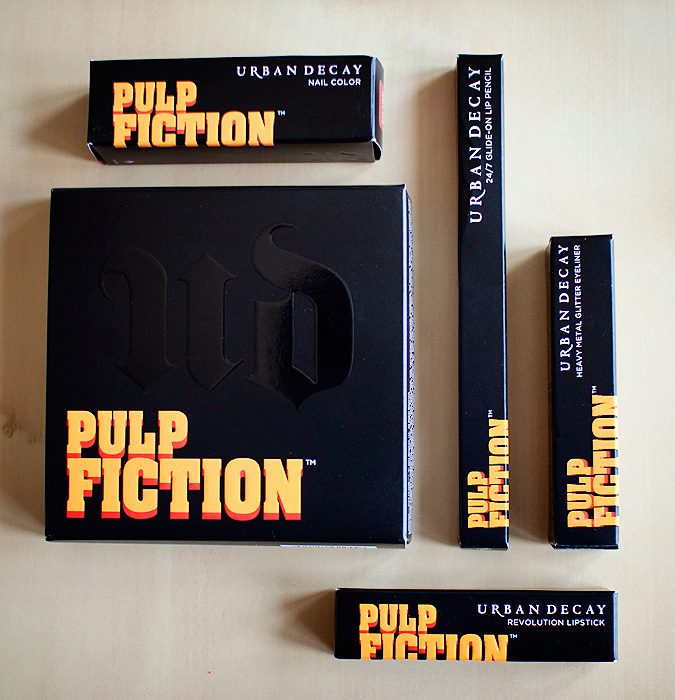 Kicking off with the Eyeshadow Palette (£17.50), the shades are your standard 90s browns.  Despite it containing three brand new UD shades, there's nothing here that most of us can't replicate by having a dig through what we already own.  The shades lean to the warm side of the spectrum and mix up the matte/satin texture throughout.  All blend well and are deserving of belonging to the Urban Decay family of equally marvellous eyeshadows.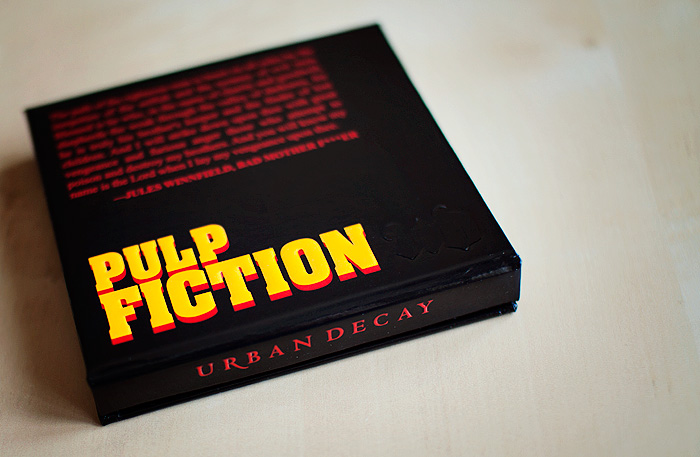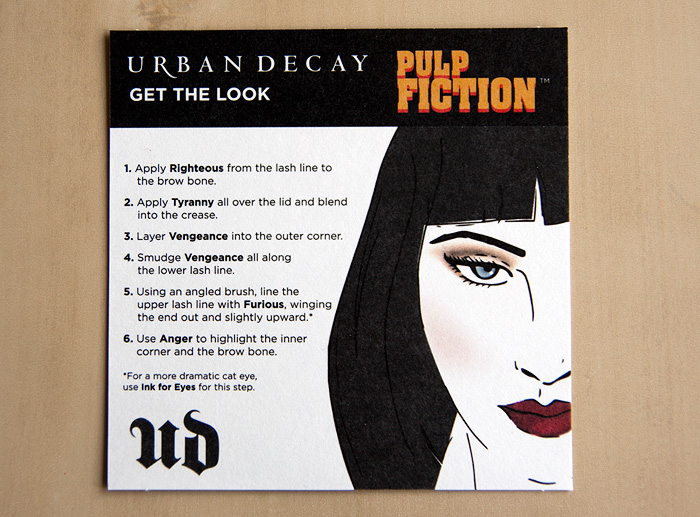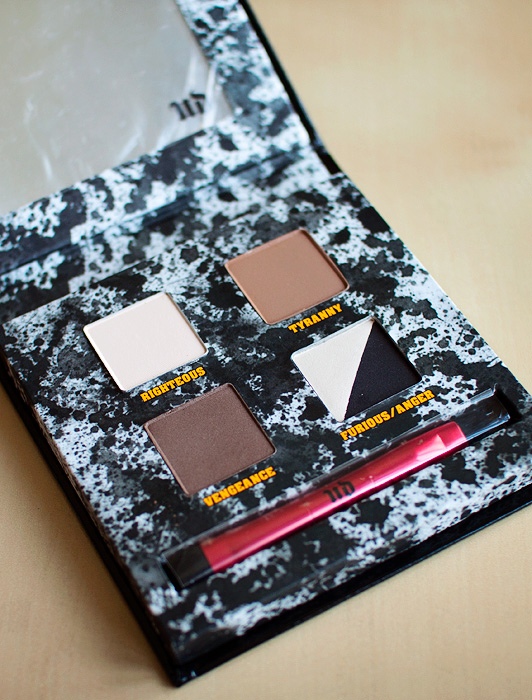 Having said that, for me… the palette's lustworthiness comes not from its contents but from the completely superfluous (yet highly desirable) branding.  I mean, who doesn't want an eyeshadow palette with Bad Motherf*cker quotes on it, I mean… really?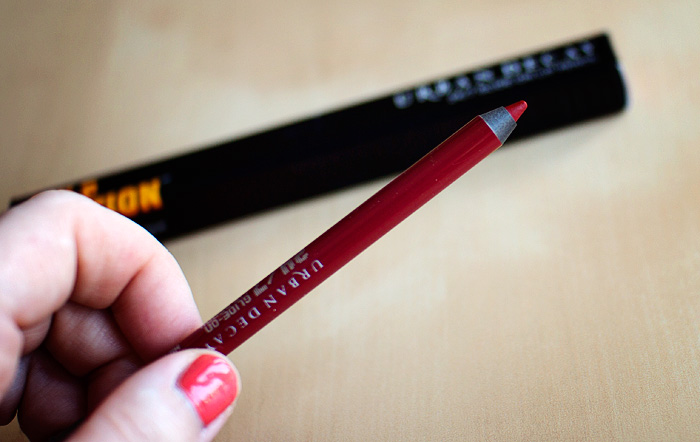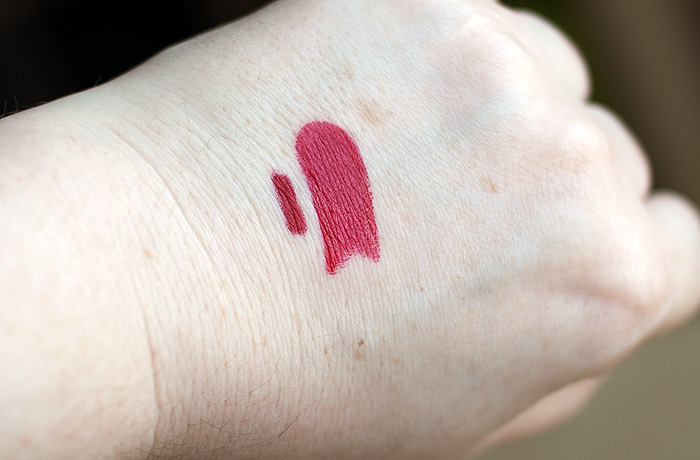 I'm so sorry but I've deleted my lipstick pic!  I have the swatch shot though, so I hope you'll forgive me.
Urban Decay's 24/7 Glide-On Lip Pencils (£13) are some of my favourite in the world, there's nothing worse than a hard, dry and draggy lip pencil that takes an age before it warms up.  Urban Decay have the formula on these just right.  Dry enough to give some serious long-lasting coverage but creamy enough to apply with ease.  Mrs. Mia Wallace is a deep red, slightly deeper than the matching lipstick.
Talking of the lipstick, I have to say, it didn't fully impress.  Compared to the brand's other Revolution Lipstick (£15) shades and my own, frankly ridiculous, array of reds, Mrs. Mia Wallace (yes, the same name as the pencil) just didn't capture my heart.  The shade is pretty fabulous and much darker in the bullet than it is once applied to the lips, but unfortunately… I found the texture to be firmer than I'd like.  Of course, this makes for a longer-lasting lip experience… oh so important for the shade in question, but damnit, I demand total lip comfort nowadays.  No compromises.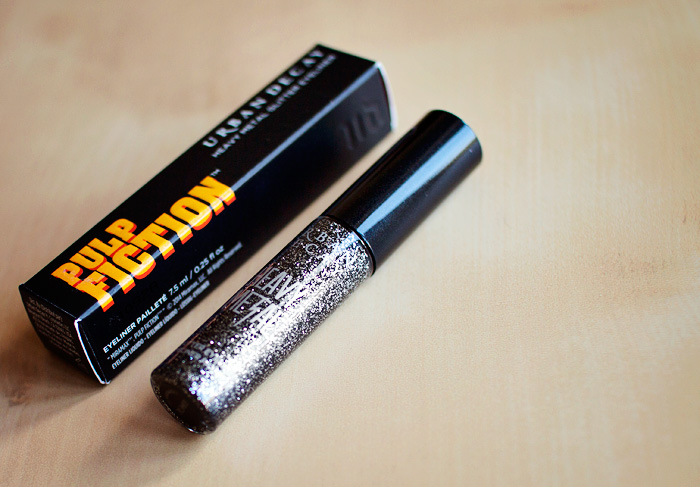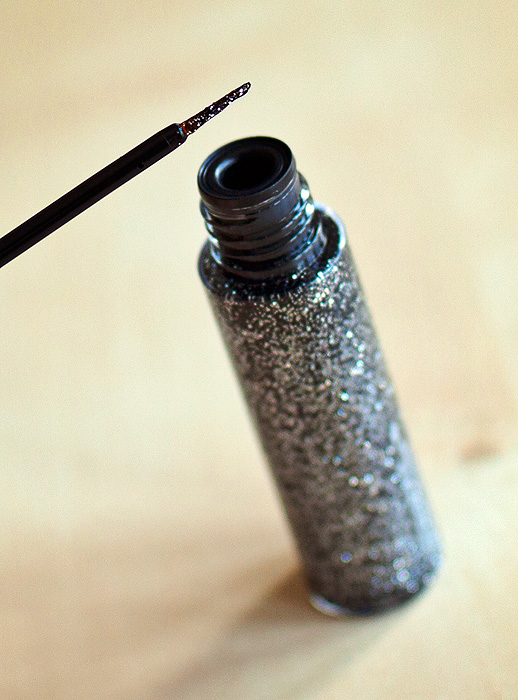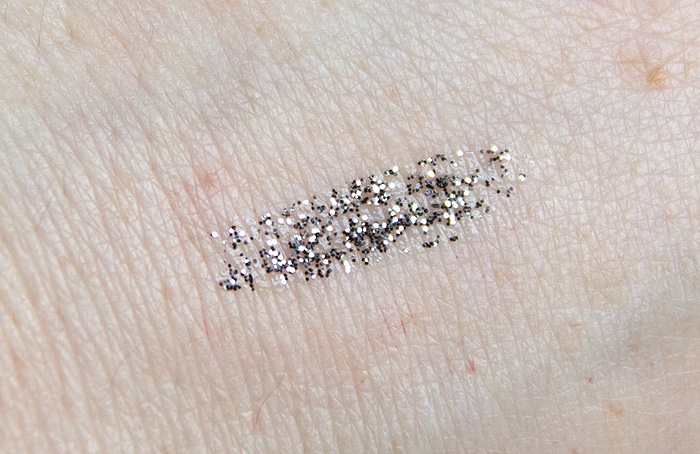 Perversely, I fell in complete and utter love with the Heavy Metal Glitter Eyeliner in Gunmetal (£14.00).  Of COURSE I DID.  The one item in the collection that, to all intents and purposes, feels a little bit like a "quick, let's make some more money from this movie tie-in" product that the rest.  Honestly, if you're a lady of a certain age (i.e. over 25) and feel a little bit foolish rocking the glitter (but secretly still want to)…. Buy it.  Buy it now.
The clear base locks the glitter particles in place, ensuring absolute minimal fall-out and the sprinkling of black and silver sparkles deliver a more understated glitz that really amps up a night-time look without throwing it into ABBA category.
And finally, we come to the nails…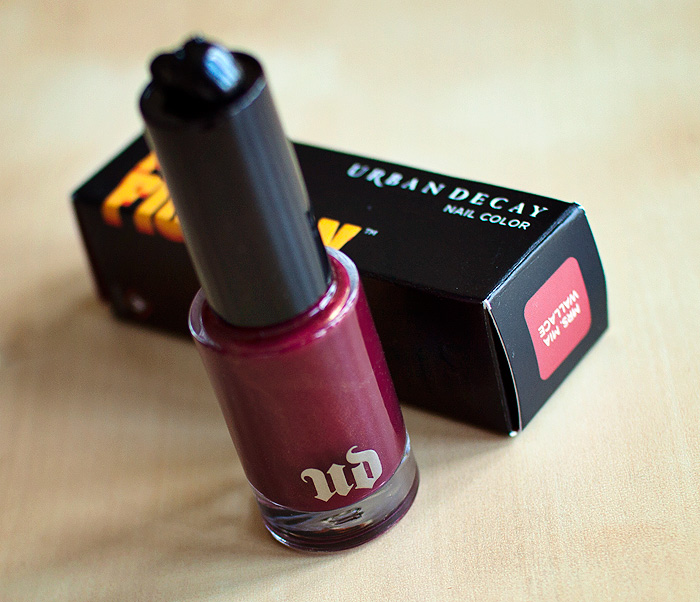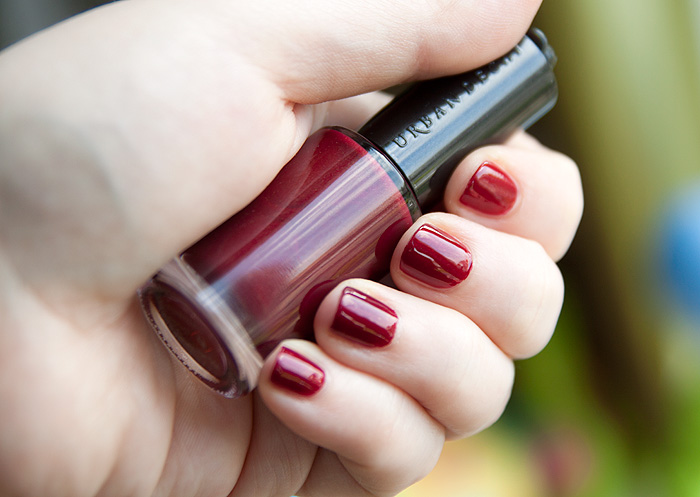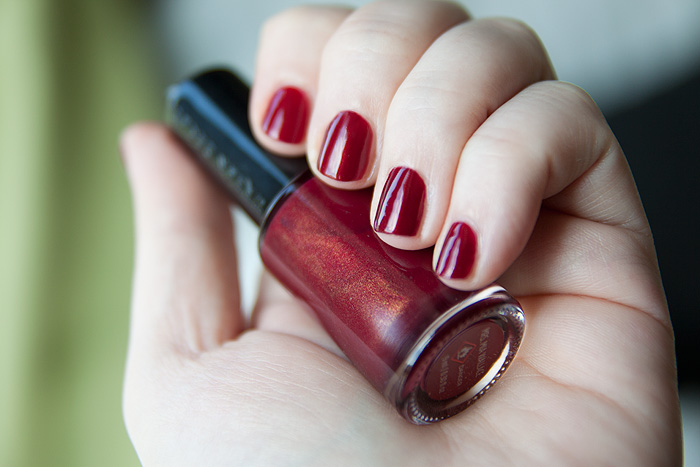 For me, it was always going to be pretty hard for Urban Decay to pull off this part of the collection.  I mean, in my mind… you'd have to prise Chanel's Rouge Noir out of Mia's cold, dead fingers before she'd relinquish that baby.  The Nail Colour (£10) is a deep red that lacks the vampiness of Rouge Noir but does through in some gold glimmer to the formula.  Not enough to make it sparkle (unless you're in direct sunlight, angling your nails 10 degrees to the east) but just enough to add another dimension and a glassy (jewelled?) kinda finish.  I like it, a lot but it's not quite Mia Wallace to me!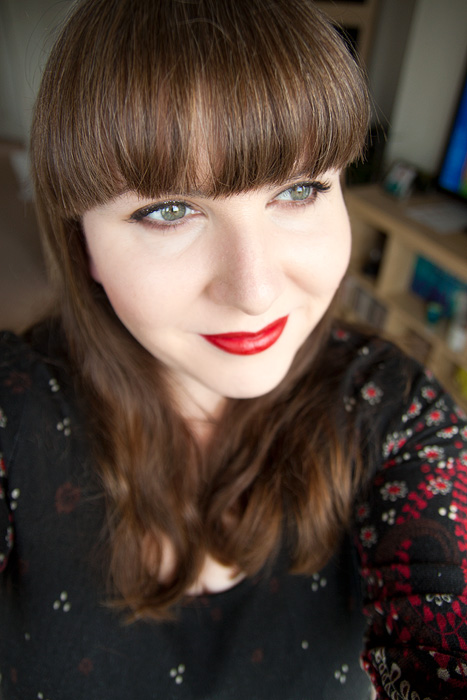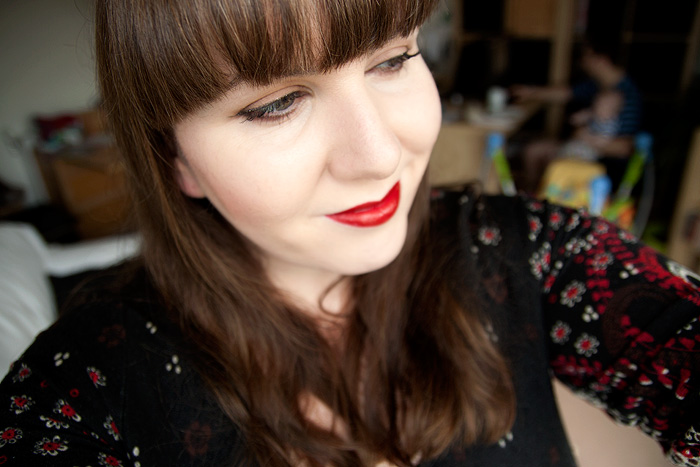 Ultimately, the collection both sinks and swims.  Urban Decay have styled it beautifully… the glossy noir packaging with badass quotes and eye-catching headers, the Mia Wallace "get the look" insert… it all makes for a covetable release for the U.S. brand.  The products contained beneath the hype range from the great to the average, not one of them is a dud… but many are ultimately completely dupable.  Does that matter?  It depends on how much you love that Pulp Fiction styling.
Me? I'm a sucker for it.
The limited-edition Pulp Fiction collection is available on-counter at Debenhams and House of Fraser with prices starting from £10.  You can also find it online at feelunique.com.
* press sample
if you liked this post, please don't forget to check out my subscriber options, here