This weekend is set to be the hottest of the year and with a bank-holiday rapidly approaching, you may forgive me for living life through a pair of rose-tinted spectacles at the moment. If you're feeling as much "in the pink" as I am, you might appreciate these two fragrances to indulge your fervor for all things fuchsia.
Salvatore Ferragamo's Signorina and Jo Malone's (limited edition) Plum Blossom are lovely choices for Summer, they both wear delicately – employing some seriously fruity notes without ever becoming syrupy or cloying on the skin.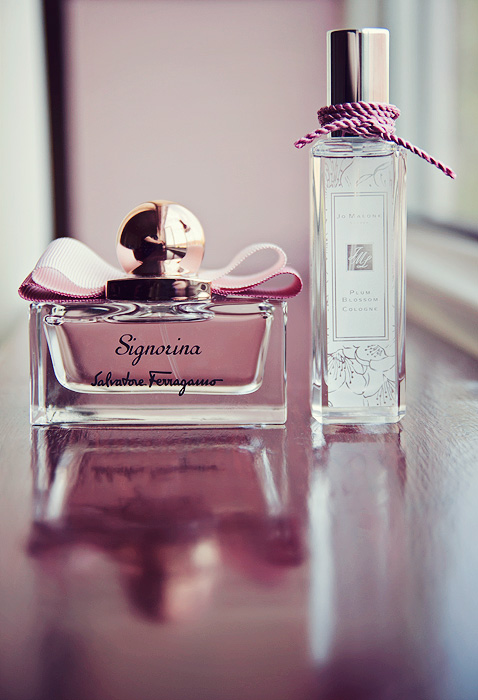 In the case of Signorina*, the Italian label's latest scent is clearly aimed toward the younger market. The beautifully presented bottle is adorned with blush-coloured ribbons and a rose-gold lid, making it an unapologetically pink offering that should appeal to girly-girls of all ages.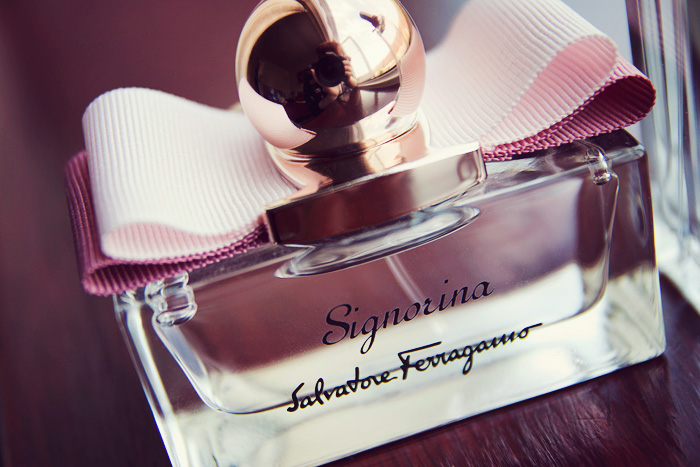 Signorina opens with a juicy blackcurrant, lightly spiced with the standard pink pepper note that appears in many of the current mass-market perfumes. The voluptuousness quickly develops into something more skin-like as the florals come to the fore: jasmine, rose, and peony all combine to create a light, almost-floaty interpretation of what it must feel like to be simultaneously impossibly young and chic. On me, the scent wears close to the skin, as if grounded by the creaminess from the unexpected source of pannacotta. The creamy Italian dessert lends a softness and delivers the gourmand quality that contributes to the addictive characteristic that keeps my nose buried firmly in my wrist.
It reminds me somewhat of Dior's Miss Cherie but I find this one more compatible with my skin chemistry and less cloying in this warm weather, it doesn't project as loudly and feels slightly more elegant in it's youthfulness.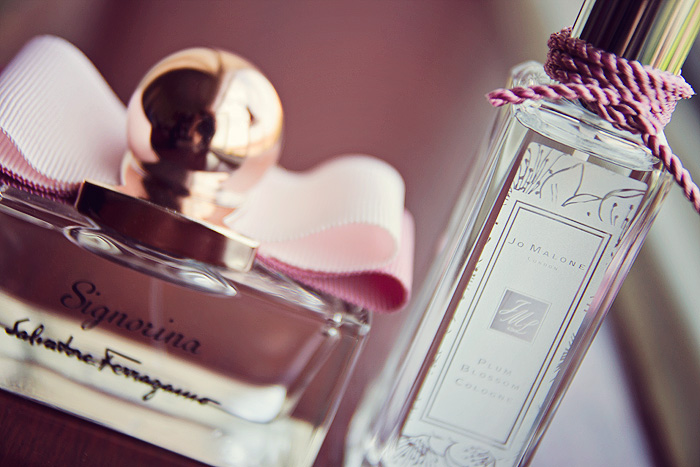 Jo Malone's latest limited-edition scent is already sold out online but still available in many stores nationwide while stocks last. Plum Blossom* is a greener interpretation of the same qualities found in Signorina. Not quite so playful in composition, it delivers a sweetness that will appeal to those who like their fruity florals to avoid the foodie notes whilst keeping sensuality at the fore. The florals up the ante, as you'd expect from the iconic British brand and with a base of sandalwood and white musk, Plum Blossom remains a clean and delicate fragrance from start to finish.
There's something eternally romantic about blush hues and both scents make the perfect accompaniment to the wedding season.
* press samples