I'm not a great self-tanner. I mean that in both senses of the word — I don't do it very often and when I do, I'm pretty shit at it. The historical exception to this rule is with Sally Hansen's old Airbrush Legs… you can still buy it, but the formula is a little different now and they've ditched my shade. I used to love it and would go through cans of the stuff when the weather called for a bit of leg-display.
So, when St. Tropez's new Perfect Legs Spray landed on my desk, I had barely opened the envelope before I was prising off the lid and putting it to work, ever-hopeful that I might find my pasty-leg saviour.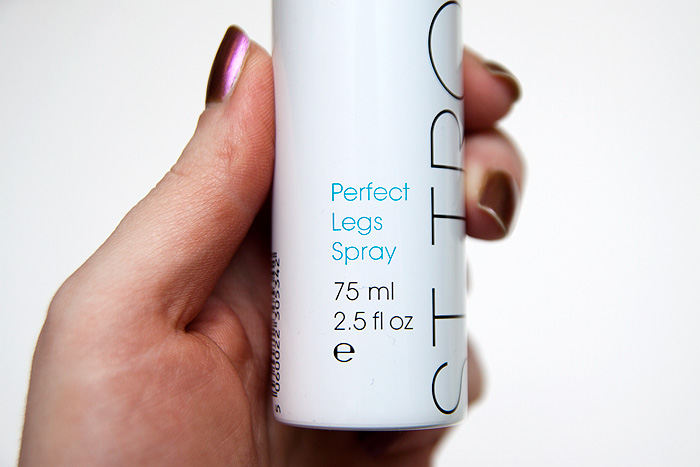 Look how stained my hand is!! I'll tell you more about that in a minute…
The new St. Tropez Perfect Legs Spray promises an instant, natural bronzing effect combined with a longer-lasting self tan. The aerosol can contains 75ml of product, which isn't a lot — about enough to do your legs twice/three times at most. The product is fairly reasonably priced at £10, making it a cost-effective choice for special events or big nights out. Don't forget that as-well as the instant bronzer, you're also benefiting from a normal self-tan at the same time. Although, I'd obviously like to see more for my money, I think the price is reasonable for special occasions when compared to alternative options.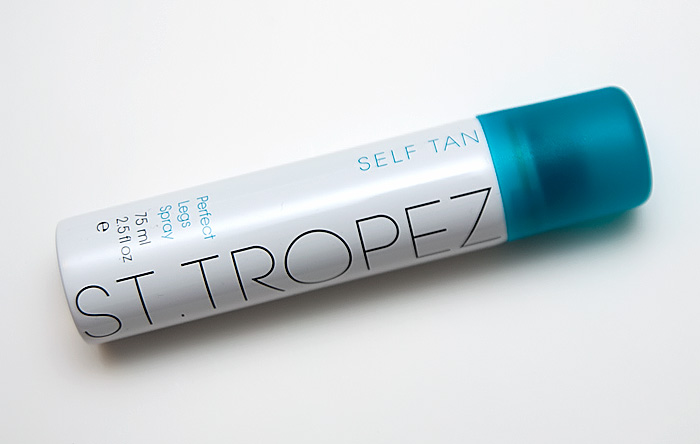 Unlike my old Sally Hansen cans, this isn't like makeup for your legs. It won't conceal veins, freckles or give you a massively airbrushed effect but it excels at what it does deliver: healthy-looking, bronzed pins.
It's ridiculously easy to use and dispenses a very fine mist. Any slightly larger droplets that appear from holding it a little too close blend easily into the skin for a completely streak-free finish. I blended one leg with my hands and the other with a mit. Use the mit, this stuff sets faster than an 80s perm and despite rushing to the basin mere minutes after my first blend – my hand is perma-tanned. Looking on the bright side, this is obviously great news for my legs as it didn't transfer once touch-dry.
Product doesn't leak/drip from the nozzle during operation and the spray works regardless of the contorted angles you put the can through. It may just be, that as a novice, I'm having a hallelujah moment with tans in a can but I simply didn't run into any problems with this one.
And as for my legs? Oh god, hold on to your breakfasts…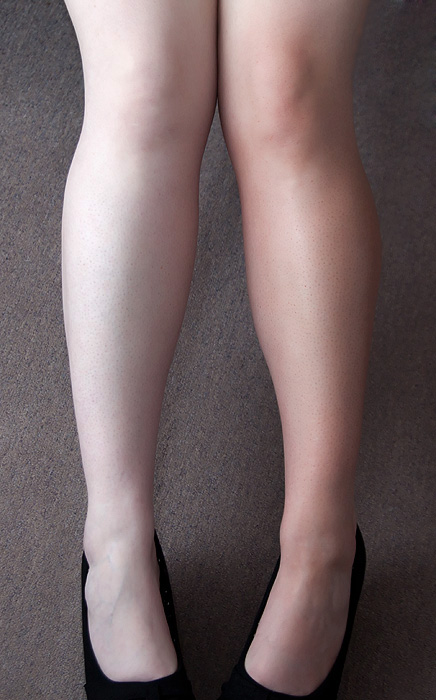 It works well right?  My left leg (right as you look at it) was tanned with the St. Tropez and it doesn't look remotely orange or streaky!  Honestly, if I can use it… a total fool can use it and make it look good in under 5 minutes. I'm so pleased to be able to recommend this to ultra-pale girls who suck at applying fake tan like me. I'm so jealous of wimmen to whom this stuff comes naturally. It's a bleedin' art-form to get it right I tell ya!
St. Tropez Perfect Legs Spray simply takes the hard work out of bronzing. Definite repurchase for those times when tights just won't do.
St. TropezPerfect Legs Spray is priced at £10.00 and available from the usual stockists.
* press sample