Today, I'm stepping a little outside of my comfort zone to bring you a mobile phone review.  You see, when I was offered the opportunity to test the latest budget smartphone on the market, the Acer Liquid E3… my husband told me that if I didn't accept it, he'd divorce me.  Infact, I think he also pointed in the general direction of my beauty cupboard (currently occupying what should be his wardrobe) and said "You owe me".
So, lets crack on shall we?  Pay attention please, you wouldn't want to be responsible for breaking-up a happy marriage, would you?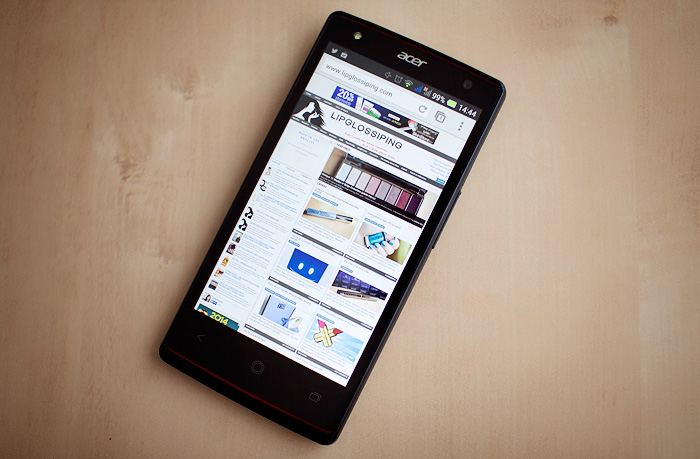 The thing about mobile phones is that since 1998, I haven't been able to live without one.  I can totally remember my first, it was a Motorola, for which I needed to upgrade the size of my handbag to status: suitcase just to accommodate.
Oh, how times have changed.  Gone are the days of Snake, the ability to store a maximum of 100 numbers, and even "proper" buttons… today's (smart)phones are required to organise, alert, entertain and inform.  Actual telecommunication is more or less an afterthought.
These mini-computers have become an indispensable part of our lives…. I don't mind admitting that I get the same uneasy feeling when I've left my phone behind that I used to experience when leaving the house without my cigarettes!  It's a sad, sad fact that the last thing I do at night is put down my phone and the first thing I do upon waking is reach out and pick it back up.  Smartphone addiction, it's totally a thing.
My first mobile phone cost around £75, my last mobile phone cost £599.  The Acer Liquid E3 promises many of the features of modern, high-end mobiles without the ridiculous price-tag.  Infact, this phone is firmly ensconced within the "budget" market, costing under £150.  But is it any good?
Let's face it… I'm an Apple fan girl.  I hate myself for it.  I swore I'd never be one… but the truth is, the lure of the "App Store" has always been damn-near irresistible.  In the past, the Android O.S. just hasn't been able to compete on the same level.  At least not for someone like me who just wants amazing-ness and ease of use straight out of the box.  I'm not interested in Android's more complex features, I just want instant access to Candy Crush without feeling like I'm having to program the damn game myself.
But times have moved on and so has the Android O.S.  Nowadays, it's far more intuitive and user-friendly.  To be frank, it's far more… fun.
But enough about that, I'm not here to review the operating system but deliver a Liquid E3 review that doesn't beat around the bush (too much)!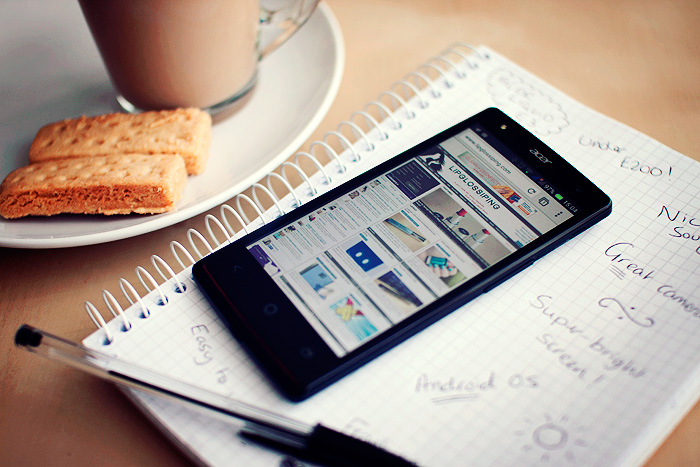 Lightweight, relatively thin, and sleek… my first impression of the Acer Liquid E3 is that it punches well above its weight.  It doesn't look like a cheap phone, it doesn't feel like a cheap phone.  My admiration is only compounded when the backlight turns on and I experience the 4.7-inch  screen in all its technicolour glory.  Bright, crisp, and easily viewable from tight angles… it single-handedly won me over before I'd even begun exploring any further features.  Compared to the iPhone 5's 4-inch screen size, this one feels positively luxurious.
This generously-sized display is also perfect for streaming You Tube videos and viewing websites and you can see in the photo above just how well the screen handles my blog's resolution.  The performance also delivers on all accounts, I haven't experienced any major slowdown issues and response-time is good thanks to its 1.2 GHz quad-core Mediatek processor and 1GB of RAM.  To be fair though, I haven't overloaded it with apps yet, unlike my other phone.
One of the Acer's major selling-points are the cameras that deliver a giant (back) resolution of 13-megapixels and a (front) resolution of 2 megapixels, a selfie-taker's dream that even offers flash capabilities on both cameras!  The quality of the images is also better than I had anticipated, even in low light.  You can see a (resized) example of the image quality from the back camera here.
Storage capabilities are somewhat limited by the phone's 4GB of internal storage but there's thankfully a microSD card slot that can be used to expand upon this.  The battery life of the Acer Liquid E3 is also nothing to write home about and drains after a day of only moderate use.  For me… this is a deal breaker.  It frustrates me how mobile phones have become so much more advanced over the years and yet their batteries… well, this important "feature" seems to be overlooked by most manufacturers nowadays. Don't get me wrong, it's not completely dire but it's not something I'd put down as a "strength" for this model.  I should also note that there's no 4G available on this model.
Ultimately, this is the first Acer mobile phone that I've used and despite some shortcomings, I won't deny that it's opened my eyes to a world outside of Apple.  I honestly thought that I had to pay top-dollar to get even remotely close to the kind of user experience delivered by my beloved iPhone.  I was wrong.
The Acer Liquid E3 is available on pay as you go from Three for just £134.99 or on contracts starting from only £14 per month!
* press sample