Toning is something I'm pretty concerned with at the moment.  A very low calorie diet will do more than simply burn fat… there's a certain amount of muscle wastage taking place aswell.  An unwanted side effect shall we say.
To combat this, one needs to exercise.  It's no good sitting on your (slowly disappearing) bum sipping at your shakes and waiting for the body of your dreams.  As with any diet, that's only half the story.
FitFlop are a household name and I'll be honest with you… I've never been interested.  I remember when they first came out to great critical acclaim and mile long waiting lists… not for me.  I can't wear toeposts and we don't exactly enjoy a tropical climate do we?  But then they introduced the shoes and even better?  The boots!
Now we're talking!
I was sent a pair of their Chocolate Mukluk boots to put to the test and I was really intrigued to discover whether I would feel any benefits just by changing my footwear!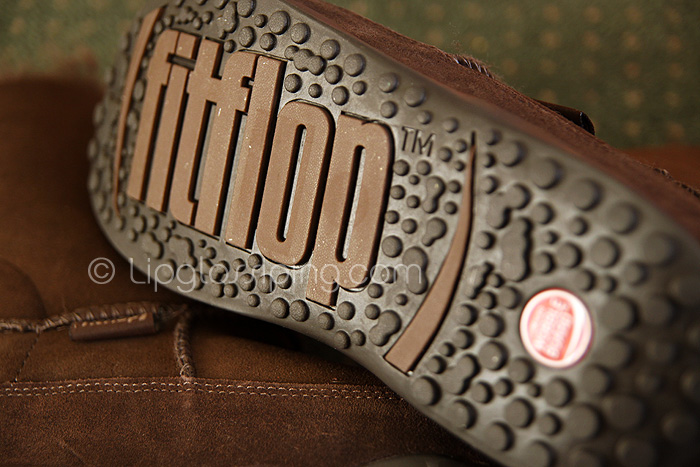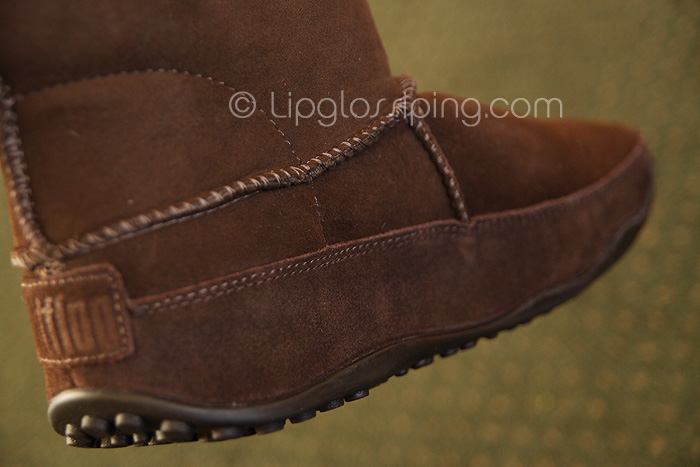 Sturdy and well-constructed were my first thoughts when I pulled them out of the box.  I was also insanely relieved that the unmistakable Microwobbleboard™ wasn't as ridiculously obvious as I thought it might have been.  There's nothing about these that screams comical.  I find them fairly subtle and the styling lends itself kindly to that familiar shaped sole.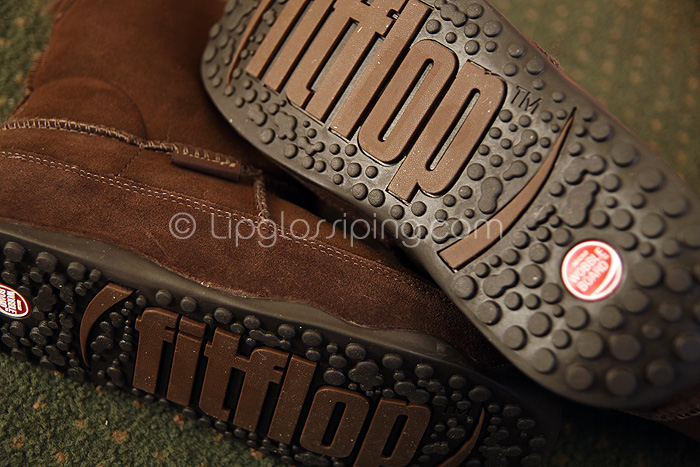 About that sole… check out the all weather grips on these.  I'm not likely to land on my backside this winter!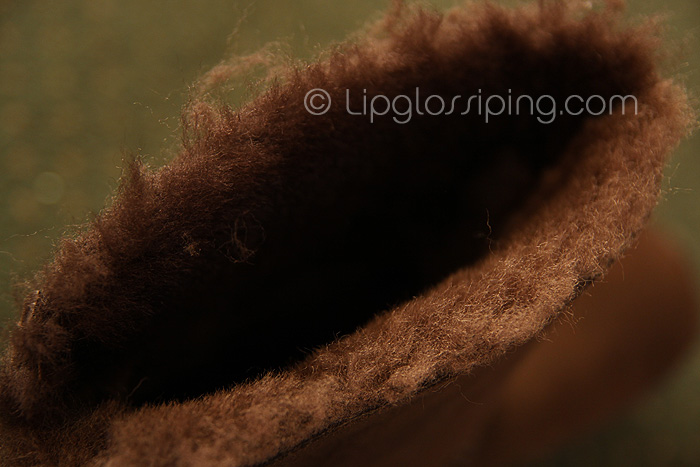 I'm not exaggerating when I say that putting my feet in these is like stepping into a pair of clouds.  I'm not an UGG owner so this whole sheepskin boot thing is quite new to me.  The FitFlop Mukluks get top marks for comfort.
But to ensure comfort… you need to pay close attention to sizing.  FitFlops come in whole sizes… there are no halves here.  I'm a textbook UK 6.5 with a high instep and normal width feet.  I did a bit of reading on the Boots website and found that the general consensus was "if in doubt, go a size up".  I figured that I'd be mostly wearing these with thick socks so I went for a UK7 and I'm really pleased I did.  They make a great fit for me.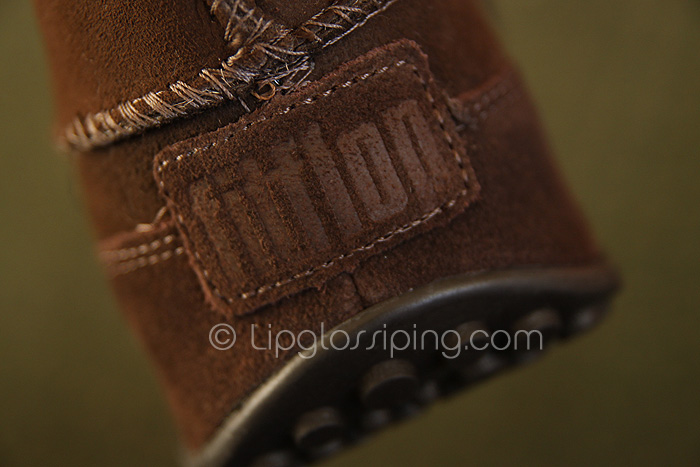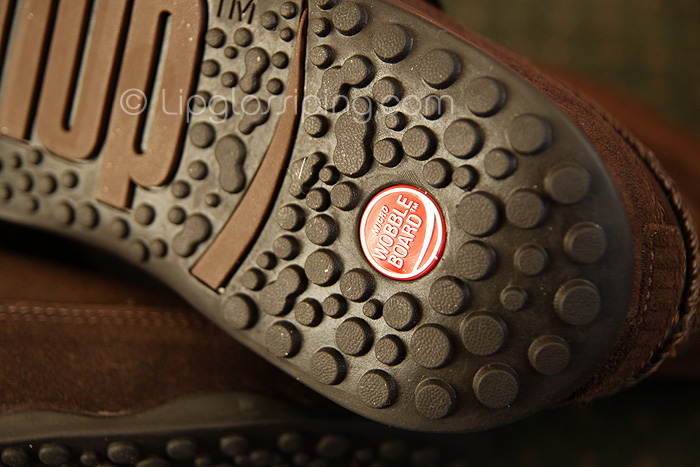 Do I need sea-sickness tablets when going for a walk round the park?  No… the effect is subtle in the way it transfers to your body.  You can feel a slight difference in your step but it's not enough to draw your attention to it… it's not something you have to think about.
The technology is really interesting and I recommend you take a quick look at the demonstration here.
My feet and ankles feel supported in the FitFlop Mukluks, something that is an absolute no compromise in any shoe I wear and thanks to those thick soles and sheepskin uppers… I'm staying super toasty too!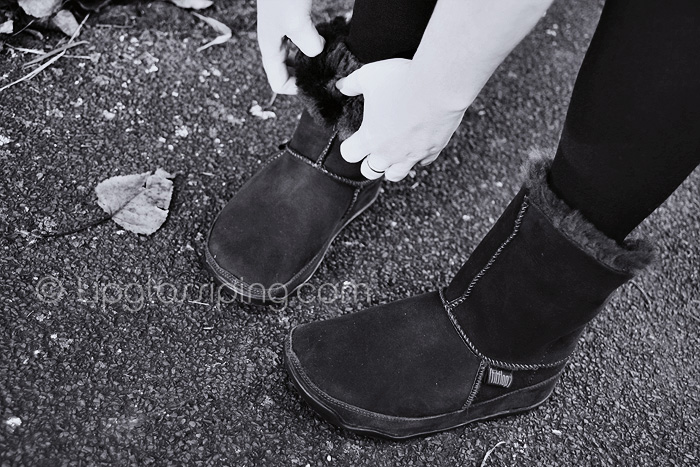 So finally… how about the toning… the posture… the workout without working up a sweat?
I'm in two minds.  I think they're quite possibly the most well supported, comfortable boot I've ever worn.  My high instep feels comfort it has never experienced and they definitely encourage a better posture whilst walking.  I thought that I would find walking in these harder than normal boots.  I thought I'd be aching in all kinds of places after 5 minutes in these and this was something I welcomed the idea of as I equated aching with toned thighs and bums!
In fact… I'm not getting any discomfort or burn and if anything, the FitFlop Mukluks are allowing me to walk further than usual (and I'm a big walker anyway) as they're reducing the lower back pain that I get in normal walking shoes.
These aren't quite the results I expected… but hell, I'm delighted!  Not only that but if I can walk longer… I'm toning more efficiently anyway right?!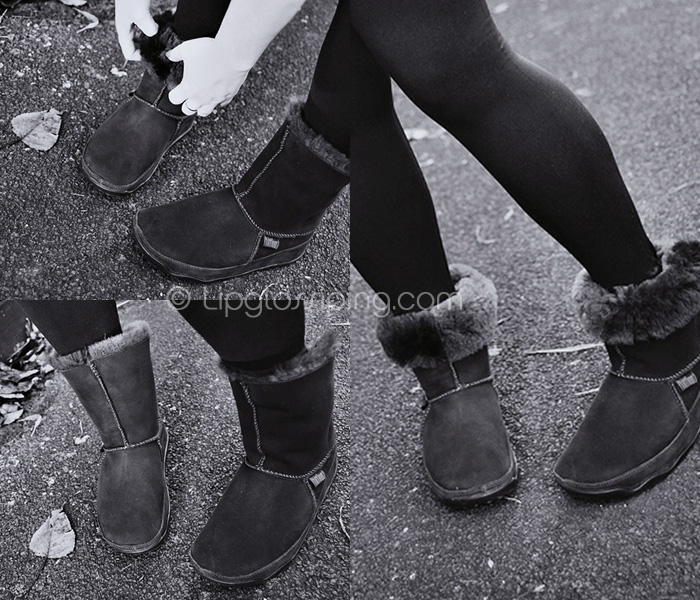 So whilst I can't tell you that my bum is now able to crack walnuts, I can totally tell you to consider a pair of these if you suffer from any hip or back pain when walking.  They're a marvel.
Hugely impressed with my FitFlop Mukluks.
FitFlop Mukluk boots are priced at £135 and come in a range of colours.  You can buy them online here.
Have you tried FitFlops before?  What are your thoughts on them?