Beauty dosing. What's that all about then?
We're all too aware of the importance that a healthy diet can play when it comes to promoting clear skin, strong nails, and shiny hair and sometimes you only need to make the simplest of changes on the inside to see a profound effect on the surface.  But, let's say that you've upped your water intake, ditched the junk food, and cut down on the booze… what next?  Well, the beauty industry have some clever concoctions up their sleeve to tempt you into exploring some potential shortcuts to a new, even-more-beautiful you!
Let me show you a few that have caught my eye recently: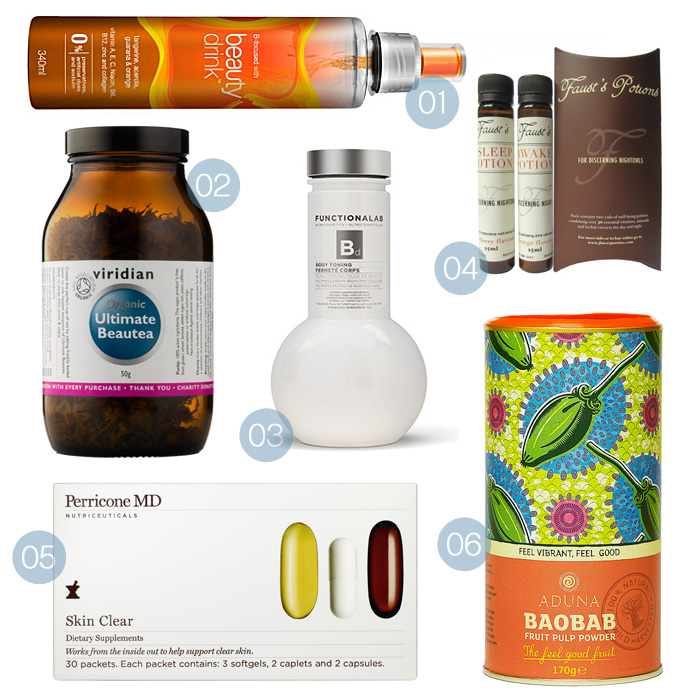 01:  You don't need to spend a fortune to take your first, tentative steps into the world of supplementing your standard beauty regime.  Beauty'in Beauty Drink B Focused contains: Vitamin A, C and E, B2, B6,PP, B12, zinc, selenium, guarana and acerola, all of which promise to stimulate the brain and metabolism to help fight fatigue.  The 340ml bottle contains only 8 calories, so dose-up safe in the knowledge that the only thing you're beefing up is your levels of concentration!  £3.50, selfridges.com
02:  As William Gladstone once said: "If you are cold, tea will warm you. If you are too heated, it will cool you. If you are depressed, it will cheer you. If you are excited, it will calm you." Tea.  It's everything.  And if you drink as much of it as I do (milk, no sugar), you might aswell make that afternoon cuppa work a little harder!  Viridian Nutrition describe their latest Ultimate Beautea as a "refreshing and cleansing blend of hibiscus flowers, rose petals (rosa damascena), calendula petals, chamomile flowers, licorice root and cleavers leaf."  £12.00, nutricentre.com
03:  If you're fretting over the recent appearance of the sunshine and what it means for those "bikini bodies" we're all supposed to be unveiling (to great applause), I'm on your side.  I somehow haven't found the motivation to jump out of bed, straight into 400 crunches every morning.  Until that motivation strikes, there's always the promise of some serious body toning courtesy of Functionalab whose Body Toning Beauty Dose assures a significant improvement in the appearance of cellulite.  The 30-day program contains Grape seed polyphenols which contribute to fat metabolism and the appearance of smoother and firmer body skin. £33, functionalab.co.uk
04:  Planning a heavy night out this weekend?  Been burning the candle at both ends too ferociously?  Faust's Potions offer something a little bit quirky to help boost your morale and aid in the recovery of the dreaded hangover.  These 25ml vials deliver a much-needed blend of vitamins, minerals and herbal extracts just when your body needs it the most.  If the reviews on Cult Beauty are anything to go by, these should make essential packing for festival goers nationwide this Summer.  £5.99, cultbeauty.co.uk
05:  If beauty comes from within, this Skin Clear supplement program from Perricone MD is bringing out the big guns.  The 30-day regime delivers an impressive 7 tablets a day which include: B-Complex + Vitamin C, Evening Primrose Oil, Tocospan Vitamin E, and Omega 3.  It offers a convenient and no-fuss way to ensure you supplement your skin efficiently with a system formulated to help improve skin's clarity while providing toning benefits and improving skin's texture.  £69.50, uk.spacenk.com
06:  Hailing from the oddest-looking tree in the world comes the much-revered Baobab Fruit.  So revered infact, that this fruit – which has three times as much vitamin C as an orange – has long been heralded as a bit of a cure-all for many health complaints.  Containing almost fifty-percent fibre and fourteen essential vitamins and minerals, it knocks spots off many of the other so-called super fruits in existence.  It's simply not difficult to see the potential beauty benefits from a fruit with almost five times the antioxidants of fresh acai berries!  Aduna's Baobab Fruit Pulp Powder provides a convenient way to supplement your diet by sprinkling it on your morning cereal/porridge/smoothies and reaping the beauty benefits!  £17.99, aduna.com
Do you beauty dose?