…it's the thought of the BIG Makeup Show coming to town in a month's time!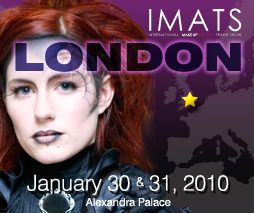 IMATS stands for the International Make-Up Artist Trade Show and is produced by Make-Up Artist magazine.  It is held annually across 3 continents and 5 cities.
IMATS will be on at Alexandra Palace on Saturday 30th and Sunday 31st January 2010.
Some of the exhibitors I'm particularly excited to visit include:
Crown Brush, Eve Pearl, OCC, Embryolisse, Paris Berlin (love their liquid eyeliner), Yaby (dinky little shadows!) and PAM (who will be selling MUFE) oh no… now I've looked again, there's more (like Fero Beauty for their Mavalas)… sigh… too many amazing exhibitors and a wishlist a mile long right?
There will also be some fab speakers on the day(s) including Terry Barber (M.A.C.'s director of make-up art for the U.K. and Europe) and Eve Pearl (an innovator of high-definition beauty and the Salmon Concealer®).
I've booked my hotel for Friday night, so I can get in when the doors open on Saturday morning – keen much?
Will you be going? You can purchase tickets from the Makeup Mag website here