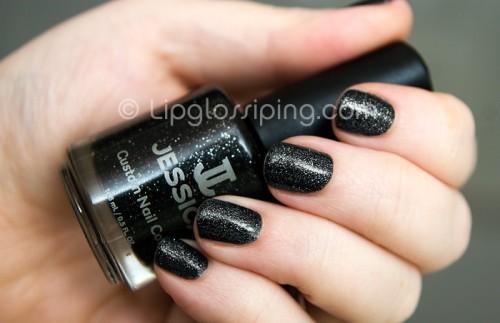 Introducing the Stumpsters!  My new look teeny weeny fingernails!
The fabulous LionLovingTiger brought it to my attention that every cloud has a silver lining and that now was the time to break out those dark vampy shades!  And she was so right!
I thought I'd break out the bottle of Jessica Nails polish I won in in a Twitter giveaway a couple of weeks ago.
I'm loving this polish!  The longevity is ah-mazing! 4 days so far and no tip wear that I can see, although maybe that's because my 'tips' end below my finger pads now that I think of it.. oh well, either way, no chips or flakes or any such nonsense.
It applied like a dream, 1 coat to reach opacity but 2 to tidy it up.  It is a glitter (and boy does it sparkle).  I finished with a coat of Seche Vite (my first ever use – I know, shocking!)  Which completely smoothed the gritty surface that glitters leave behind.  I'm not exactly relishing the thought of removal, but Helen gave me some great tips that I will be putting to good use!
Buy Jessica Nails Polish from TSBeautyShop