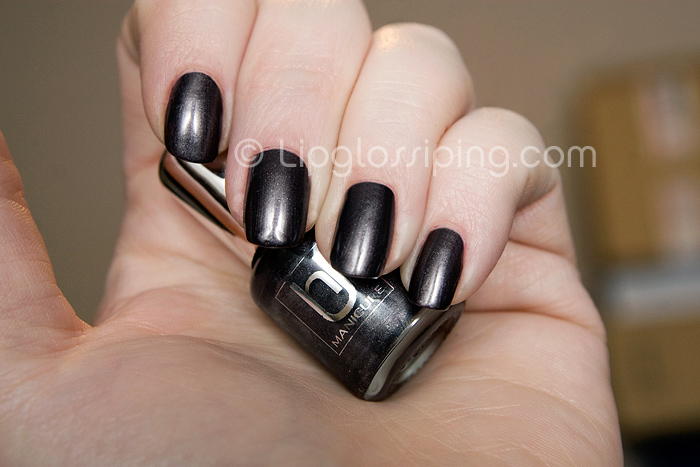 Introducing Blizzard.  This is such a fab shade… it's not a grey, it's not a black.  It's a pewter.  A true metallic pewter, and I love it.
It has just a hint of subtle sparkle to lift it and is almost futuristic looking on my nails.  I don't own a shade quite like it.
Application was fine with no major issues to speak of, perhaps a touch uneven on the first coat.. but it needed more than one anyway.
Blizzard is one of HJ Manicure's winter shades aka, The Snow Collection.  If you haven't already, head to the website to check them out, you won't regret it!
I have the cutest little swatch chart here that HJ Manicure provided along with the polish (for potential review) and I'll see if I can capture it in an image for you to see.
There are so many shades on there that I'm now lemming like a demon incuding the most ah-mazing looking sparkly yellow.  I don't think I've ever seen a 'sparkly' yellow for another nail polish company, have you?  Oh, and if you like your pinks (like me) Bauble from the Festive Collection also looks divine, as does Champagne and Cracker… oh and Daylight, a fab looking Grurple – (that's grey/purple incase you were wondering).  Aqua looks like a potential Spring diamond too….
Can you tell I'm getting excited looking at my swatch chart?  I need to get it online for you guys to drool over too!
I've just ordered 2 shades from the website in those cute little 5ml bottles that I wish ALL companies would employ!  Watch this space for some more HJ Manicure reviews!