I was pissed at the snow and the miserable post-Christmas aura surrounding January.
In a two fingered salute, I daubed the most obnoxious summery colour I could find on my tips.  I said tips.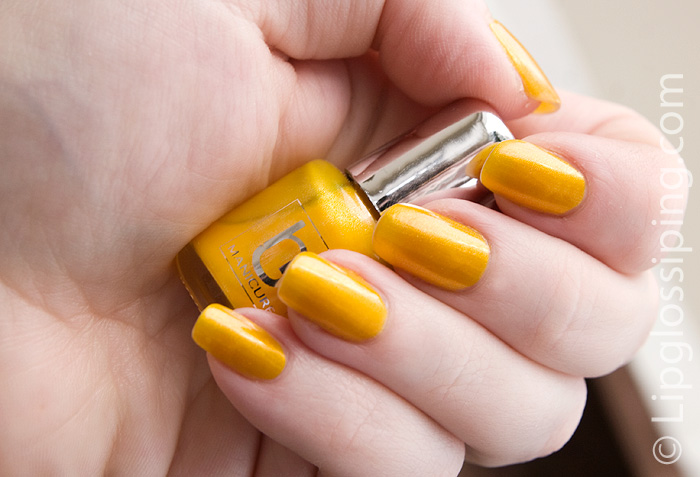 HJ Manicure in Blonde.
I was worried I'd look like I smoked 60-a-day or at the very least had a kinky penchant for bananas, but thankfully this shade just misses looking horrendous.  It's not the most suitable shade for my skintone, but remember… I'm being aesthetically antagonistic in my shade selection.  And as a bonus, it makes the inlaws wonder what their son ever saw in me.
I even received a few compliments wearing this.  To be fair, one was from the checkout girl in Wilkinsons who didn't look a day over 11 and a half and the other was from the lady who served me a sausage roll in Greggs, but let's be honest, a compliment is a compliment.
Again, I'm loving HJ Manicure's formula.  Yellows are the problem children of the nail polish world and one of the reasons I chose this shade was to put the brand to the test on their formula.  It coped admirably.  My only complaint was with opacity.  This was 4 coats, and you could still faintly make out the tips… If it'd had been fully opaque in 4 coats, I would have been satisified.  As it is, it's a slight issue for me.  Thankfully, each coat was a smooth quick-drier.
Most yellows appear to be cremes, this is a shimmer… it has a slight sparkle to it that would make it such a great choice for the summer.  Longevity is fabulous, no chipping and minimal tip wear despite not adding a top coat.
Are you a fan of the brights?
HJ Manicure shades can be bought online from their website in 5ml (£3.50) and 15ml (£8.50) sizes with free P&P on every order.