Amrita is a doll, her bubbly and infectious sense of humour keeps me smiling on Twitter, whilst her impeccable taste in cosmetics often has me lusting after her most recent acquisitions!  Not sure?  Check out her storage post for a sneak peek at her 'cheek' drawer!
I'm thrilled that she agreed to guest blog for us today, so without further ado, read on as Lipglossiping.com features: The6InchStilettos
.
Seeing as my Top 10 series has been so popular, I figured that I should do a Top 10 feature on my makeup brushes too. Now, I own a hell of a lot of makeup brushes and although some of them are unloved, I try to rotate them and use them at least once or twice.
A lot of conversations on Twitter amongst beauty bloggers and general girly chit chat revolves around makeup brushes and which ones are the best to buy but it always comes down to personal preference. Some like firm brushes while others prefer super soft ones, others think that expensive brushes are best while others feel that high street versions are way better – It's all personal.
Anyway, I'm waffling on way too much so let's get cracking!
These are my most used and most loved makeup brushes…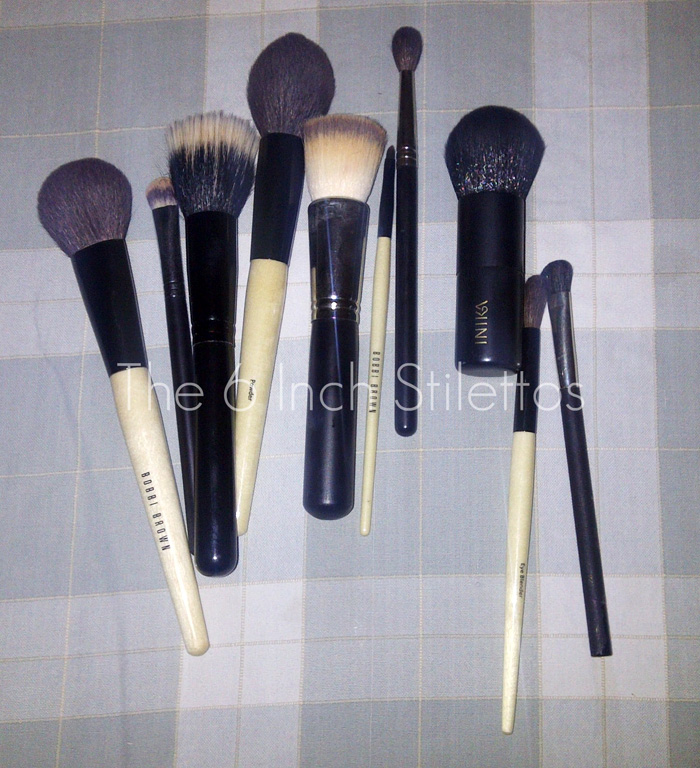 Unknowingly, it turns out that I have 5 main face brushes and 5 main eye brushes which I definitely didn't plan but I guess it all works out in the end.
So, the face brushes…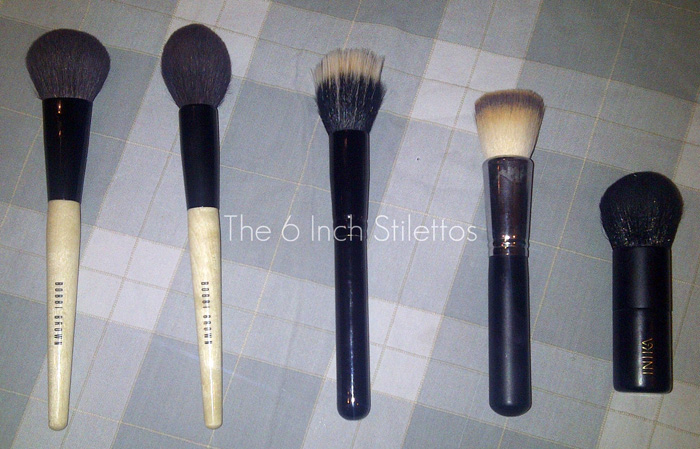 From left to right:
Bobbi Brown Blush Brush
Bobbi Brown Powder Brush
Crown Brush Stippling Brush
Crown Brush Flat Top Kabuki Brush
Inika Cosmetics Kabuki Brush
Now, the eye brushes…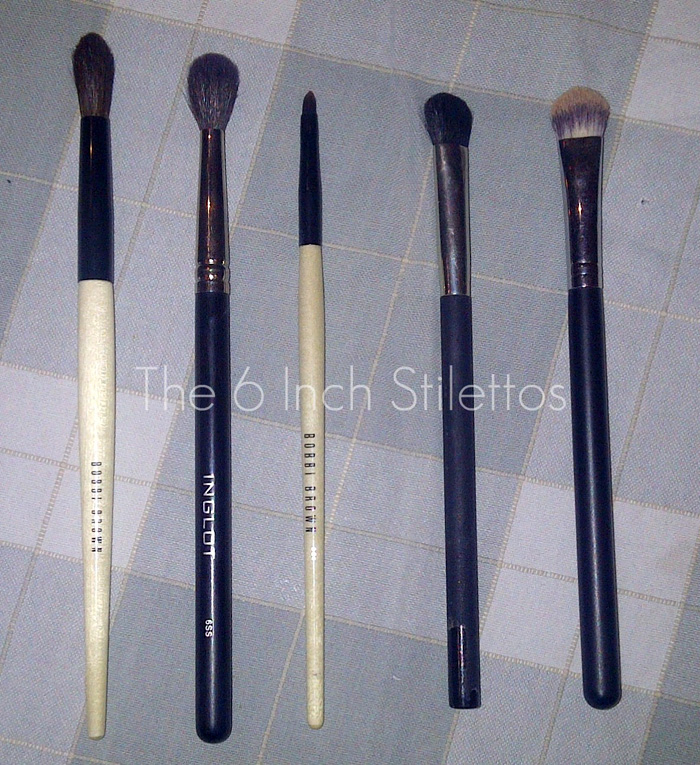 From left to right:
Bobbi Brown Eye Blender Brush – Very similar to MAC 224 but with longer bristles
Inglot 6SS Blending Brush – Another one that is very similar to MAC 224 but slightly wider
Bobbi Brown Ultra Fine Eye Liner Brush
Boots Eyeshadow Brush – Probably my favourite eye makeup brush EVER
Crown Brush Eyeshadow Brush
I have loads of Bobbi Brown makeup brushes in my collection purely because I used to work for them but even if I hadn't, I definitely would have invested the money. They don't shed and they're made so well that you can't go wrong with them – Plus, each brush is already labelled so even someone with no existing knowledge of makeup brushes can use them with ease.
Other brands of makeup brushes that I use include: MAC, Royal & Langnickel, The Body Shop and Essence of Beauty. The next brushes on my list are Sigma makeup brushes so I might have to wait until pay day to splash out on a full set of those!
What are your favourite makeup brushes or the ones that never let you down?
Make sure you drop a comment in the box or whizz over to my blog and let me know over there!
Until next time…
Keep swivelling those hips in your
Thanks Amrita!  I need to check out some of those Bobbi Brown brushes for sure!