You can't eat cake for breakfast, lunch, and dinner without getting porky.  You can't put in zero effort and reap all the rewards (unless you're a cow).  And you can't wear a kickass, uber-matte lipstick without it all going wrong… eventually.
This is how I feel about the Lime Crime Velvetines in Red Velvet.  I'd held off buying for ages, I'm not a fan of the way the brand has conducted itself in the past and to be honest, I haven't been a fan of the products that they've released either.  But the swatches have been amazing.  Screw the fact that I'm in the 30+ category and "really" shouldn't be wearing uber matte lipsticks, seriously… screw that!  Red Velvet has been on my radar as a must-have for a long while.  I had to try it, I just had to, didn't I?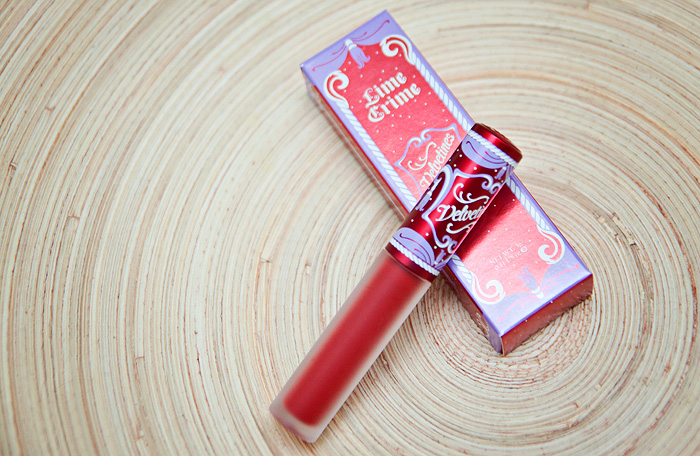 The packaging is rather nice actually, less unicorny and more sophisticated girlie… I do like the frosted glass container but there's one irritation that bothers me each time I use it.  Why is there no inner ridge in the tube where I can scrape off the excess product?  Peering inside, it's like looking into the Black Hole of Calcutta and when something is this frighteningly pigmented, you need absolute control over the amount of product on the wand.
Without smearing this around the opening, I don't have that control and it balls up pretty quickly at the top, threatening to make a holy mess.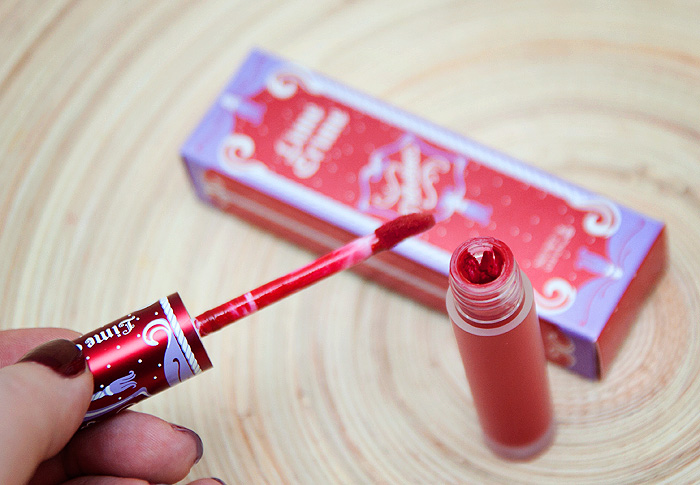 But the one thing you can't deny is that once applied, Red Velvet is in a league of its own.  Richly pigmented, deeply opaque, and velvet-textured… it's a cracker.  I've found it best to apply in two thin layers… once to get perfect outline and once to fill in for complete coverage.  The formula is very wet to begin with and I inevitably end up with some of it on my front teeth.  However, within 60-seconds it dries to an almost powdery finish.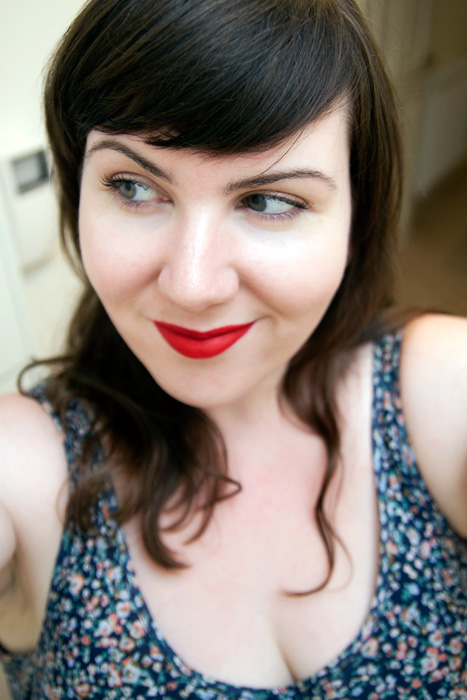 The texture is lightweight but you can "feel" it on your lips because of the apparent dryness it imparts.  It's not actually that drying in terms of what it does to the condition of your lips but it will happily settle into all of your lip furrows and stick like the proverbial to the outer lip-line.  It's colour-depth and downright vampiness makes this the perfect choice for a night out… except, you might not want to choose it…
Let me explain…
On me, it wears U-G-L-Y.  I have a large bottom lip and the first place that this disappears is toward the inside of my lip, leaving a horribly apparent ridge of colour.  This colour-ridge narrows as the colour slowly disappears from the centre of my mouth, eventually leaving me with a rather impressive ring around the lower lip-line.  And this is without eating, only drinking.
Compared to some red lipsticks, I actually found this to be relatively transfer-proof, there's a little left on my glass after drinking but nowhere near as much as most lipsticks.  It also resists transferring to my teeth once it has set on the lip, so it's a real shame that I experience such horrible overall wear.  You can see the kind of wear I get in this photo on my Tumblr.  You should note, however, that this may be a peculiarity on me… many other bloggers report great wear from this product.
Ultimately, it's a gorgeous red but I probably won't wear it without a serious case of paranoia, and when you're braving a lip this ka-pow, that's not a great combination.
Lime Crime Velvetines in Red Velvet is priced at £11.50 and available to buy online from love-makeup.co.uk and cutecosmetics.co.uk
Do you own one of the Velvetines?  What are your thoughts on them?