Morning!
It's Leila's 2nd Birthday Party today and I've been in the kitchen for what feels like the past 72hrs solid.  I don't know why I've bothered to be honest… I know my girl and she'd be happier with a Curly Wurly than any of the 'creations' I've lovingly put together.  Oh well, I'm happy to sacrifice my waistline for the greater good.
Anyway, this week's fantabulous Lipstick League…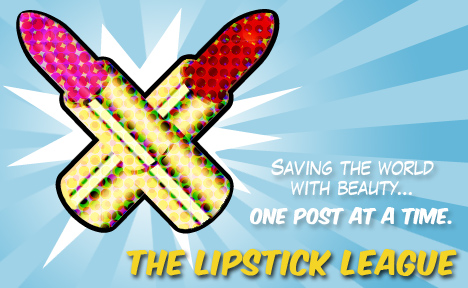 This week's question of the week…
What was the first beauty product that you ever tried?

There are two products in particular that I remember spending my money on when I was younger… we're talking about 16 years ago.  The first was a mid-lilac eyeshadow in the Avon Colour Trend range, I thought it looked hawt.  Infact, I still reckon it probably did.  What?!  It totally did!

It had horrible lurid green packaging and a sponge applicator that I WORE through, I loved it so much.

The other product that I remember repurchasing fairly often from my local chemist was a compact powder.  I can't remember what brand… but I think the shade was called Candlelight?  It didn't have a mirror or anything fancy(!) like that… but I can always remember patting it on my shiny nose with those little powder puffs in the toilets at school!
Pink Sith – Joeybunny has 3 new TAUPE eyeshadows to show you with her Introduction To Silk Naturals post!
Phyrra – raves about Sonia Kashuk Makeup Remover and tells you why it's her favorite.
Vampy Varnish – loves the new Kat Von D Angeles Eyeshadow Palette.
we heart this – All this beauty has made us thirsty! Doesn't a Lemongrass Mojito sound good right about now? We've got an original recipe for you.
Beauty Junkies Unite – has the scoop on the newest eyeshadow releases from bareMinerals for Summer 2011, and she can't stop looking at the colors. Check out her easy to re-create "Calypso Sunrise" eye look!
Clumps of Mascara – is in a Target Beauty contest and needs your vote to advance to the next round. Vote daily!
EauMG – EauMG introduces a perfume that proves that smelling good does not need to cost a fortune. Move over Montale! Here's Pirouette Essentials.
Lipglossiping – will use any old excuse to drag out her collection of NARS blushes. It's a NARS Blush-a-palooza!!
Nouveau Cheap – My favorite post this week is actually one I did at another blog! These new eyeshadows and liners from Hard Candy aren't just hot, they're downright baked and molten.
.
What was the first beauty product that you ever tried?